The Lufthansa Lounges for Senators and Business Class customers are tending to be too crowded, especially in peak times. Thus, Lufthansa decided to hire another lounge in the heart of operations, Frankfurt Airport Terminal A. I feel staying there is absolutely worth it. Here is my review of Lufhansa's latest lounge addition, which has opened at 11th December 2018.
Lufthansa Panorama Lounge – Location and Access
The Panorama Lounge is right opposite Gate A26. This means that it is very close to the "ordinary" Business Lounge at this area, which is more or less above the place. The Panorama Lounge is not signposted – you just follow the signs to the Business Lounge and then turn left instead of using the escalators upstairs.
Visiting the Panorama Lounge uses the same requirements as the Lufthansa Business Lounges: you either need to have a Business (or First) Class ticket or have any Lufthansa status, i.e. Frequent Traveller, Senator or HON Circle with a Star Alliance flight ticket. The lounge is open to Star Alliance Gold customers as well. I read in a German blog that Lufthansa Senators and HON Circle Members may also use the lounge as arrivals lounge. I cannot confirm (or decline) that information. Compared to the other Lufthansa Lounges around, the service times are limited. The Panorama Lounge is opening Monday to Friday only, 6:00 to 21:00 hrs.
Lufthansa Panorama Lounge – The Lounge
Lufthansa rented the lounge from the Frankfurt Airport VIP service. It is easy to see that the concept of this place is to serve another reason. The reception area is very stylish. When you head to your right, you enter a large room with buffet, bar and a lot of seats. There is also a lovely window front from which you can watch the air traffic. The major view is to the East, i.e. to the B Gates. For aviation nerds like me, this place is like heaven – there is always something happening out on the apron. A lot of people spent time there to watch the traffic. There is also a minor separate area here and a smokers room.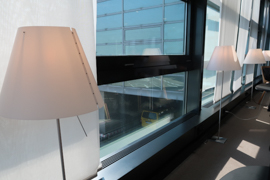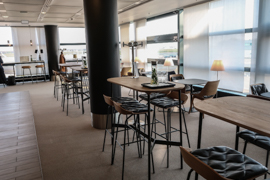 On the left hand side of the reception area, there is a minor buffet with some tables first, but apart from that, several smaller rooms, which are very cozy and discrete – just like you would expect a VIP lounge to be. This area also hosts the toilets and showers. Furthermore, there is a quiet room where you can have a nap. Pillows and blankets are provided. The Panorama Lounge may feel to be rather compact at the beginning, but in fact with all the small rooms, it is huge.
Lufthansa Panorama Lounge – Food & Services
If you are aiming to have some hot lunch or dinner, you may not favor the Panorama Lounge. The only hot food are soups. During my visit, they offered a bell pepper soup and a leek soup with salsiccia sausage. Both were very tasty. There are some kinds of sandwiches, which are very good as well. You may also have fruit, sweets and some salty snacks to enjoy yourself. The selection of soft drinks is a bit more limited compared to the Senator Lounge. The bar is quite nice, though. Though there was just a limited number of items in the buffet, they never ran out of supply.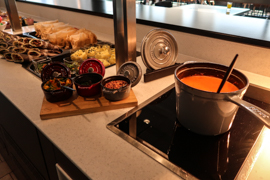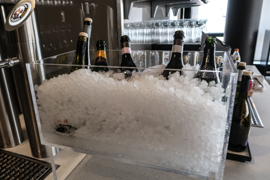 Not just due to that fact, the service was excellent and the staff was very friendly. Everything was clean and well organized. The WiFi provided by Telekom was very good, as expected. It may be the concept of the lounge, but one thing which annoyed me a bit was that there is not a single flight monitor in the lounge, not even in the reception area. Luckily, Lufthansa is very good to inform you about flight changes via their app or text message anyway, so that this might be not that crucial for most of you.
Lufthansa Panorama Lounge – Some Views
I just added some pictures of what happened outside when we visited the Panorama Lounge. Of course, I loved to greet the LATAM Dreamliner serving my favorite LA704/705 flight.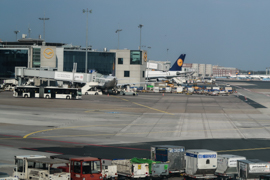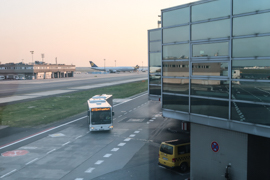 Lufthansa Panorama Lounge – My View
Congrats, Lufthansa! The lease of this place (which used to be a Lufthansa Lounge some years ago) is a great addition to the Frankfurt portfolio. I absolutely enjoyed to stay in the lounge, watch the planes, work in a very quiet atmosphere and enjoy the food. Yeah, there is more hot food in other places, but I would still favor the Panorama Lounge to the Senator one, just because it is more quiet and cozy. You should definitely try if you are around. I will definitely be there again! Top Pick!
Lounge Reviews on Flyctory.com
Here are all Lounge Reviews on Flyctory.com:
Postings about Germany
Here are all Flyctory.com postings related to Germany: