There are not too many options to avoid budget travel when you want to fly into Tenerife North / Tenerife Norte (TFN) airport: the airport, which is majorly serving Spanish domestic connections is majorly served by Air Europa Express, Vueling and Iberia Express. The inter-island services are done by Canaryfly and Binter Canarias, but only the latter one serves some out-of-Canaries destinations like Morocco or some Spanish mainland airports. Connecting from Madrid, where we flew in with LATAM from Frankfurt, I had Iberia Express connections in Business Class from and to Tenerife Norte. The posting reflects both legs, while the pictures have only been taken on the IB 3939 service from TFN to Madrid-Barajas Terminal 4 on 12th October 2019, where we have been the only Business Class customers. It also reflects some of my previous experience. Apart from the different plane, the review is also valid for their service on the A320.
Iberia Express Business Class – At The Airport & Status
In contrast to Vueling, the other Spanish reduced service airline of the IAG franchise, Iberia Express flights are fully equivalent to Iberia flights regarding the handling of frequent travelers. Most flights have an IB (Iberia) code as well as an I2 (Iberia Express) one, followed by the same flight number. Ground handling is typically handled in shared check-in desks (Vueling is separate), you earn miles / Avios and have extra luggage. Your oneworld status as well as the business class ticket also entitles you to lounge access, where available.In general, I however had bad experience with seat reservations at Iberia: despite I am oneworld Emerald member and can reserve a seat for free, they very often moved me to other places between booking/reservation and the actual flight.
In general, on the ground and onboard, English announcements are often very late and hard to understand. When we boarded the plane in Tenerife North and were walking to the plane in the jetway, people unboarding approached us in the same jetway, without any separated walkways. This was a serious security issue in my point of view.
Iberia Express A321 Business Class – The Cabin
Flying Iberia Express in Economy Class is highly optimized to the capacity of the plane. I could not find exact seat pitch numbers, but while Iberia sells 200 seats in an A321, Iberia Express reduces the pitch, so that there are 219 seats in there. The first two rows of the cabin (I guess they can move that) are business class and have a quite comfortable seat pitch. The middle seat of the standard 3-3 configuration (three seats on each side of the aisle) is kept free, The cabin configuration feels as comfortable as in other European airlines' business products, e.g. Lufthansa. In general, the amount of hand luggage (especially with hand luggage only fares) brought onboard in Spain is higher than in other European countries. Thus, Iberia Express regularly has to transport hand luggage in the hold.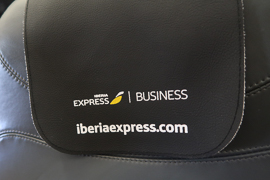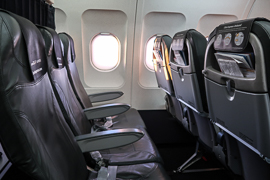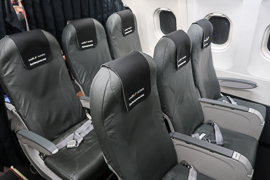 Iberia Express Business Class – Food & Service
On the food & drink side, you get a pre-flight drink (which we received right after take off on the return flight), which is orange juice. In general, orange juice in Spain is really great quality, so it is a nice option. On both flights, a hot meal is served. The picture shows the salmon, which was quite nice, on the flight to Madrid. On the flight to Tenerife North, there was mushroom-filled pasta, which my wife enjoyed more than I did. The meals come with salad, a desert, heated bread and, of course, drinks.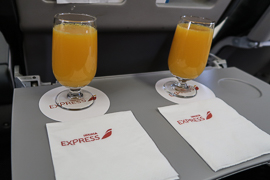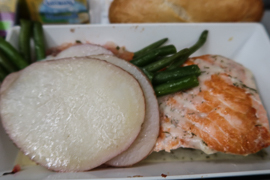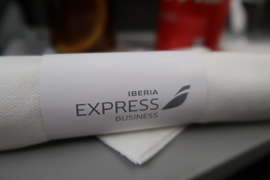 Despite the service is comparably long, some two hours net flight time, that's it about the service. As soon as the tables were cleared, the crew (in both flights) closed the curtain and completely gathered at the front of the cabin for chatting. No additional drinks or similar. Overall, the crew on the return flight was much more friendly than the outbound one.
There is WiFi on board, but as far as I could spot it, it is only used for entertainment. The Iberia Express inflight portal offers you to watch some movies etc. on your own portable device. Business Class seats feature the Iberia Express inflight magazine as well as the Iberia Business Class one, Excelente.
Problems at Disembarking
At arrival in Madrid, the A321 parked at an apron / bus position. The disembarking was a complete mess, as they first tried squeeze in people into two buses and then finally using a third one (which had some 10 or 15 people). The situation in our bus was very uncomfortable. When we were queuing at the Schengen bus arrival gates in Madrid Barajas Terminal 4, the third bus overtook us in the queue, which felt very unsafe to me.
Iberia Express A321 Business Class – My View
Is it worth to fly Iberia Express in business class? I would still say yes – but majorly driven by the fact that their economy cabin is really painful and narrow, so that I definitely would not take a flight with them to from Madrid to Tenerife on that side of the curtain. If you compare Iberia Express with other business class products in Europe, it is quite lousy. The meal is nice and another positive thing is the lounge access, as the flight is handled like an Iberia one. That's it.
Flyctory.com about Business Class & More
Here are all articles related to Business Class and First Class travel:
Spain on Flyctory.com
Here are all postings about Spain: