I so far did not have too many opportunities to cross the Polar Circle in my life. A few years ago, I made it to the Northernmost airport with scheduled flights, Longyearbyen (LYR) on Svalbard. During my August 2021 trip to Iceland, I was scheduled to do this magical thing for another time, with local airline Norlandair from Akureyri Airport (AEY) to Grimsey (GRY) an island North of Iceland and finally the only major part of the country which is more Northern than 66° 33′ N. Here is my review.
This posting comes with 132 major size pictures in the travel galleries.
Norlandair – Network
Norlandair is a domestic airline in Iceland, founded in 2008. Their key travel hub is Akureyri (AEY). From there, they do the daily connections to Grimsey (GRY) as well as a triangular flight to Vopnafjördur (VPN) and Thorshöfn (THO). From Akureyri, they also serve their only international route currently, to Nerleit Inaat (CNP) in East Greenland. In addition, they connect Reykjavik City/Domestic Airport (RKV) with two destinations on the Westfjords, Bilduladur (BIU) and Gjögur (GJR). The airline is also running charter and Air Ambulance services.
Norlandair – Fleet
Norlandair has a nice fleet of planes optimized for their flight operations. The flight I had was operated by TF-NLD, one of three DHC-6 300 Twin Otter planes the airline is running. In addition, Nordlandair is also running two Beechcraft Supe King Air B200 and a Gippsland GA-8 Airvan (both not in the pictures below).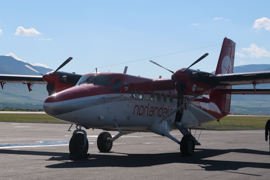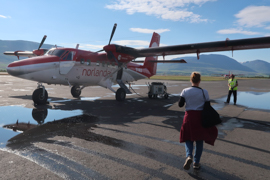 Norlandair – The Flights
The flights I had booked have been scheduled for 8th August 2021. These are the original bookings I had, they finally changed it to a departure at 0920 and a general shift by 2 1/2 hours. Finally, the flight FNA 536 departed at about 0930.
The flight to Grimsey (GRY) did not make the landing due to poor visibility (see below). The time span of two hours between landing in Grimsey (GRY) and departing again back to Akureyri are rather characteristic for Nordlandair's schedule. The total ticket was 19,500 ISK, roughly 132 Euro.
Norlandair – Ground Services
All domestic operations are more or less serviced by one gate, so that we first had to wait for an Icelandair Domestic service to Reykjavik (RKV) to board before the Norlandair flight in fact operated. I liked the very unique boarding pass for this flight – that's economic. Similarly, the check-in services were staggered, so that in fact the check-in did not open before 08:30 hrs roughly. There is no hand luggage check on domestic Icelandic flights, which especially means that you may bring some water or other refreshments on the plane. Checked luggage allowance is 20kgs, while hand luggage must not exceed 4kgs.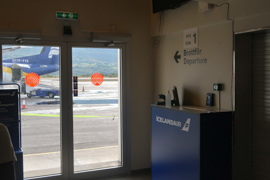 Norlandair Twin Otter – The  Cabin
The Twin Otter may operate with up to 19 passengers, based on Norlandair's website. most of the rows are in 1-2 setup with one seat on the left and two ones on the right. I sat at the very back, thinking to go for the very front of the cabin on the way back from Grimsey. The seat pitch is reasonable for a plane like the Otter. They closed the cabin door before they checked the cabin, so that they had to re-open to provide me an extension. The cabin was open to the cockpit, so that you had a nice opportunity to see the two pilots flying.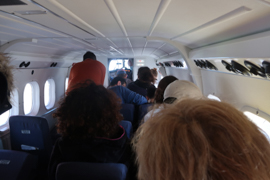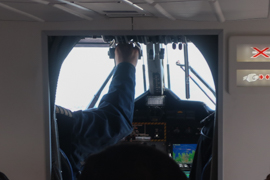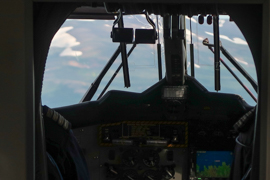 Norlandair – The Flight
I gave you a lot more pictures in the gallery, which is absolutely worth it due to the stunning nature. It was a smooth flight with Norlandair. After departing from Akureyri, we headed North, along one of the valleys North of Akureyri, which was really lovely. After heading over the sea, you could see the island of Grimsey. I was a bit of foggy when we reached the island, Even though most of the remaining island felt to clear, the area around the airport just did not. Despite multiple approaches, there was no chance to land in Grimsey. Thus, it was a good decisions by the captains after a few go-arounds to divert back to Akureyri. They really tried their best – I expected the diversion much earlier than they actually took it.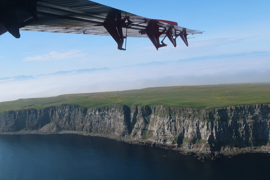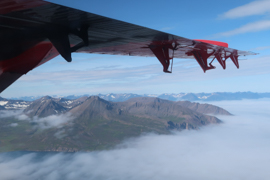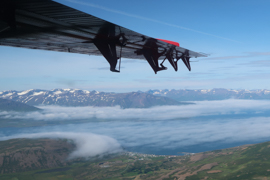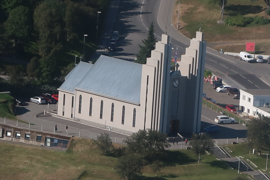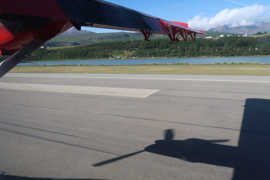 They did announce they will make another try in the afternoon, but unfortunately, I did not have the time to stay. Norlandair was very generous. I offered them to compensate my return flight only, but they gave me back the money for both flights. Thus, I missed a landing at Iceland's Northernmost airport for my statistics, but got a great and memorable flight with lovely views, which I am really thankful for.
Norlandair Akureyri-Grimsey – The Gallery
There are 132 major size pictures related to this posting in the travel galleries:
Norlandair – My View
Weather is nothing I can blame the company for. I feel they did a really good job, they flight has been a great memory. I will definitely try and go for another flight with them when I am back in Iceland. The service was good, any flight schedule chances as well as the compensation worked really well. Thus, I absolutely loved the professional service of Norlandair at their home base.
Special Flights at Flyctory.com
Here are all reports about flights, which are special in whatever way:
Airport Hotels
Here are all hotels with a good airport connection: