I recently reviewed the DB Lounge / German Rail Lounge at Frankfurt Airport. I could somehow copy and paste major parts of the introduction. I feel that the old VIP (airport) Lounge Graz was definitely not as bad as the Frankfurt rail one, but it had quite some complaints. The airport made use of the legally forced closures due to Covid-19 and refurbished the place. Honestly, when I flew back from Graz Airport (GRZ) to Frankfurt (FRA), I felt that the lounge is still closed. The more, I was happy to enjoy access to the place as well as exploring a really beautiful place at a regional airport. Here is my lounge review.
VIP Lounge Graz (GRZ) – Location & Access
The VIP Lounge is located airside, but above all the shops and gates at Graz Airport (GRZ). You either walk up a stair or take the elevator after you turned right after security. The place is well signed, though. They have automatic access gates at the entrance.
If you don't have a lounge pass like Priority Pass or pay 24 Euro for entrance, you need to be a business class or status passenger of some of the airlines operating from the airport. Austrian, Swiss, Lufthansa and KLM were all named at the entrance, at least. My admission as a Lufthansa Senator / Star Alliance Gold member on a business class ticket worked without a problem.
VIP Lounge Graz (GRZ) – Atmosphere
I felt that the atmosphere of the lounge was amazing. There is a huge glass front which gives you a nice view of the apron and the mountains around the Styria. I unfortunately missed to visit the (free) visitors terrace before my flight. You can access this part landside and it was very popular among the locals who waived goodbye to their beloved ones on the first day of school holidays.
There were different kind of seats available. Right at the window, there were plushy seats with tables. One of the key critics about the lounge was a lack of power plugs – they improved that significantly. You could also sit at the bench with tables (I could not spot plugs there, though) or on a slightly elevated level, which I felt to be a quite nice thing). On one side of the lounge, there were a couple of nicely done work places. One spot even featured six power plugs next to each other – there is no need to complain about being unable to load your mobiles any more, I guess.
An area which is new to the lounge is located behind the toilets. It is signed as relax area and has some really nice options for a relaxing and quiet time. A really nice spot.
Here are some more pictures of the views from the lounge. Definitely one of its signature elements.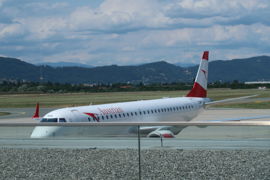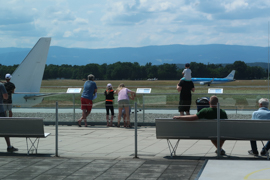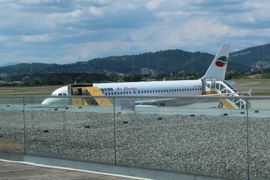 VIP Lounge Graz (GRZ) – Eat & Drink
Graz is a regional airport – so you cannot expect the food and drink options to be competitive to major hubs like Vienna (VIE), Munich (MUC) or Frankfurt (FRA). Actually, the selection of drinks was quite nice. They had hot and cold drinks, beer by the keg and even some alcohol. There were some snacks, cereals, sweets and bread rolls and salads. I had a roll with smoked salmon, which I felt to be a comparably posh selection for a place like this.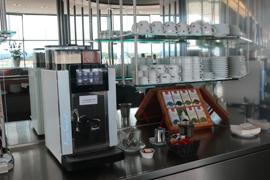 The relax area has its own small catering area. However, they only featured bottled water and some nuts there. Regarding that the buffet is maybe 15 meters away, still a very lovely service.
VIP Lounge Graz (GRZ) – Service
The staff was very friendly and attentive. You felt that she was still getting into the process details, but she was very helpful and also very quick in cleaning the tables. The sanitary areas was nice and suited all needs, WiFi worked out very well.
VIP Lounge Graz (GRZ) – My View
The VIP Lounge at Graz Airport is indeed a nice place to relax before a flight. The airport did a good work to improve the facilities. The view of the runway and the Alps is amazing, the service is good and the food was also a bit above my expectations. Really good place and a well-deserved Top Pick!
Flyctory.com and Austria
Here are all Flyctory.com postings related to Austria:
Flyctory.com about Business Class & More
Here are all articles related to Business Class and First Class travel: