Like you already saw in my review of the Emirates Aviation Experience, including the A380 simulator, I have a certain crush for being a virtual pilot for just an hour or so. In mid August 2019, my wife Sarah and I went to Essen to have two hours at the Aerotask Airbus A320 simulator. Here is my view on our experience.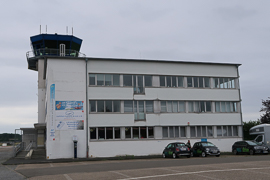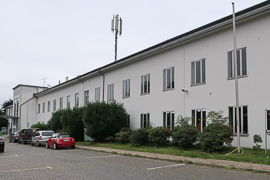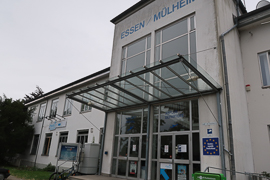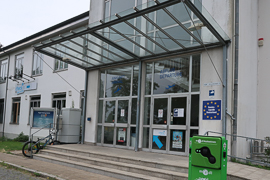 Aerotask A320 Simulator – Location & Price
The simulator is located in the terminal building of the Essen/Mülheim Airport in the Ruhrgebiet region. Precisely, it is located in the rear of the airport restaurant. You may use the sanitary facilities of it – during your flight experience, a curtain prevents contact and influence by restaurant guests. The easiest way to access the airport is by car. Parking is subject to a fee, though. There is also local limited transport to the airport. Essen/Mülheim airfield is only used for training and recreation purposes, no scheduled flights.
Aerotask drives multiple flight simulators for different aircraft types all over Germany. At the time of booking, there was the potential to have two hours of simulation for the price of one, 159 EUR. Especially if you are bound to weekend dates, it may take you several months thereafter, though, to find a suitable slot.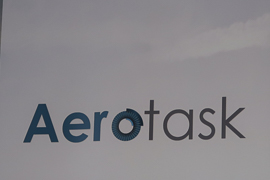 Aerotask A320 Simulator – Simulator & Staff
The Airbus A320 simulator used is a fixed base simulator, which means it is not moving like the "fancy" moving cockpit ones (but there is rarely an opportunity to fly them anyway). In contrast to the Emirates simulator in London, though, the cockpit is very detailed and features majorly all kinds of controls. Nevertheless, the setup is not suitable for professional pilot training (nevertheless, these machines are used for certain refresh and adverse situation training).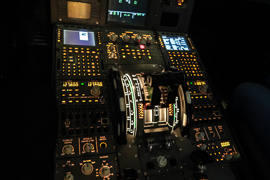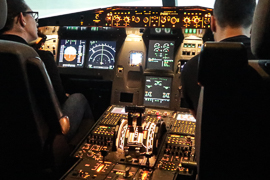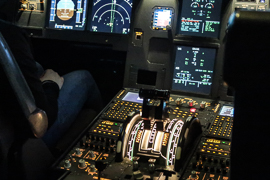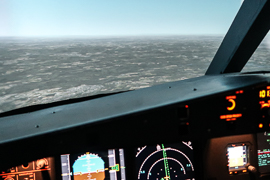 Our instructor was Gabriel, who is currently training to become a professional pilot. He was just awesome. He explained the controls and situations very well and also could level very well between Sarah, who had her very first flight experience, and me, who had a couple of hours already. He also came up with some nice ideas for flight routes, which was very helpful if you do not have anything special in mind.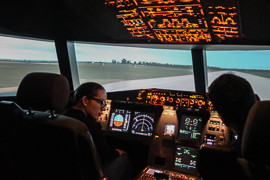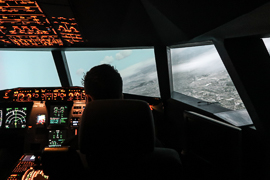 Aerotask A320 Simulator – Our Experience
Sarah and I split our session. However, as it was quite tiring for my wife to have her very first flight experience, I took over some twenty minutes of her remaining time.
We both started with a flight from Dusseldorf to our hometown airport Cologne/Bonn. It is a very nice opportunity to get into the controls and warm up, as the flight is just some 15 minutes. Sarah's session went on with a round around Manhattan and around San Francisco, which was quite fun to watch. I tried to land at Hong Kong's old airport – however, the simulator data did have the airport itself, but not the signs in the city, which you simply need for orientation. Having a take off and landing at legendary Sint Maarten airport and just trying to feel the influence of stronger winds at landing (approach to Dusseldorf again) worked out quite cool though. I concluded my sessions with a landing in picturesque Innsbruck.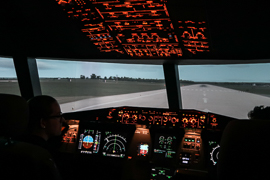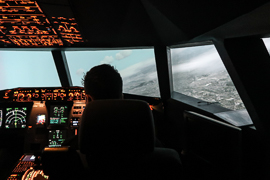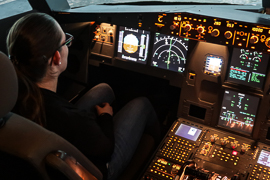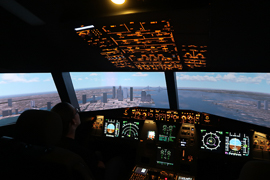 What we were both surprised of was that the two hours we booked did not include the briefing and explanation before the flights. Thus, we were about 2:30 hrs in the simulator cockpit.
Aerotask A320 Simulator – My View
Having the two hour flight experience together was definitely a lot of fun. The simulator is great, the instructor was amazing and gave some good input to make it a good session. After two hours, if you are not used to the coordination of all the necessary things, you are also getting really tired. Not Aerotask's fault… We just need to train harder. Thanks for a great time at Essen/Mülheim airport – that was definitely a Top Pick!
Aviation on Flyctory.com
Here are all postings about Airports & Airlines:
Postings of the Greater Cologne Region
Here are postings which are dealing with the Greater Cologne and Rhineland region: