For the transatlantic flights of my February 2020 trip to California supporting the Pittsburgh Penguins, I had a personal Star Alliance airline debut. For the first time in my life, I flew Air New Zealand, who service the route between London Heathrow and Los Angeles as part of their connection between the British capital and Auckland. On both legs, NZ 1 from LHR to LAX on 25th February 2020 and NZ 2 from LAX to LHR on 2nd March 2020, I chose the Air New Zealand Premium Economy cabin. The flights were both served with their Boeing B777-300W aircrafts.
Air New Zealand Premium Economy – On the Ground
On the outbound flight to Los Angeles, I checked in at Lufthansa in Frankfurt, so that I just can give very limited feedback on the Air New Zealand check-in services in Europe. However, the ground handling and boarding at gate B36 in Terminal 2 of London-Heathrow was chaotic. Despite being Star Alliance Gold member, I have been sent forth and back between different boarding lines in order to finally been sent back to receive an Air New Zealand instead of a Lufthansa boarding pass for that flight (even though an Air New Zealand staff had seen my boarding pass at the gate already. Thus, I could hardly make any pictures of the – already filled – Premium Economy cabin when I finally arrived in the plane.
The service in Los Angeles was better. The check-in was very efficient (this time, I did not need any boarding pass replacement in London to Lufthansa as well…) and boarding was much more structured and organized (even though it was also not ideal) this time. As a Star Alliance Gold member, I was entitled to use corresponding lounges. The highlight was definitely being back at the Star Alliance Business Lounge in Los Angeles, but also the Singapore Airlines SilverKris Lounge in London, the Lufthansa Senator Lounge in Heathrow and my very beloved Frankfurt Air Canada Maple Leaf Lounge (which I prefer over the Lufthansa one at Terminal B in Frankfurt) were nice stays.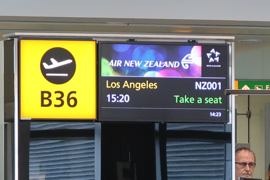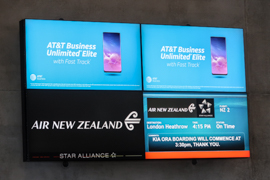 Air New Zeland is not participating in TSAPre, which means that even if you eligible for that, for example by Global Entry status, you cannot profit of the easier (and faster) security options at US airports.
Air New Zealand Premium Economy – The Cabin
The B777-300 cabin by Air New Zealand features six rows of 2-4-2 configuration, i.e. two seats at each window side and four seats in the middle. In addition, the last row 29 only contains of four middle seat due to the lavatories. Seatguru.com gives the seat pitch with 41 to 42 inches and the width with 20 inches. This leads to a very comfortable seating and – in contrast to other Premium Economy products, gives very middle seating passengers a realistic chance to leave their seat even if the seats are reclined. Overall, the seat was very comfortable, any seat comes with a footrest as well. As I worked during the outbound flight on my notebook, I was still quite happy to be able to move to the front bulkhead row 23. I pre-booked a bulkhead seat for the inbound flight to London, during which I had a lovely nap.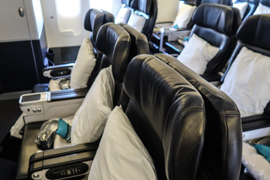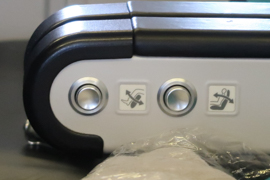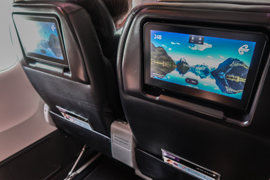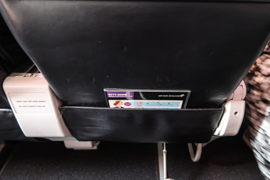 Each seat is equipped with an individiual power socket (110V with multi-configuration power plug, no issue during the flight). The in-flight entertainment is located in the seat in front of you, apart from the bulkhead row, where it is stored in the seat. An amenity kit (see below) and a bottle of water had been provided before boarding already. The entertainment system is very good and offers a huge range of entertainment. You can also review the bar options and order some items from there. The most funny option is that you are able to see what your seat neighbor is currently watching – which can sometimes be very helpful.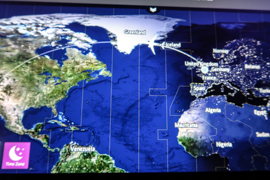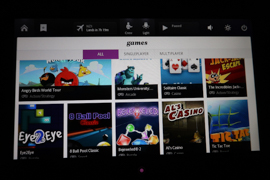 The bathrooms in the plane were very spacious as well. Due to the curtain dividers between the classes, there were just very limited queues, even after take-off and before landing.
Air New Zealand Premium Economy – Food & Drinks
The comparably late flight from London to Los Angeles featured two meals, a Dinner and a Refreshment. The dinner was a three-course, served all in one on a tray, on which the main dish was still covered with aluminium foil. Thereby, the starter, a Stilton mousse with slaw, apple gel and pumpernickel crumble, was fixed as the dessert, which was a mango and pineapple layer cake. As main course, you could choose between three options. I went for a Red Curry Chicken with coconut rice and vegetables. The dish was tasty, but suprisingly hot. Other options were a beef daube with mushroom sauce and a cod with pasta and pesto. Baguette rolls and garlic bread were available as well. Interestingly, Air New Zealand just served water and wine to the meal. I was fine with that meal, nothing more, nothing less – it definitely felt a bit too small to me.
Before landing, the crew offered a sandwich and doughnut service. You you go for any choice of the offered items. The sandwiches were fine, but the donuts were an absolute treat.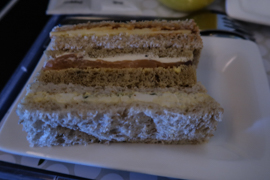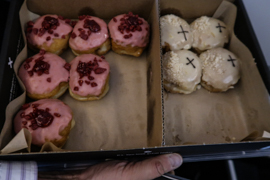 The flight back to London started with a dinner and had a breakfast before landing. The dinner came with poached chicken salad with bean, peaches and pecan as well as apple toffee mousse cake. The selection for the mains was braised lamb shank with rosemary polenta, Canadian steelhead salmon woth peperonata and mashed potato and wood roasted chicken breast with parsnips and carrot, which I went for. The food was not as good as on the outbound trip, but reasonable.
For breakfast, you could opt between a black bean and scrambled egg filled wheat quesadilla or apple, banana and buckwheat pancakes with berry compote. I went for the second option, which was rather awful and overloaded. The croissant was quite limited in taste as well – but at least the cereals and the yogurt was good.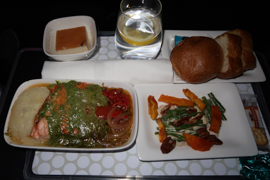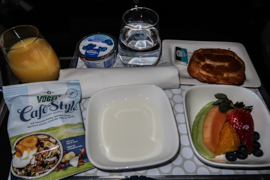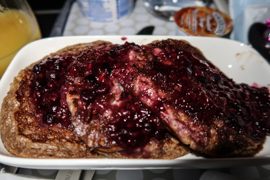 In all meal services, there was just a limited range of drinks available, which was sometimes a bit bothering. The full selection of drinks was, of course, in the drink / snack services and in the galley.
Air New Zealand Premium Economy – Service
In contrast to other Premium Economy products, there was no pre-flight drink on both legs. The crew, however, handed out hot towels. While I had some trouble on the ground, the staff on board the Boeing was really awesome and attentive.
The in-flight entertainment system came with noise-reducing headsets. The Premium Economy cabin featured a beautiful amenity kit (which is now very popular at my wife 🙂 ), even though the selection of items in it were rather average compared to other Premium Economy Class products.
Overall, the service was very friendly and attentive. I would have loved to have a bit more of a proactive behavior in both comparably long flights, though. A superb feature in Air New Zealand flights is the free (and non-limited) WiFi, which was also very good in speed and stability (regarding being a satellite fed in-flight one, of course). One interesting feature, by the way, was that the Premium Economy cabin (and I guess, this applies for the Eco as well) does not feature an onboard magazine – I grabbed one from Business Class when I left the plane, though.
Air New Zealand – Business Class Impressions
I did not really have a chance to check out the business class, but here are at least some business class impressions of the Air New Zealand B777: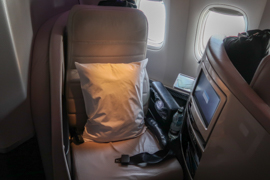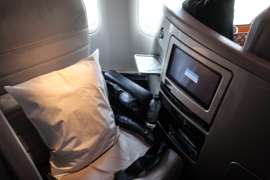 Air New Zealand Premium Economy – My View
Overall, flying with Air New Zealand was really a nice treat. Unfortunately, I have to downgrade my experience due to the ground hassle in London, which I felt has been really unnecessary and strenuous. Nowadays, it would also be favorable to make use of your TSAPre status at US airports. These are, surely, comparably minor issues. Especially the outbound service to Los Angeles was a definite treat (not just because I am still smiling about the doughnut service…). However, I do struggle to say that I would take the detour via Heathrow from Germany again just to have their service – the Lufthansa product or American Airlines do have a really nice cabin as well.
Airline Postings
Here are all postings related to specific airlines and their flights:
Postings about London
Here are all postings related to the UK Capital: