For customers flying on Lufthansa's top notch First Class product (and HON Circle Members), the German airline offers a very unique product. Apart from "ordinary" First Class Lounges, Lufthansa hosts is a designated First Class Terminal in their main Frankfurt hub. I have been gifted to visit this mystical place of aviation in late April, flying First Class to Singapore via Hong Kong.
The Lufthansa First Class Terminal was my Best new Lounge Experience during 2019.
LH First Class Terminal – Location and Access
The Lufthansa First Class Terminal is not located within the main terminals of Frankfurt Airport, but a short walk from the A Terminal.
You leave Terminal A at its very end and turn left. On the left hand side you first pass the P29 short term parking lot, which is used by a lot of transfer services and some parking shuttles. From there you walk along the waiting taxis. On the right hand side, there is a kiosk, which is very popular among the taxi driver. If you cross the road to the left, you also see the First Class Terminal. Unfortunately, you will access it through a side entrance when you walk from Terminal A – it is definitely more stylish to go for the main entrance by car, which is one level up.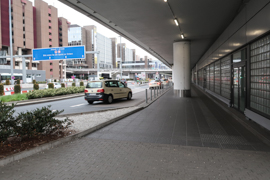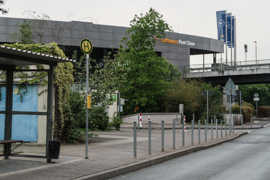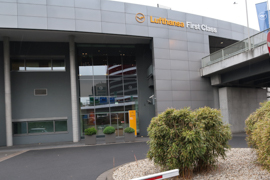 The straightforward way to access the First Class Terminal is having a First Class Ticket. You do not necessarily have to have a First Class flight from Frankfurt though. It just needs to be on one ticket and your transfer to the Lufthansa or Swiss First Class flight needs to be serviced by a Lufthansa Group airline (Lufthansa, Swiss, Austrian, Air Dolomiti). If you want to enjoy the FCT service any time you fly Lufthansa Group, there is no other way than becoming HON Circle member. You may bring one guest (plus any number of kids under 18 years) to the First Class Terminal, as long as they are on the same flight (not necessary: same class).
LH First Class Terminal – Reception
When you arrive at your reception area, a personal assistant will take care of you, who will be your contact throughout your stay (if there are no shift changes). If necessary, you check in, then go through a designated security. Your assistant will take care of your passport so that it can be processed by German border control (they have a designated desk in the First Class Terminal as well). Everything is of course very personal and efficient. In case you do not stop at the duty free shop, you made it into the most luxurious area Lufthansa may offer you. I also received my first rubber duck, which is legendary among frequent flyers. There is a display of different rubber ducks, which reflect different occasions or seasons, at the entrance.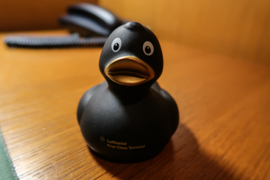 LH First Class Terminal – Lounge Services
The First Class Terminal split into different areas. First of all, there are seats just to relax and enjoy yourself, including relaxing lounge chairs, where you may lay down a bit. If you fancy a nap, there are day-rooms. Of course, the First Class Terminal features showers – one of the bathroom is even equipped with a bathtub. There is also a Cigar Lounge for smokers. The bar menu is amazing, featuring more than 100 Whiskeys, for example. There are rooms to work in (you may close the door for privacy).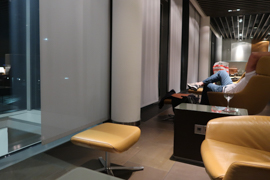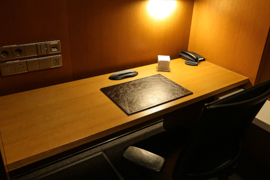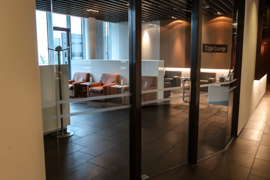 Of course, there is also a dining area. The buffet offers excellent options, but if you want to have your meal in a more relaxed manner, you can order from the menu as well. I had asparagus and a Thai Tom Kha Ghai soup. Both dishes were just brilliant.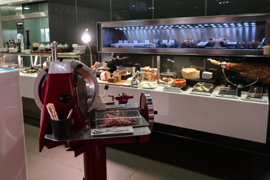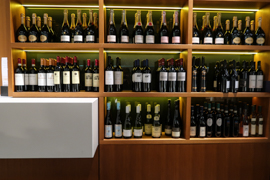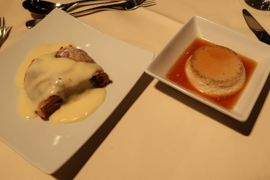 LH First Class Terminal – Boarding & Transfer
The First Class Terminal is outside the "normal" structures of Frankfurt Airport. There is no physical connection to the gate. Thus, the boarding process is somewhat different as well. Once your flight is ready to board, you assistant will you ask downstairs to street / runway level. There are small boarding gates, similar to the ones at the airport. In case you fly Non-Schengen, there is also the Federal Police desk, which will hand you back your passport. From there, you will be driven by limousine right to your plane.  There are minivans, if there are multiple guests on the same flight, but also Porsche cars and other top-notch ones. The driver will bring you right to your plane. We were stopping right at the A340-600, which brought us to Hong Kong.
LH First Class Terminal – My View
The First Class Terminal is regarded to be unique – and to me, this is really top notch pre-flight entertainment. Having the legendary "FCT" for the first time in my life I just want to enjoy it again – and start collecting the legendary rubber ducks. The service is stylish, professional, but still not starched. It is just the perfect way to start your journey, no matter if you want to relax or work. It was a "Once in a lifetime" dream to me to visit this magical place. Now I hope that there is more of that magic in my life. Absolutely amazing, Top Pick!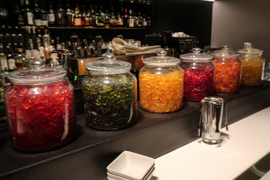 Lufthansa Group
Here are all my postings related to the Lufthansa Group:
Lounge Reviews on Flyctory.com
Here are all Lounge Reviews on Flyctory.com: