During my April/May 2019 stay in Singapore and Kuala Lumpur, I used Malindo Air flight OD 808 on 3rd May 2019 to travel from Singapore to Kuala Lumpur. The flight was serviced by a Boeing 737-800 aircraft. As I was uncertain about the amount of luggage I am travelling with, I chose their Business Class Product for my Malindo Air debut flight. The flight price (one-way) was 200 SGD incl. taxes, equiv. to 130 Euro. Here is my review. I chose Malaysia Airlines for the way back and reviewed their flight as well.
Malindo Air – About the Company
Malindo Air is part of the Indonesian Lion Air group. While its sisters Lion Air and Lion Air Thai concentrate on the low-cost market, Malindo is operating as a full service company (as well as Batik Air, which is the fourth Lion Air Group brand). They are a Malaysian company and their key hub is Kuala Lumpur International, but they also service many flights from Kuala Lumpur-Subang. They currently service more than 60 destination in the region, ranging from India and Pakistan to Australia and Japan. There are also numerous domestic destinations, which are typically served with ATR planes.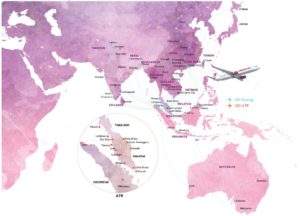 Malindo Air operates 20 B737-800 and six B737-900ER. Apart from that, they have 13 ATR 72-600. It is expected that their Boeing fleet is increasing steadily. I had the opportunity to fly with the Boeing 737-800, a Boeing 737-NG (Next Generation, not MAX) aircraft.
Malindo Air – Rules and Check-In
At their Boeing fleet, Malindo typically offers three fare classes in Economy: Super Saver is a hand-luggage only fare. Value is a typical, non-changeable (put partially refundable) Economy Product with 15kg luggage allowance, while Flexi has similar rules regarding refunding, but comes with flexible rebooking, free seat selection and duplicate amount of luggage and miles. Business Class offers two pieces of hand luggage (2×7 kg) and a checked luggage total of 40kg
Malindo Air – At the Airport
The Malindo / Lion Air Group Check in desks are located right at the front of Singapore Changi Airport, Terminal 3. There was plenty of staff available, practically no waiting. The check-in was very friendly. I received my boarding pass as well as the invitation to the sats Lounge. At least at the times when I arrived at the airport (some 14:00 hrs), the terminal is very relaxed. Changi Airport does its hand luggage checks at the gates, which you should bear in mind when you plan your time there. Apart from that, the airport is huge and it was quite a lot of walking to A18.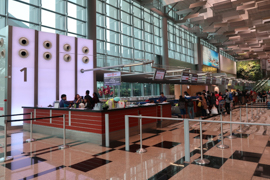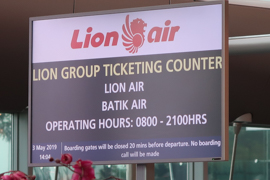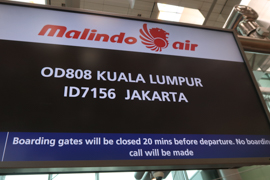 Before that, I explored a bit of Changi's shopping paradise (they have several outlets of my favorite tea provider TWG there…) and then went to sats Lounge for lunch. The lounge was really nice, quite a lot of space and nice cabins to work in. There were a couple of hot dishes available (several curries and pasta) as well as salad and sweets. Especially on the dessert side, the refilling of the buffet was a bit slow, but overall, I liked the place very much, good to relax and to work a bit.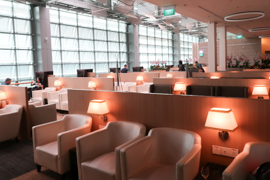 Boarding for the flight was in time. Business passengers are serviced first, so that I was the first to board the aircraft,
Malindo Air – Cabin
The Boeing 738-800NG which serviced my flight to Kuala Lumpur was 9M-LNP, which is just about 4 1/2 years old. Malindo has a very young fleet in general, their oldest Boeing has been delivered in 2013.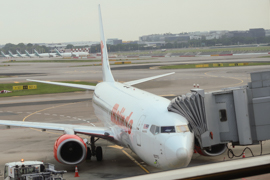 The 737-800 cabin has three rows of Business Class seating. The seats are real business class seats, no free middle seat ones, two on each side. They were very cozy and have multiple ways to recline and adjust. The Inflight Entertainment was located in the middle armrest (table in the outer ones) and featured quite some items. The seat pitch in row 1 was amazing and gave a lot of comfort.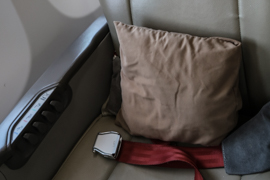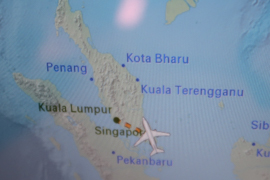 Malindo Air – Service
The flight attendants were very friendly and charming. There was a nice welcome at boarding and a pre-flight drink. We had some one hour delay due to weather in Kuala Lumpur. Despite the flight was quite bumpy, there was even a hot snack on the flight. The pizza-alike chicken sandwich (there was also a vegetarian option) was quite nice regarding the flight time, not gourmet food, though. Drinks were also provided. Funnily, some of the tableware was branded with Batik Air.
I am not sure if Malindo Business Class entitles you to the Fast Track Immigration at Kuala Lumpur International Airport. There was no invitation or similar. The immigration procedure was quite efficient anyway.
Malindo Air – My View
I did expect much more of a low-cost touch, but flying with Malindo Air was really a pleasure. The staff, on the ground and onboard, were very friendly, the cabin is amazing and even the catering was absolutely fine, regarding the flight time. The lounge was really nice as well. It is not exceptional flying, but a very competitive product for a (very often) even more competitive flight. There are rumors in the frequent flyers scene that Malindo flights tend to be cancelled with short notice – at least I did not share this experience after a single flight with them. Thus, I would give Malindo Air a very solid recommendation if you need a shuttle in this part of Asia.
Aviation on Flyctory.com
Here are all postings about Airports & Airlines:
Malaysia Postings
Here are all postings about Malaysia:
Routemap: screenprint from website