On 5th September 2020, I had my very first flight from Venice Marco Polo Airport (VCE), flying with Eurowings to Cologne / Bonn Airport (EW 815). Covid-19 times are likely not the best period for doing a proper airport review – but I felt it is interesting to see how safety and hygienic measure are enforced in different location. Here is my special-times experience heading back from a great weekend in Italy.
Venice Airport – Location & Transport
Marco Polo Airport is the key airport of Venice. There have been quite frequent flights from Treviso Airport, especially from low-cost carriers, but carriers like Ryanair and Eurowings are now back at the Adria. The airport is quite close to the city, the distance to Piazzale Roma, the main road travel hub on the lagoon, is just a 14 kilometres drive away.
From the touristic center of Venice, most transport to the airport is thus from Pze. Roma. You may either take a taxi or the Aerobus (Line #5). The bus is heading to the airport, doing multiple stops on the way to the airport. The bus service is not included in public transport tickets and require an 8 Euro adult (15 Euro return) ticket. It is not favorable to first go to Mestre, the mainland part of Venice.
I wanted to go for the most posh and fitting airport transport available, i.e. by boat. The bus boat service unfortunately had a quite poor timetable for my late Saturday evening flight (departure 21:35 hrs) and a water taxi boat was some 110 Euro from Hotel Abbazia close to Venice Santa Lucia Main Station. Thus I took the Aerobus, which was comparably empty – I guess it may be quite packed in touristic peak times.
Venice Airport – Landside Check-In and Security
The airport was using a strict one-way traffic system: you generally enter the airport on departure level and leave it on the lower arrival level. You could go downstairs from departure level, but not vice versa. Once on arrival level, you had to leave the airport and go back to the departure level control and re-enter the terminal. Entering the terminal required a face mask, a reasonable body temperature and a boarding pass. The check-in area felt close to abandoned. There were just very few flights. Even though my Cologne flight was comparably full (maybe 50 to 60 pax), checking in (at two check-in counters) was super-quick and efficient. The ground staff was terribly organized (see boarding below), though.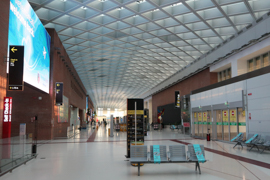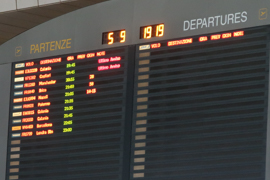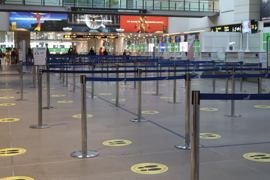 Not too surprisingly, there were social distancing measures like blocked seats in waiting areas. The airport provided sufficient sanitizer. You could spot check-in banners from some airlines here and there, which were likely not too frequently used nowadays. The check-in area had social distancing markings, as you see above. Quite surprising to me, they used adjacent desks for check-in. There was sufficient space to separate the passengers a bit. Security did not feel different from what you would expect from pre-Corona times. In contrast to my Berlin to Dusseldorf experience in May 2020, there were no special measures to reduce the potential of interaction between the security staff and the passengers.
Venice Airport Airside – Services and Shops
Same situation after security: the huge duty-free shop was open, but overall had a very relaxed atmosphere. After that shopping temple, just very few shops were open, some fashion stores a few restaurant / food ones. Even shops like a Venice souvenir store had their doors locked. The upper level food court was closed, which was very unfortunate, as this area provides the only free tables at Venice airport – there are no designated workstations at that airport. Of course, all airport lounges were closed.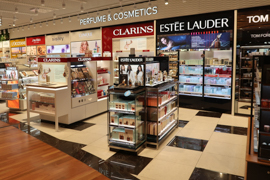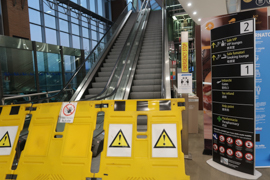 Venice Airport – Boarding
Boarding was really unorganized. I watched the boarding of an Easyjet flight before, which has been done strictly by rows of five, back to front. My Eurowings flight was by first come first serve basis, no priority boarding or group boarding, as typically done by the airline nowadays.
However, you had to fill out a mandatory Covid-19 statement before boarding. The document did not include too much special information – majorly information about you and your flight and your travel document number. Finally you signed that you haven't been tested positively for Covid-19 and did not have contact to positive people the last two days. The check-in crew barely missed to give me that paper at the counter, but all people with hand luggage only who directly headed from the airport entrance to security did not have it at all. No announcement before boarding that you need to have the document and have it filled out. Not too surprisingly, boarding took ages and the Eurowings crew got some kind of nervous already. It felt like some people had that form with them when they boarded the plane – so something must have went totally wrong.
Local regulations seem to differ within Italy, though. I read in a forum from a Naples to Frankfurt flight by Lufthansa, where people had to pass a disinfection sprayer before boarding and only medical masks or similar were allowed – not cloth masks or other material. There were some people who were subject of denied boarding due to their masks on my Venice flight as well, but the Eurowings crew stated that cloth masks are fine for them (just no face shields and similar items).
Venice Airport – Unboarding in Cologne
Of course, this posting is not about the measures based on German regulations in Cologne – but I felt you might still be interested in it. Before landing, the flight attendants distributed a memo by the German government about the general German regulations at that time, especially about quarantine ones (which did not apply to stays in Italy at that time). Thereafter, the passengers have been instructed that unboarding strictly is done by rows, i.e. people in row 2 are asked to just stand up after row 1 has completed their unboarding. Apart from few exceptions, this worked out surprisingly well. Cologne / Bonn airport was quite empty – which is however not too surprisingly at 23:00 hrs on a Saturday evening.
Airports on Flyctory.com
Here are all other airport-related postings:
Covid-19 Postings on Flyctory.com
Here are all postings related to the 2020 Covid-19 crisis: