In April 2021, I finally had my first flight connections to/from the new Berlin airport, BER – Berlin / Brandenburg. The first result of that day-trip I share with you is that lounge review. Definitely a strange time to do that. There is no catering in airport lounges currently, as they are seen equivalent to restaurants. And there are hardly any passengers. Pandemic impacts. I feel it is still interesting to give my views and rate that lounge experience.
Lufthansa Business Lounge BER – Location & Access
The Lufthansa Lounges are located in Terminal 1 of the new Berlin / Brandenburg Airport. If you leave security control and cross the duty free store the lounges are to your very right, in the B-Gate area. The exact location is close to B20, right at the end of the aisle, before the walkway to the gates takes a right bend. It is quite a walk, but at least all Lufthansa flights (which means: to Frankfurt and Munich at that time) were boarding from nearby gates.
At the time of visiting, only the Lufthansa Business Lounge was operating. The Senator Lounge was closed. Thus, the lounge is open to all Lufthansa status customers and Star Alliance Gold members with a Star Alliance flight. I had a Eurowings Biz Class ticket. Eurowings is expected to operate from another terminal in the future, but as long as Terminal 1 is the only terminal operating, they accepted the ticket as well as granted admission to Lufthansa Senator and HON Circle members on tickets for their low-cost airline other than the BASIC fare.
Lufthansa Business Lounge BER – Atmosphere
It was of course somehow depressing to see the tables very separated, the drawers for newspapers and magazines being empty and no food or drinks in the lounge. But apart from that, I have to say that I feel Lufthansa did a really nice job in the design of the Business Class Lounge. Close to the reception, there is rather restaurant / bar alike seating with chairs, tables and also some barstools. Towards the windows, which give a nice view of the apron, there is more cozy and relaxed seating. The lounge also has a couple of almost separated areas, which gives a nice touch of privacy.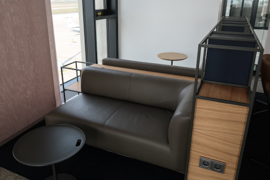 I went to the very rear part of the lounge, which will host the main area for catering in the future. I loved sitting at the work desks directly at the windows facing the gate area.You could move the blinds so that the sun does not distract you. The power plugs also featured USB charging. I was quite surprised that Lufthansa had German-style plugs only – you can see that as a hint that Berlin's dream to become more of an intercontinental hub with that airport are unrealistic. At least, when you see that as a statement by Germany's largest airline. With the drawers in the room, the lounge almost felt like a cozy living room, very warm and welcoming.
As said, I really loved to watch the air traffic in Berlin – even if there was not too much to see in April. There are still some interesting carriers, like the Danish DAT Airlines connecting Saarbruecken Airport (SCN) and Berlin or Belavia flying to Minsk.
Lufthansa Business Lounge BER – Eat & Drink
As said, I cannot rate the in-lounge catering as was currently prohibited to serve food for other than take away at the time of visit / of writing. Still, I felt that the buffet looked quite nice (but also not overwhelmingly special. There were two warm plates for hot dishes as well.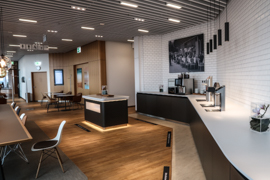 At exit, you could help yourself with bottles of water and really delicious sandwiches, which you could eat outseide the lounge.
Lufthansa Business Lounge BER – Services
The staff was very kind. Lufthansa is using German Telekom for their lounges' WiFi service, which is typically very reliable and worked well during my visit as well. Interesting to say that the Business Lounge does not feature showers – another hint that even after Covid-19, there will not be too many overnight connections via the airport in the Southeast of the German capital.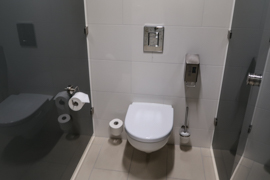 Lufthansa Business Lounge BER – My View
Visiting a Lufthansa lounge on a Friday afternoon and being there with three people at the beginning, later maybe some 20, is really a strange experience. And not being pampered with the typical service is kind of sad as well. It is a difficult time and I felt really thankful to be able to relax and work in the Lufthansa Business Lounge at BER Airport. I feel the place is really promising and felt very cozy and comfortable. It absolutely fulfilled my needs and is a real beauty. Maybe one day I have to come back when flying is back to normality.
Lounge Reviews on Flyctory.com
Here are all Lounge Reviews on Flyctory.com:
Travel in Berlin
Here are all travel postings related to Berlin: