Coming back from London from the (finally cancelled) Country To Country Festival 2020 was the last trip I took before right before the Covid-19 crisis. Daring for a trip again, a very carefully selected day trip, was almost exactly two days later. A trip from home to Berlin. I felt that this trip was important to me, to explore the feelings and memories this trip will give me, to keep the emotions in this exceptional situation in my mind – and finally (but – sorry – not majorly) to share them with you. Hope you enjoy this trip report which is much more to me than a four hour train ride and a one hour flight.
My Day Trip through Germany – Itinerary
I took the trip on 15th May 2020. As stated in other postings, traveling is part of my mental health, so I was looking for a trip which includes a rail and a plane ride (my two favorite methods of transportation) and which give me some time in between to have a look into the destination city. Of course, I wanted to stay within the German borders at that time. The train left Dusseldorf Airport station at 5:59 hrs, the inbound flight was expected to leave Berlin-Tegel at 20:40 hrs.
| Transport | Number | from | to |
| --- | --- | --- | --- |
| High Speed Rail | ICE 853 | Dusseldorf Airport | Berlin Main Station |
| Plane | EW 9045 | Berlin TXL | Dusseldorf DUS |
I decided to go for the trip about a week before it happened. The rail ticket (1st class, restricted to that connection) was 65 Euro including a day ticket for Berlin local transport. I paid the flight partially with miles (Miles & More, 15.000 Miles plus 40 Euro), the nominal price of the ticket was roughly 190 Euro at that time.
From Dusseldorf to Berlin by High Speed Train
The first thing I felt is that I am no longer used to wake up at 4:00hrs for a trip after two months of staying at home. After doing the final preparations for the Flyctory.com music reviews, I headed to Dusseldorf Airport Rail Station. There is so few traffic on the motorways nowadays during non-peak times. The empty parking lot at the station felt depressing, though. The 5:59 train to Berlin is typically packed, but after we left Essen, I could not spot any other person in the whole 1st class wagon – even though the train is stripped down from two carriages into one and the frequency of trains is significantly reduced. Wearing a mask all the time felt a bit strange if you are the only person in the car, waiting each and every station for somebody else to board. After Hanover, the train got a bit more crowded – which means that there were three or four people in a carriage which can likely hold 60 people or so.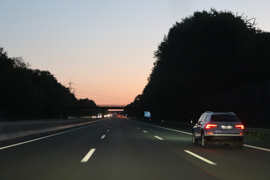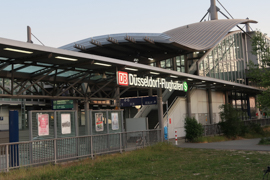 Visiting Berlin
Getting off the train in Berlin Main Station felt as surreal as the ICE ride: you again see that also the 2nd class has been operating far below capacity. Berlin Main Station is huge, most shops were opened. I had a short around the station before I headed on. Felt sorry with the beggars around the station (not too many are around nowadays, anyway…). Hard to do your business if there are no clients. I headed to the top level of the station, heading West to Berlin Zoo station.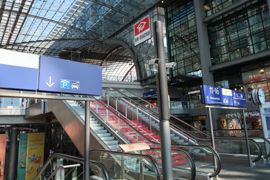 Even for the very most ignorant people in Germany, Berlin Zoo Station (in the former Western part of the city) finally became somehow famous with the movie Wir Kinder vom Bahnhof Zoo ("We are the kids from Berlin Zoo Station"). Drug abuse, prostitution and other sad things at the edge are society may not be as normal as it used to be, just a few people slept on a bank in the sun. I headed on to Berlin Zoo (the former Western Berlin zoo, there is also the Tierpark in the East…). Just some pics for animal lovers. Definitely not the topic of this post.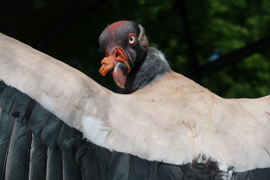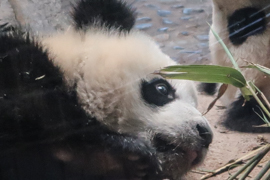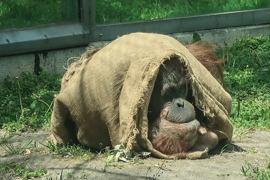 After leaving the zoo (and watching the cuddly giant panda babies…), I headed on to Tauentzienstrasse. I did some shopping, but I was also curious about just watching how Berlin would be like these days. Friday afternoon, comparably empty streets – and even in the world famous KaDeWe (Kaufhaus des Westens) it somehow feels a bit of empty. I also took a picture of Brandenburg Gate… Somehow…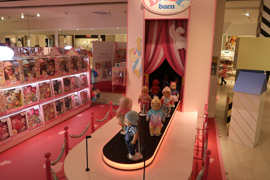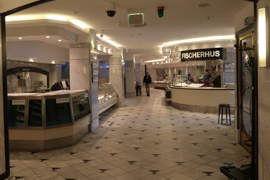 Bye Bye Tegel
I had quite a list of museums which could be interesting for Flyctory.com, but I enjoyed the area around KaDeWe so much that I took much more time – and finally decided to walk back to Zoo station and took a bus to Berlin Tegel Airport. Covid-19 did not hit the airport buses at all. There are two connections from Zoo Station to the former Western Berlin Airport, which is going to be closed soon. I went for the local bus, which is a bit slower, but gave me some more views of the city. Both, that local 109 and the express bus, still operate in their regular timetable – which means they are comparably empty.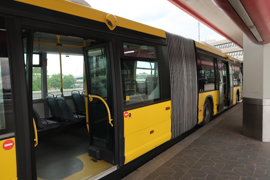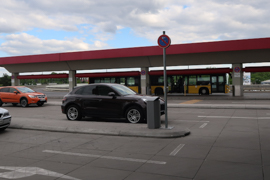 Arrived in Berlin Tegel, I took a walk down to the staff parking to take some farewell picture of this historic place. I have never been a big fan of Berlin airport, but it somehow made me sad to say goodbye to it. Taking a basement entrance, I popped in the middle of the key terminal – which I found out is completely locked down currently. Bad luck, just one picture later, a security guy approached me and asked for my airport ID. Would have loved to take more pictures in there.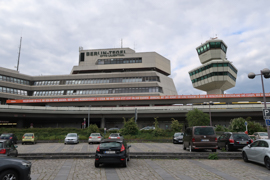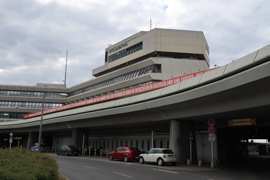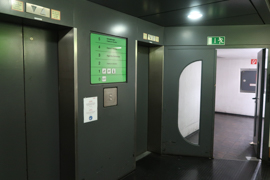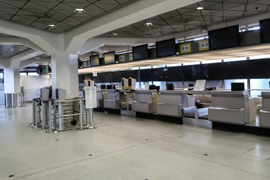 All flights currently operate from Terminal C, which is a fit-for-purpose ugly new flat building with container feeling and bus or walk-in boarding only. To make the story short: the organization was a mess. Arriving guests were sent to another exit door regularly right before they were about to leave the terminal through a "non-desired" door. A chilled drink machine was the only potential to have some food-alike stuff – which would have been quite nice, as the queues for security completely across the terminal. I felt lucky to arrive at the terminal three hours before departure. Surprsingly, there were no glass walls in from of the check-in desks.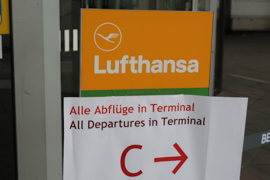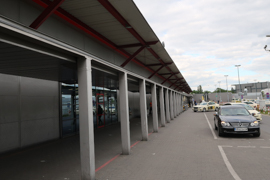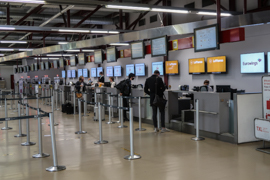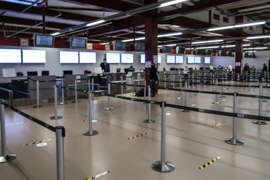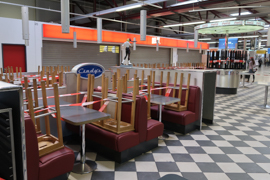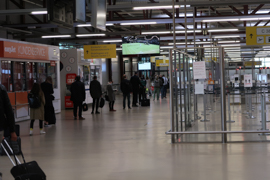 From arriving at Terminal C until passing security, it took me about one hour. Very detailed security checks, US style (i.e. including removing shoes and belts) and caring that there is just one person in the whole security lane just takes ages. Right when I passed security, they called flights to Cologne, Zurich and Helsinki. Some 50 people boarded Cologne/Bonn on the only flight of the day – you have to note that Cologne – Berlin is the most frequented route in Germany. After these flights closed boarding, the terminal felt really empty – at least there was a restaurant (unfortunately, an outlet of the same restaurant chain I had lunch in).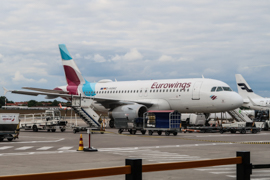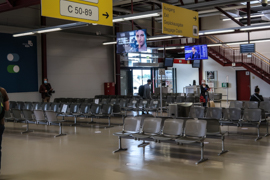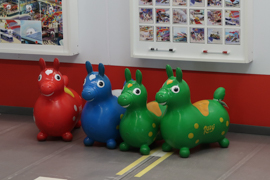 Flying Back To Dusseldorf
Eurowings EW 9045, Berlin-Tegel to Dusseldorf. Quite strange numbers: while some six or seven of the twelve BizClass seats were taken – but on top of that, the Airbus A319 had roughly 20 to 25 more passengers. No inflight magazine, you could buy bottled drinks and packed snacks, but there is no service on top (apart from the BizClass, who could order from the limited menu for free. Quite tough times, I missed relaxing in the lounge and especially the drink before the flight… I was terribly thirsty when we arrived in Dusseldorf Airport. The flight was lovely, though and offered some nice sunset views and some nice snaps of the region at departure and during approach.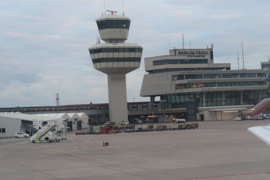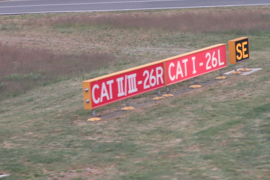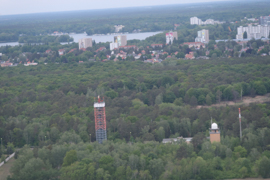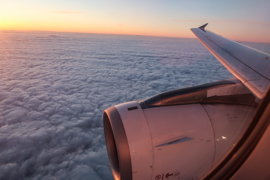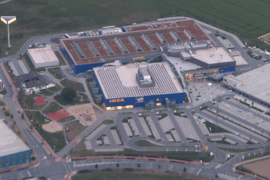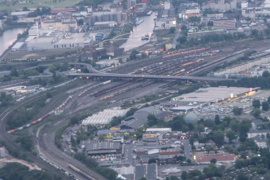 I recently made a hike around Dusseldorf Airport, but approaching the airport from the West gave some interesting views of the apron positions. Quite some parked planes there, though it felt less than compared to the views I had of Cologne/Bonn or of Frankfurt Airport. We arrived at a gate position – and even though the flight was really quick and we arrived at gate at about 21:40 (on a Friday evening!), the terminal already felt like evacuated. Not too surprisingly, as there was only one flight which had landed briefly before, from Vienna Airport.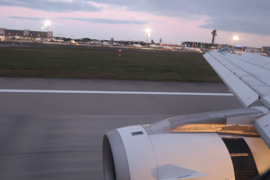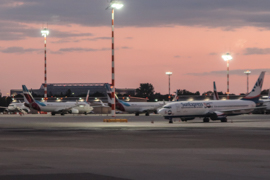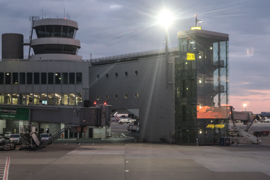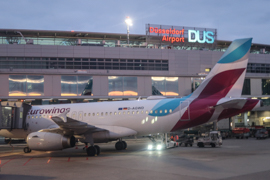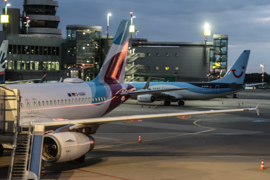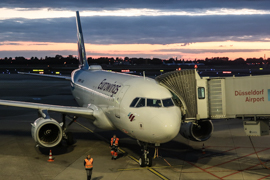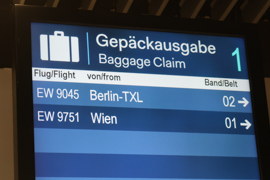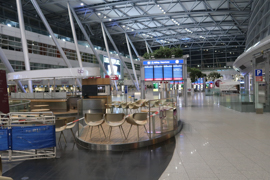 The Sky Train, which connects the Terminal to Dusseldorf Airport Station and some parking lots, currently just operated every 15 minutes (instead of some 5 to 7 minutes in normal operation). Thus, it took a while to get back to my car, enjoying the lovely sunset a last time from the Airport Station before heading home. An impressive day, which created a lot of memories I will never forget. Sad memories.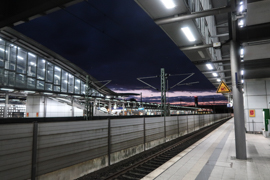 Trip Reports
Here are all (other) Trip Report postings:
Covid-19 Postings on Flyctory.com
Here are all postings related to the 2020 Covid-19 crisis: