Malta was the destination of choice for my wife and myself during Easter 2022. Staying at the Hilton Malta, we obviously used Malta Airport (MLA) to get to and from the Southern European island. Nowadays, it is merging civil and military aviation of the small country. Here is my review.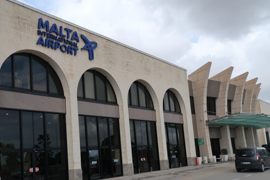 Malta Airport (MLA) – Location & Transport
Malta Airport is located in Luqa, a city South of the capital Valletta. There have been predecessor airports, but this location is more or less the only aviation option on the Maltese islands, including Gozo, since a couple of decades.
Malta is rather compact and the bus network is excellent. Especially to the capital area, the connections are very good. Apart from taxis, the only other transport option is a rental car, We had a rental with Hertz at Malta Airport (MLA), which felt a bit of scam-alike. As I wrote in that review already, the route and the signs to the rental car offices are a bit of a mess.
Malta Airport (MLA) – Connections
We flew local carrier Air Malta to and from the island, which is one of the key providers of connections to the airport. Another big carrier is Malta Air, a subsidiary of low-cost carrier Ryanair. However, there is a wide range of European airlines connecting to Malta, especially compared to the size of the island. This illustrates its touristic and economic importance. However, at the time of writing, there are just two non-European connections from Malta Airport (MLA), both being rather short-haul ones: There are flights to Tel Aviv (TLV) and Tunis (TUN). We arrived from Munich (MUC) and flew back home via Zurich (ZRH).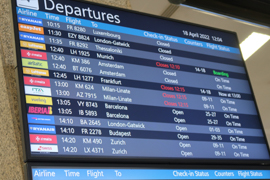 Arriving at Malta Airport (MLA)
We were quite surprised that our Air Malta flight from Munich (operated by Smartlynx Estonia) has been parked a very remote location, so that we had quite a bus ride to the terminal.. Arriving at Malta Airport (MLA)'s terminal felt very friendly then. Some parts of the luggage belt and arrival duty free area felt a bit too narrow, but overall, it was a reasonable experience.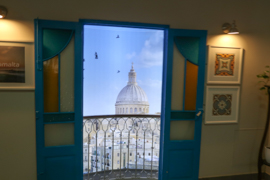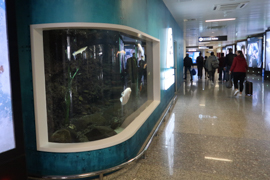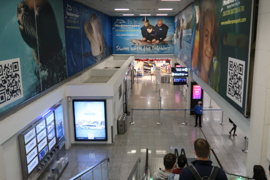 Departing from Malta Airport (MLA)
Malta Airport (MLA) is handling more flight operations than you might imagine – there were some seven million passengers per year pre-Covid. The landside check-in area might not be too fancy, but it is really spacious and well-organized. The large advertisement screens give the place a nice and modern touch.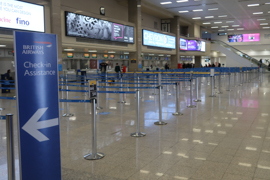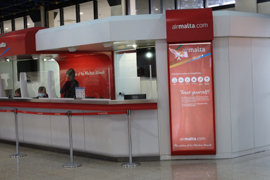 Unfortunately, the airport could not keep up with the good impression on the other side of security controls. The airside waiting area was simply too packed. Thus, we were really happy that our Air Malta Business Class ticket gave us access to the La Valette Club Lounge (see also below). Compared to the size of the waiting area, the shopping and dining opportunities are quite nice, though. It is typically a good destination for duty free shopping.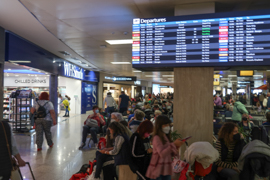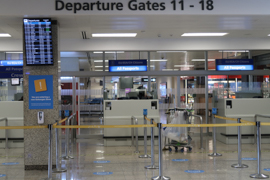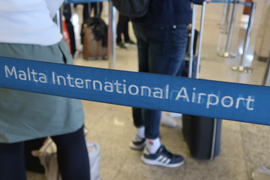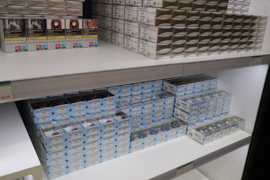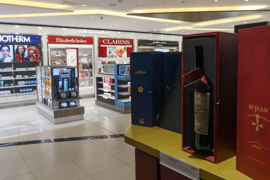 Malta Airport (MLA) – Services
WiFi worked fine in the airport. In vast contrast to the "standard" airside experience, the airport offers a lovely and large airport longe located on an upper level, even including a balcony. I already introduced it to you in a review:
Malta Airport (MLA) – My View
Overall, the Malta Airport (MLA) experience was okay. The biggest pain point was definitely the waiting area airside. Due to its rather close bounds to the United Kingdom, it may be very difficult to balance the capacity of the Schengen and Non-Schengen section of the airport. The operations in general felt to work very fine, though.
Airports on Flyctory.com
Here are all other airport-related postings:
Malta on Flyctory
Here are all my postings related to Malta: