While my Lufthansa Senator Status typically grants me access to the SAS Gold Lounge next door, a Eurowings BizClass flight in August 2019 just allowed me to visit the Business Lounge of the Scandinavian airline at Terminal 5 of Stockholm Arlanda Airport. As there was not too much air traffic at that time, the visit was a good opportunity to take some pictures and write down some notes about the place.
SAS Lounge Arlanda T5 – Location & Access
Both lounges, the SAS Business Lounge as well as the SAS Gold Lounge are located around the corner of Gate 1. You may either use a staircase or elevators to the upper level. The lounge also offers access to gates 13 to 24 in the B area. You may also use it for Non-Schengen flights, but then need to add sufficient times for passport controls.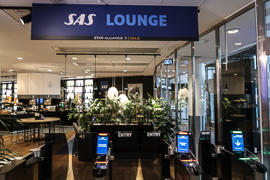 The SAS Lounge is available to all SAS Plus / SAS Business customers and selected customers of other airlines, e.g. Eurowings. Of course, you may also enter if you in fact could enter the slightly better SAS Gold Lounge, e.g. if you have a Star Alliance Gold status. The access is typically given by automated access gates. There is typically a receptionist for both lounges as well.
SAS Lounge Arlanda T5 – Atmosphere
SAS Lounges around the world have a pretty common design. You feel the Scandinavian heritage of it, it is clear, functional, but still cozy somehow. Even though the lounge is not too large (and can be quite crowded in peak times), it offers differently characterized areas. For example, there are round tables, which are better for eating, working desks and also areas which are nice to relax.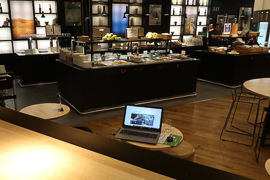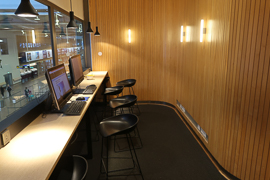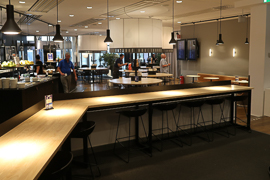 SAS Lounge Arlanda T5 – Food
You won't find a Sunday roast at any SAS Lounge. There is typically soup, some salad and fruit, good bread and other stuff to have a nice and healthy sandwich, some snacks and a selection of drinks – that's it Of course, this means that there is a certain limitation in the selection – on the other hand, the quality of food provided is very fine and most of the distances you travel with SAS (apart from their increasing volume of intercontinental flights) is comparably limited. Thus, I feel that the selection offered is reasonable.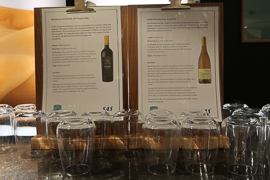 SAS Lounge Arlanda T5 – Services
The SAS lounge in Stockholm does not offer a specific view over the runway or similar. At least, there are reliable and clean sanitary facilities and you can have a look at the check-in areas. The internet is free and reliable.
SAS Lounge Arlanda T5 – My View
SAS Lounges are like good, old friends. They are reliable and you know what you get. They don't let you down and give you a nice time. You won't fall in love to them and they don't give you that very special heartbeat, though. The SAS Lounge in Stockholm just offers you what you need and you feel to have a nice time before your flight. You need more? You can get it – there are some nice restaurants and more fancy places outside the automated gates, you just need to pay them.
Lounge Reviews on Flyctory.com
Tired of waiting? Here are all Lounge Reviews on Flyctory.com:
Flyctory.com in Sweden
Here are all Flyctory.com postings about Sweden: