Usually, when you fly Taipei from Europe, you land in TPE aiport in the 30kms West of the Taiwan's capital. Strictly speaking, this airport is not part of Taipei, but is part of the city of Taoyuan. The capital itself, however, owns its very own international airport as well, which is mainly connecting to China mainland and Japan: Songshan airport, IATA code TSA, is really right in the middle of the city, not too far away from the iconic Tapei 101 skyscraper or the Miramar Entertainment park with ferris wheel.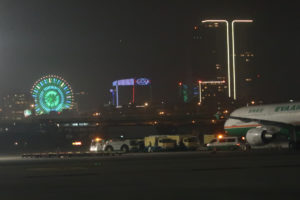 I added this airport to my log on a daytrip to Kinmen, a Taiwanese island in close proximity of China mainland, flying from TSA to Kinmen with Far Eastern Air Transport and returning with EVA's local and low-cost carrier Uni Air.
The airport is well connected to the city: as it is rather in the heart of Taipei, you can easily (and quite cheap) reach the terminal via taxi – alternatively, it also got its own metro station. For my early morning flight to the Island of Kinmen (here is a link to its airport review), I choose the taxi to the airport and then did sightseeing by metro on my way back.
The terminal splits up into two parts: the international terminal is covering the flights to China and Japan, while the local routes are handled in a separate area. Very uncommon, check-in and baggage handling is done at separate positions, so that you first check in and then potentially leave your hold luggage. While English is available, but not majorly common in Taiwan, the ground agents for both carriers spoke reasonable to good English, so that the check-in procedure has been rather handy. The landside part of the domestic airport hosts a couple of shops like 7Eleven (which is more or less everywhere in Taiwan…) and a very nice trader for model airplanes.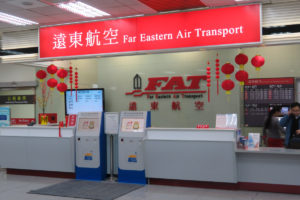 The highlight of the airport for me has nevertheless been the free-of-charge observation deck, which even provided free umbrellas to the customers. You could have some nice views of the runway and there have been even monitors to inform you about the planes around and their destination. Before going out to the fresh air, you may also have a look at a selection of model airplanes.
After passing security, there is nothing too much to mention about the domestic terminal, though: most carriers use bus transfer to their aircrafts, but Far Eastern Air Transport, who own MD-80 series planes, and Mandarin Airlines, who use Embraer 190s and one Boeing 737, use passenger boarding bridges on top level. There is just one store, which looks like a bakery, but also served stuff like Chinese chicken dishes (served in style in plastic bags …). There is even an airport lounge – I guess mainly for EVA air status members travelling on Uni Air.
Nevertheless, flying from TSA has really been a lot of fun, also due to the friendly staff around. Definitely an interesting experience of my frequent traveler life!
Aviation on Flyctory.com
Here are all postings about Airports & Airlines:
Flyctory.com on Taiwan
All other articles about Taiwan: