The OFD (Ostrfriesischer Flug-Dienst) is a regional airline, which is specialized in connection the German North Sea islands. Being part of the shipping company AG Ems, it is a sister company of the Cassen Elis company, which is driving ship connections between the German mainland and its most remote island, Helgoland (Heligoland). I, however, took the airborne trip after reaching the islands by the FRS Halunder express ferry from Hamburg on the outbound. Here is my review of flying OFD.
OFD (Ostfriesischer Flugdienst) – Network
OFD is operating what is called in German Linienflüge im Bedarfsverkehr, roughly "scheduled flights on demand". They do run flight schedules, but are more flexible in changing it compared to major airlines. The key part of these scheduled flights is connecting German islands with the mainland. Rather in the very West of the German coast, they connect Emden Airfield (EME) in East Frisia with Borkum Airfield (BMK). In 2022, they service Helgoland Airport (HGL) with three destinations on the mainland. During my trip, they only offered connections to Heide/Büsum (HEI) and Nordholz/Spieka (EDXN), which is a sports flight airport right next to Nordholz/Cuxhaven (FCN). During summer 2022, they also had one daily flight from Uetersen-Heist Airfield (QSM) close to Hamburg.
The flight prices are typically fixed prices (if you don't have discounts like being a resident on the islands). A one-way flight from Helgoland (HGL) to Heide/Büsum (HEI) or Nordholz/Spieka (EDXN) is 139 EUR, to Uetersen-Heist (QSM) 169 EUR. The flight between Emden (EME) and Borkum (BMK) is 113 EUR (all prices are 2022 ones). In addition, OFD is doing a lot of chartered and service flights. Flight prices only include 10kg of luggage. Any additional kilogram is 2 Euro.
OFD (Ostfriesischer Flugdienst) – Fleet
OFD has one six-seated Gippsland Airvan 6. However, the majority of flights is operated by the nine-seated Britten-Norman BN-2 Islander, which is a typical plane for these kind of services.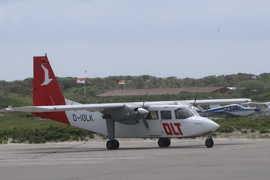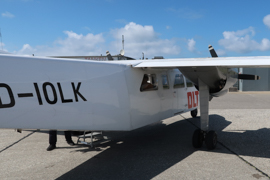 OFD (Ostfriesischer Flugdienst) – The Flights
My flights were on 12th June 2021. My booking was a flight between Helgoland (HGL) and Heide/Büsum (HEI). However, we had to include a stop at Nordholz-Spieka (EDXN). The rationale was that the majority of passengers were doctors, who are doing a monthly presence on the island and serve the medical needs of the Helgoland residents.
| Flight | Dep. | Arr. | from | to |
| --- | --- | --- | --- | --- |
| OFD 305 | 1505 | 1525 | Helgoland (HGL) | Nordholz-Spieka (EDXN) |
| OFD 305 | 1530 | 1550 | Nordholz-Spieka (EDXN) | Heide/Büsum (HEI) |
The flight had slight delays, but was overall in time,
OFD (Ostfriesischer Flugdienst) – Ground Services
I did not have the opprtunity to explore the ground services at Nordholz. The pictures below are from Heide/Büsen (HEI). The Helgoland (HGL) ones are given in my dedicated review. The service was very friendly. Even though I reserved the flight well in advance, I paid the trip in fact at the Helgoland Airport (HGL) office.
OFD (Ostfriesischer Flugdienst) – The Cabin
I did not take any pictures of the well-booked cabin unfortunately. There is a typical BN-2 seating, which was overall a bit of narrow, but quite comfortable. Seats are build in (foldable) benches of two people per row, who sit next to each other.
OFD (Ostfriesischer Flugdienst) – Flight Experience
The day of travel was rather sunny, but a bit of windy. Flights in these area tend to be a bit of bumpy anyway. The captain was very friendly and explained everything you need to know. The views of Helgoland while departing from the island were amazing.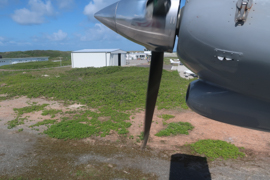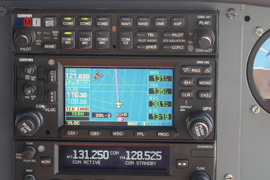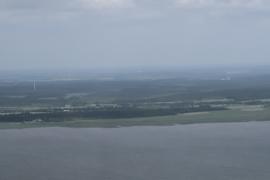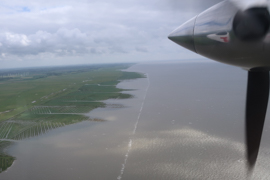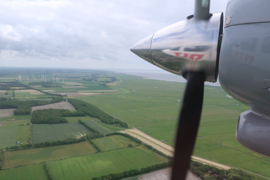 The landing at Nordholz-Spieka (EDXN) was special to me as it has been the first time I landed on grass in my life. There is a "proper" airport right next to the airfield – but as it is also used militarily, it is easier for OFD to go for the grass option. The flight from there to Heide/Büsum (HEI) was really nice, crossing the Cuxhaven harbor facilities and the Mouth of River Elbe. The landing was quite spectacular, taking a steep left turn before touching down – these kind of small planes just allow to do much more "extreme" maneuvers.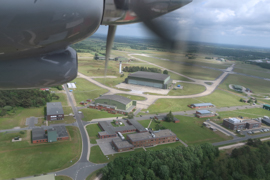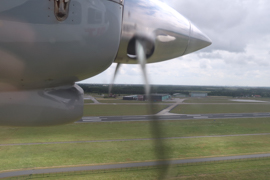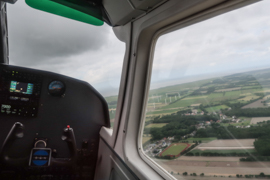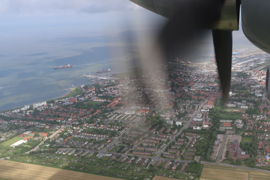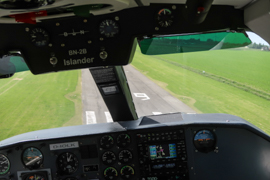 OFD (Ostfriesischer Flugdienst) – My View
Flying OFD was truly a nice experience. Unfortunately, all airfields on the mainland, which connect to Helgoland (HGL), are rather limited in public transport. I finally took a taxi from Heide/Büsum (HEI) to the next major train station. Apart from that, it is a beautiful and reliable way to explore this part of the German North Sea.
Small Islands on Flyctory.com
I gather small and remote places under the Small Islands tag on Flyctory.com. Here are the corresponding postings:
Travel in Berlin
Here are all travel postings related to Berlin: