If there wasn't Palma, the "Costa del Sol" Airport of Malaga would be Spain's premier holiday airport with more then 12m passengers annually. I did the airport a couple of times already (also because I love the city of Malaga) – so I did during my Six Intercontinental Flight weekend for four legs, an arrival from Ceuta by Helity (Day 3 of the trip), a return flight daytrip to Melilla (Day 4) and returning back to Germany on the fifth and final day.
Here is my review of the "Costa del Sol" airport, which of course also includes my experience of previous connections.
Malaga AGP – Location and Traffic
Malaga Airport is quite closely to the center. It is a about a ten kilometer distance from city center to the key aviation grounds of Costa del Sol. Many people likely arrive here by rental car, just because they want to explore Costa del Sol or Andalusia. However, the connections to the city and the surroundings are excellent: there is an express bus, Line A, which takes some 20 minutes to Malaga and just costs 3 EUR. There are two to three departures in front of the airport terminal per hour. Taking the local Renfe commuter train is even cheaper, with some 1.80 Euro per trip and a quicker travelling time of slightly more than ten minutes. The additional advantage of that option is that it does not only go Northbounds to the city, but also connects to some cities at the closeby coastline like tourist magnets Torremolinos and Fuengirola (final stop, higher fee). Taxis from the airport have a minimal fee of 20 Euro.
In my Six International Flight weekend Day 3 posting, I wrote about that none of the hotels closeby do have a shuttle or a good connection to the airport. Some are somehow connected by the express bus line. This shows, how specialised the infrastructure of the airport is for holiday business. In general, I felt that the best connection are hotels, which are closeby the Renfe commuter line and/or by bus, and chose the Sercotel close to Malaga's main station.
Malaga AGP – Flight Connections
The key business of Malaga airport is holiday travel – especially in summer season, you more or less may connect to any location in Europe you may imagine (including rather exotic aiports like Liverpool, Malmö or Antwerp). I also spotted a Delta airlines service to New York, but that is definitely not Malaga's characteristic type of flight. Of course, there are also connections to all over Spain – one of the most interesting ones was the one I took on the third day of my Six Intercontinental Flight weekend in the Mediterranean: the Spanish helicopter airlines Helity is offering connections to Spain's North African exclave Ceuta. There is a massive number of flights from Germany. Even the displays in the airport give German wordings.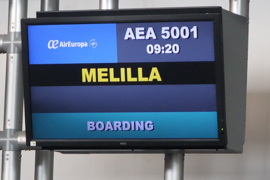 Arriving at Malaga Airport (AGP)
If you arrive at Malaga Airport for the first time, you might be overwhelmed by its cheer imensity. The luggage belts are numbered up to 42 – and even if there are a few belt numbers missing, it feels like a cathedral of European luggage. Funnily, just four belts are assigned to non-EU flights (which also covers the services to duty-free Spanish areas like Melilla and Ceuta). This shows the importance of the airport for European travel rather than being a worldwide travel hub.
After you got your luggage, you might go to one of the many rental car offices, which are situated a level below. Furthermore, there is an arrival duty free. There are some special services close to the arrival area exit: the first eye-catcher is a "rent-a-golf equipment" store, which shows a decent popularity of that sports in the area. A couple of steps ahead, you might be lost in a horde of travel agency agents bringing their customers to the correct transfer buses. Malaga is a holiday destination – and this very often simply means package holidaying.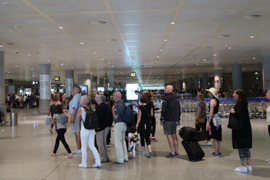 Malaga Airport AGP – Check-In
If you depart from Malaga in the high summer holiday season, you will be togehter with masses of people (especially on those days, where travel agencies typically do their inbound and outbound flights). In theory, Malaga offers three terminals, but Terminal 1 is closed (there are rumours that it will be renovated and re-opened in the future). There is no real split between Terminal 2 and 3 – you will majorly see that there are two different buildings just due to their very different designs. The older one, Terminal 3, is thereby majorly used by charter and holiday airlines. More established airlines like Iberia, Lufthansa Group or Air Europe are all located in the more modern area. Security is in Terminal 3.
During my May visit visit the security seemed to be efficient even with quite long queues. However, there are frequent reports about the airside security collapsing in summer which leads to massive waiting times there – I did have similar experience despite fast track access in summer 2017 as well.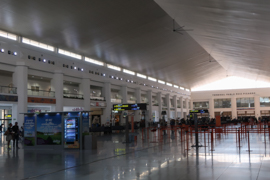 Malaga Airport AGP – Shops and Restaurants
As a holiday airport, you of course want to get your passenger's final reserves when they do their last steps on Spanish soil. The massive Duty Free area gets its job done! Compared to Madrid, it is sometimes slightly more expansive, but it has a similar, maybe even better variety. There are also some nice specialized stores like Victoria's Secret or a shop for Spanish delicious food (if you fancy to go back home with a complete Serrano ham, that's the place to go…).
After the duty free area, there are also some eatery places, from Burger King to pub-alike food. Shopping seems to be much more in focus, though.
Malaga Airport AGP – The Lounge
Regardless that the airport is rather major, there is just the Sala VIP option if you want to have lounge access. The AENA (Spanish airport authority) operated lounge is huge, I would assume it to easily hold 500 passengers. However, in summer it can be very busy. The atmosphere is quite cozy with a lot of sofas, but most of the separated areas hold roughly ten people. At the very end of the lounge, there is a working space area and a children cinema. Toilets are located on both sides of the lounge. There is a lot of wine and limited other alcoholic drinks – the food offered does not exceed other Spanish lounges (which means that you are typically more than happy if you happen to grab a packed pasta salad). It is not fully terrible, but it is also not a lounge I would rate good in any regard.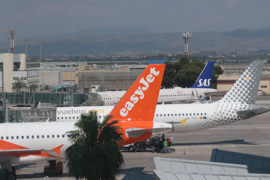 Fun fact about Malaga Airport
Did you ever ask yourself, how the Malaga Airport IATA code, AGP, fits into the name of the city or the name of the Airport, Costa del Sol? The reason is that until 2011, the airport has been named after Pablo Ruiz Picasso and called "Aeropuerto Gran Picasso", which form the abbreviation. The renaming to "Costa del Sol" airport was of course supported by the tourism industry around the airport. I even found an article that they were aiming to change the AITA code to SOL. As this code is now taken by the Solomon State Field in Alaska, I don't believe this change will ever happen.
Malaga Airport (AGP) – My View
I am not a special fan (or hater) of Costa del Sol Airport. AGP just got what an airport of this size needs. There is not too much character in this airport, maybe the historic Terminal 2 is something special. On the positive side, there is definitely the excellent connection to Malaga city (which is an absolute pearl – you should visit that!) and the nice shopping facilities. It is a holiday airport, which means that you just face many people who do not fly regularly which reduces efficiency of operations at the typical bottleneck points. The VIP lounge is huge. Finally, I feel that only the Iberia lounges in Madrid are really great places in that country. Compared to minor Spanish airports like Seville, Malaga is a an absolute treat. Malaga is a nice hub, as efficient as it can realistically be, so that you will enjoy it somehow when you are around!
Airports on Flyctory.com
Here are all other airport-related postings:
Spain on Flyctory.com
Here are all postings about Spain: