Apart from some hiking and a number of drive-in cinemas, I did not generate any new contents for Flyctory.com on the travel side since mid March 2020. Thus, travelling to Frankfurt Airport was something very special – also I wanted to see the impact of the Covid-19 crisis on Germany's largest air travel hub by myself. This posting is a mixture of showing the (landside) situation at the airport, pictures of numerous parked planes and some plane spotting on the limited air traffic at the airport.
This posting comes with 143 major size pictures in the travel galleries.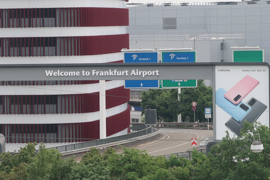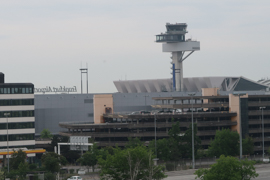 Frankfurt Airport – Location & Connections
Frankfurt Airport is located West of the city center of Frankfurt. It has likely the best ground travel connections of all German airports, being connected to the German high speed rail system and located right at the junction of two major motorways.
For this posting, I gathered most of the material on Saturday 9th May 2020. I marked the spots I used for plane spotting and taking pictures of parked planes below. For the photo spots around 25R and 18, limited free parking space is available right nextby / at short distance. For the Eastern one near Zeppelinheim, you either walk from the S-Bahn local train or can use a free hiking car park at the adjacent forest and take a bridge over the A5 motorway. This one also typically has some facilities like to-pay telescopes, which are obviously closed during Covid-19 times.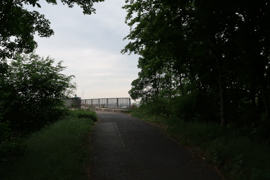 Frankfurt Airport – Covid-19 Flight Situation
Frankfurt Airport typically handles some 1,400 departures and landings per day (based on their official 2018 figures). There are no disclosed figures for April 2020 yet, but for individual weeks, the number of passengers reduced by 95 per cent compared to the same week the previous year. Freight flight are of course still operated by a certain frequency.  I just made a quick analysis for Monday, 11th May 2020 – and I could validate only 88 departures from Frankfurt Airport that day (freight an passengers), which would roughly suggest a reduction of flights by more than 85 per cent.
The most easy way to explore is just by visiting the terminals. If you have ever been at Frankfurt Airport before, you may feel as depressed as I did. The Squaire, which is typically always very buzy as it hosts the high speed rail connection, felt like evacuated – even the supermarket in there was a lonely and empty spot. The parking garage was also empty and I could operate the rail system to and from the Squaire on my own. Needless to say that the Express Rail Terminal, which typically allows you to connect between air and rail, was closed as well.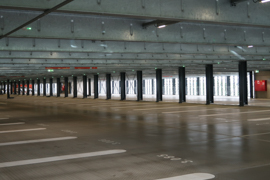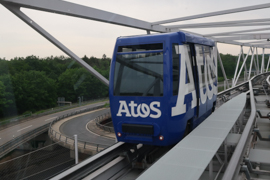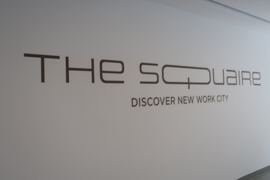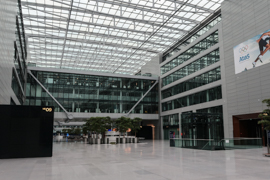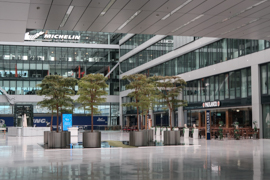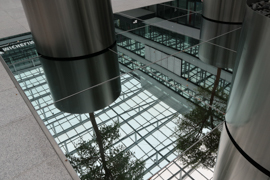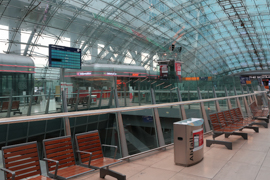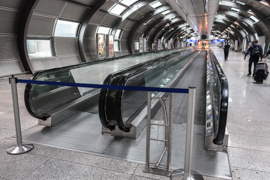 At Frankfurt Airport Terminal 1
Due to that low level of passenger traffic especially (there are some estimates which suggest a reduction by 95 per cent, which I cannot validate), Frankfurt Airport massively reduced its operations. Terminal 2 is completely closed down, all check-in is operated from Terminal 1, B and C. Majorly B, C and a bit of the Z gates are used to operate the flights behind security. The most impressive picture to me was Terminal 1, A. Being there on a Saturday at around 11:00hrs may not be the buziest time you can be there – but the only people I met there were people who looked for the Business Class or First Class Check-in (which is also closed). The old-fashioned flight announcement boards easily hold all passenger flights of one day – there were already quite some flights for the following Sunday on the boards. Thereby, you have to note that quite a bunch of the "flights" on this board are in fact domestic rail connections with Lufthansa flight number.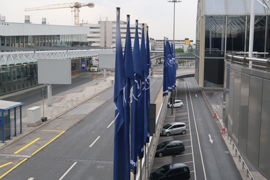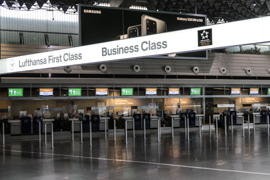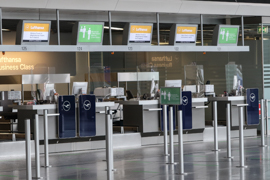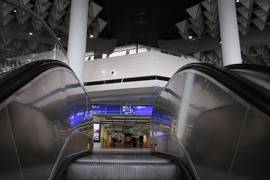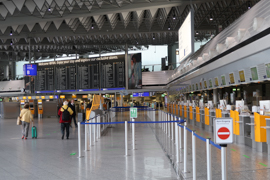 There is still intercontinental air traffic, like flights to Newark and other US Airports, but also Singapore. Going down to City Mall level, which features stores, restaurants and local rail offers a very similar picture. In addition to this sheer emptiness, all seats at the restaurants are blocked as the Covid-19 regulations at that day did not allow people to sit there.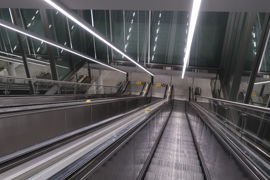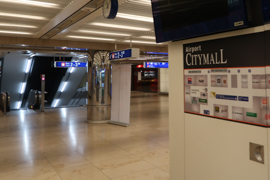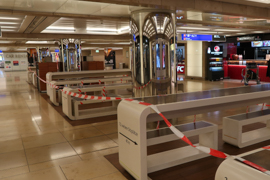 Frankfurt Airport – Parked Planes
Another evidence of the Covid-19 crisis implication is the vast number of parked planes you can spot on the outer parts and in front of Terminal 2 at Frankfurt Airport. The best place to spot parking planes is the Northern 7L/25R runway, which has been completely turned to a parking lot. The runway is used by Lufthansa, you mostly see Airbus A340 planes, but also some A330 ones. There are numerous spots to watch, I majorly used the one I marked above, but also some quick snaps from Kelsterbach Industrial Area.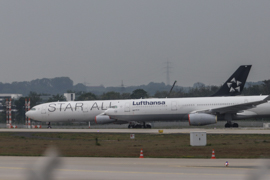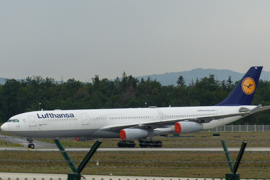 You also have a nice view of parked planes from the De-Icing positions near Runway 18 (which is solely used for Southbound departures). You have a couple of planes of the A320 family by Lufthansa there, but also the German Airline Condor has quite some parts of their fleet around there.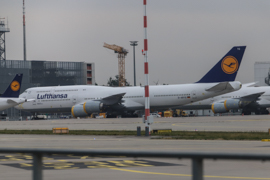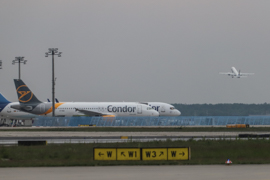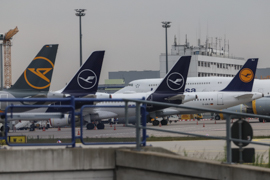 There are also some nice views around the current construction sites for Terminal 3. However, I was not fully aware of the parking possibilities there. I just took some Terminal 2 views from The Zeppelinheim spot I marked above.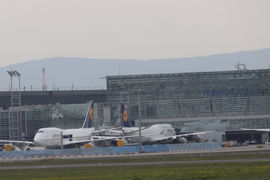 Frankfurt Airport – Some Plane Spotting
As said, there is still some traffic and thus some plane spotting possible. I could see a bunch of operating planes from the 18 Runway spot as well as from the Zeppelinheim one before there was an intermission of nearly 60 minutes until the next flight. There are more plane spotting pictures in the gallery (see below).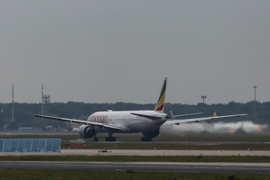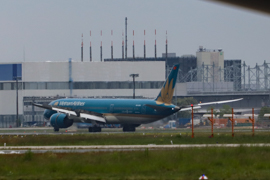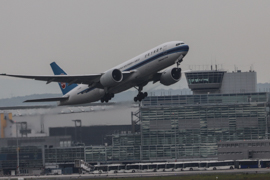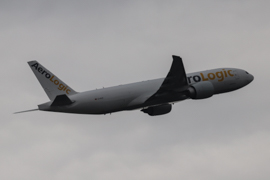 Frankfurt Airport – Plane Spotting Gallery
I decided to put all pictures of parked planes as well as my small plane spotting collection to this gallery- The pictures are part of the Travel Galleries:
Covid-19 Postings on Flyctory.com
Here are all postings related to the 2020 Covid-19 crisis:
Flyctory.com in Frankfurt
Here are all postings related to Frankfurt: