When I arrived at Vilnius airport from Warsaw by LOT, the airport looked like a typical regional airport looked in the last twenty to thirty years.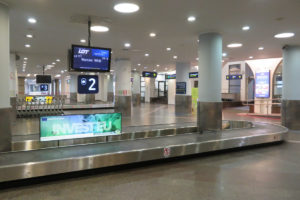 What makes Vilnius, however, quite special is that the new terminal building is built right behind the old building. The old one is still in use as arrival hall and for all services linked to it, like rental car offices. The building itself is absolutely beautiful – and so is the central waiting area.
The departure area in the modern part of the terminal is not that special and has some 25 check-in counters and a couple of services.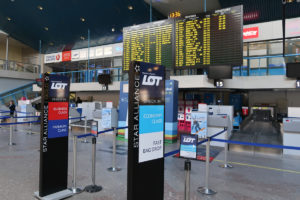 Airside is currently under reconstruction, mainly to introduce a major duty free / travel value shopping area. Maybe also due to these limitations, the airside area of the terminal already feels to be too small – at least on a Sunday afternoon with quite a lot of flights departing in parallel.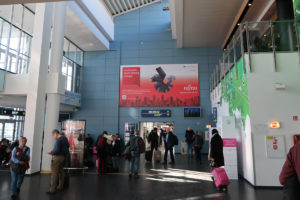 A quite nice addition to the airport is its lounge, which is driven by the Luxury hotel Esperanza and more or less used by all major airlines. There is no warm food, but the room is quite cozy and nicely decorated.
By the way, Vilnius is the only Baltic airport directly linked to the railway system, as it has its own train station. The bus connection is also quite nice – due to its proximity to the city (some 7kms), the bus ride takes about 15 to 20 minutes and costs one Euro. There are different bus lines, which also connect different parts of the city.
Overall, travelling from Vilnius has been very enjoyable and relaxed. The shopping facilities are quite limited – and the space just feels to be too small in Lithuania's major airport.
Airports on Flyctory.com
Here are all other airport-related postings:
Flyctory.com in Lithuania
Here are all reviews and reports visiting Lithuania: