Primeclass is a global franchise of airport lounge operators. During our Croatia Airlines flight from Dubrovnik (DBV) to Frankfurt (FRA) in April 2023, we had a longer stop at Zagreb Airport (ZAG), which also gave us the chance to have a look into the Primeclass Lounge of that airport of the Croatian capital. Here are our thoughts.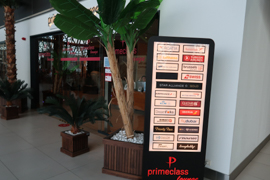 Primeclass Lounge Zagreb – Location & Access
The Primeclass Lounge is located right across of gate 23 at Zagreb Franjo Tudman Airport (ZAG). With Croatia becoming part of the European Union and the Schengen Area in 2023, operations at Croatian airports are easier, as you don't have too many destinations which require passport controls, e.g. Serbia or the United Kingdom. The lounge opening times are 6:00 to 23:00 daily.
Primeclass Lounge Zagreb operates with numerous companies. For example, the lounge welcomes Business Class and sufficiently high status flyers of the Miles & More Airlines like Croatian Airlines or Lufthansa, Air France and KLM, British Airways and Iberia, FlyDubai, Air Serbia or Qatar Airways. You need to check out the exact criteria, though. For example, my wife and I had access as we were both Star Alliance Gold flyers at that time. A Croatia Airlines business class ticket would not have been sufficient. In addition, you can access the airport lounge with several programs like Dragonpass or Priority Pass. I did not find the exact information, but at least in 2022, it was also possible to pay for admission to the lounge.
Primeclass Lounge Zagreb – Atmosphere
Zagreb is not a huge airport and just has a few intercontinental connections (to Dubai and Doha). based on that, the Primeclass Lounge is really nice. From the reception desk, you can head straight or to the left. The are straight ahead is larger and also hosts the food buffet – which turns it to the two key reasons why people rather prefer that one. The front of that area feels rather bistro-alike, while behind the buffet, the area was cozier and people enjoyed a soccer match on a TV screen.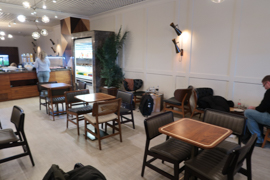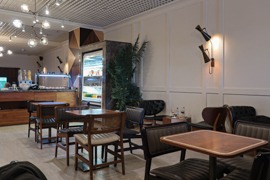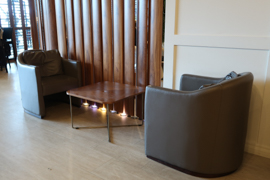 The wing of the lounge on the left hand side feels more beautiful and also a bit more modern. On the negative side, there is just a small bar buffet. Therefor, this section of the lounge also comes with computer work desks and two massage chairs (one of them did not work during my visit). In general, it is a bit of a challenge to grab a power outlet for your notebook or mobile phone in this lounge.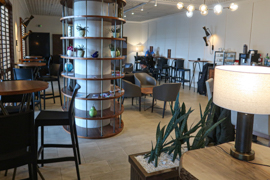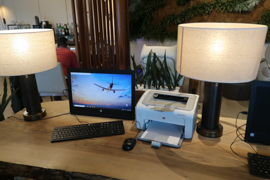 Primeclass Lounge Zagreb – Food & Drink
It's not first class dining, but the Primeclass Lounge Zagreb defninitely offers you a nice range of bites. There are sandwiches of different styles, but also sweet and savory warm pastries. In addition, I had a soup, which just felt slightly warm, but was actually quite nice. One thing which really made me smile is the pancake machine they had in the lounge. The range of soft drinks is great. In addition, there is beer from the tab, some wines and a really good range of other kinds of alcoholic treats.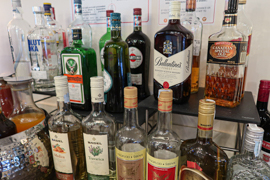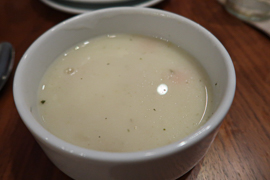 Primeclass Lounge Zagreb – Services
The rear of the reception features luggage lockers and lockable phone chargers. The lounge features small toilets, but there is no shower or similar. The WiFi worked absolutely fine. The staff at the reception, but also the people cleaning the tables and maintaining the lounge were nice.
Primeclass Lounge Zagreb – My View
I feel that the Primeclass Lounge is really a nice place. It was a bit too busy when we arrived, but became really nice later. The range of food and drinks is really good. Overall, Zagreb is a rather regional-style airport and the lounge is absolutely in line with that.
The Best Lounge Reviews
Here are all my lounge reviews, having a rating better than 4.0, in descending order of the rating:
Traveling in Italy
Here are all travel-related postings about Italy: