The route between Cologne and Rostock is a quite traditional connection from Rhineland to the Baltic Sea – which has proven in the past not to be profitable for other airlines like Eurowings. Since summer 2018, Belgian regional airways VLM significantly expanded their network and, amongst others, offered that connection. While the key focus was to connect the two German cities, the Fokker 50s need to connect VLM homebase Antwerp and Cologne first, so that you in fact have two legs, Antwerp-Cologne and Cologne-Rostock (and vice versa). In August 2018 I tested the short hop from Cologne to Antwerp – here is a review.
If you want to do this experience as well, you need to hurry up, the route has proven to be non-profitable for VLM as well. It terminates mid September (see below).
Update: on August 31, 2018, VLM declared immediate closure of their network and liquidation. Another amazing story of aviation has ended.
VLM – History, Fleet and Network
Currently, VLM operates with six Fokker 50 planes. In addition, there is an Airbus A320, which is chartered to another airline. Hub and homebase is Antwerp, Belgium. VLM started its operations in 2017, after a predecessor company went bankrupt the year before.
In April 2018, VLM released a quite nice European flight network plan with Antwerp connections. Like the Antwerp-Cologne-Rostock route, the Maribor connection includes a stopover in Munich.
Unfortunately, only two routes turned out to be profitable, the connection to London CIty and the one to Zurich. All other routes will be closed down in September 2018 or have been closed down already (Birmingham). Furthermore, VLM wants to switch from Fokker 50 to another aircraft, which has not yet been announced. In addition, VLM will more concentrate on charter flights.
Pricing for the flights is and was very reasonable: tickets between Cologne and Rostock, for example, started at 59 EUR, like most of the routes. My ticket to Antwerp was even part of a sale and about 40 EUR. The ticket price generally includes a 20kg piece of hold luggage.
VLM – Airport Experience in Cologne
The check-in counter opened 90 minutes before the scheduled departure time of 16:35. I have been a bit ahead of time for that. Check-in was very nice and professional. It turned out to be that only two passengers will check-in in Cologne for that route, leading to a total of three pax to Antwerp with one person coming from Rostock already. The other legs of the route from Antwerp to Cologne and Rostock and between Rostock and Cologne were booked with roughly 25 people – which is a much more reasonable headcount, but likely still below what you need to make it profitable. The other passenger turned out to be a person like me, just doing the flight for the sake of having done it, aka aviation nerd. The boarding staff was really nice and told us that they love to do the small carriers and are sad that the route will be closed. We were brought to the plane by a CAS ground handling eight-seater bus, which felt close to a limousine service.
VLM – In-Flight Experience
The welcome by flight attendant Charlotte was very friendly and welcoming. The pilots asked us to sit in the back for better trimming, which was still very comfortable. The Fokker 50, built in 1991 and thus even having ashtrays in the armrests – a nicely-configured plane with plushy seats. The seat pitch was nice as well, so that I felt very comfortable. Take of and landing was a bit bumpy, but the flight itself was very nice. There were some good views around Cologne and Antwerp. The service was very charming and attentive – there were some small cakes and nacho chips to eat and a can of drinks for everyone. Overall, it was a great experience in a forty minute flight.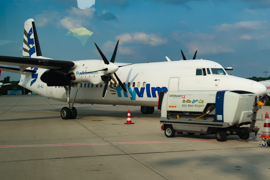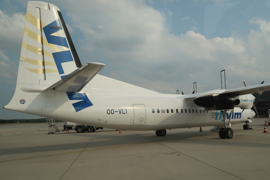 VLM – Arriving in Antwerp Airport
As expected, the Antwerp airport terminal building is relatively small. Most shops have already been closed at arrival. The ground staff welcomed us and was very nice as well, making it a really perfect flight experience. My luggage arrived at the belt after some minutes. The airport is quite nice and functional and looks clean and modern – only the landside toilets were really run down.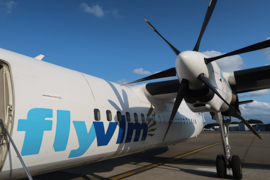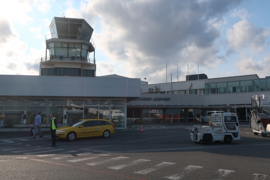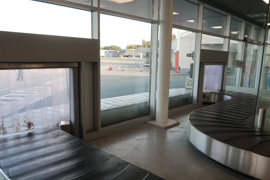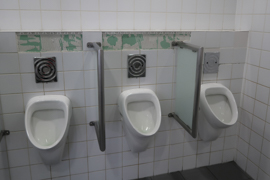 Unfortunately, the connection from Antwerp Airport to city center was the only really negative part, not part of the VLM responsibility. The airport offers a "City Shuttle" for 5 EUR to city center. it is likely some sort of shared service, as the airport information told me it does not work when few people are around. Thus, the empty taxis had to go back to city center – even worse! Busses are operating every 15 minutes bringing you to a tram and train hub station. Due to roadworks and delays, however, I waited some 30 minutes to catch one.
VLM – My View
VLM illustrates the problem of many small airlines: I feel they delivery a great cabin product and the price is absolutely fine. It should be possible for them to sell sufficient tickets on a 50-seater Fokker 50 for four times a week between Cologne and Rostock (the Cologne-Antwerp route will be loss-making, but that is likely how was likely part of the business plan anyway). In order to do this, you just need good marketing – too few people know about this service. Maybe, announcing a route in April is also maybe too late to get the funds of beach-addicted summer holiday tourists. I am very thankful for this experience – a nice flight with an amazing flight attendant was definitely one of the top regional flight experiences I had.
Aviation on Flyctory.com
Here are all postings about Airports & Airlines:
Postings about Cologne
Here are all postings about my home town Cologne:
Network graphics taken from flyvlm.com