Icelandair Saga Premium Class
Friday, the 13th… On 13th August 2021, I was scheduled to have my very first Boeing 737-MAX flight. Icelandair from Keflavik (KEF) to Frankfurt (FRA). Unfortunately, the flight was moved to a Boeing 757-200. Not the hottest and latest model in the air, but one of Iceland's national airline's standard ones. So, why not doing a review of that flight as well? There hasn't been any content on Flyctory.com about the Scandinavians before my trip to the island anyway. Thus, here is my review of Saga Premium, the Business Class product of Icelandair.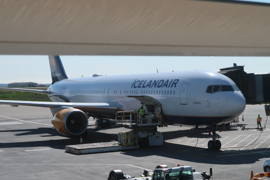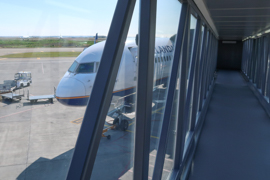 Icelandair B757 Saga Premium – The Flight
I flew Icelandair on 13th August 2021. The operating aircraft was TF-FIP, named Snaefell, a some 21 year old Boeing 757-208.
| Flight | Dep. | Arr. | from | to |
| --- | --- | --- | --- | --- |
| FI 524 | 15:55 | 21:30 | Keflavik (KEF) | Frankfurt (FRA) |
I was originally booked to a flight the day before and moved the flight due to flight cancellation. The flight has been scheduled to be serviced by a Boeing 737 MAX, but they also had an equipment change. The individual flight, scheduled for 12th August 2021, was priced at about 220 EUR (as part of a return ticket), which is quite a bargain for Icelandair relations.
Icelandair B757 Saga Premium – Ground Services
The ground services were unfortunately below average. I flew from their hub, their home airport and was at the airport some 3:45 hours before the flight – mainly as I wanted to take some pictures of the airport and enjoy the Saga Lounge (which is really cool, see link). Even though Saga Premium Class was open, they refused to check me in as I was too early. I do understand that in locations like London City (LCY) with its very limited space. But I didn't get that in Keflavik at all – especially as the airport hardly provides any space to work or relax landside. Several business class passengers were also waiting with me before they finally changed the policy after some 20 minutes. Not good at all.
Boarding was rather chaotic as well, as the gate agents confused the people with contradicting announcements. Finally, I was glad that I could board the aircraft as one of the first passengers.
Icelandair B757 Saga Premium – The Cabin
The Saga Premium cabin in the Boeing 757 is a six row 2-2 configuration. The first row is just having seats A and C, not D and F, so that the total capacity in Saga Premium Class is 22. Some six seats were booked during my flights. The seats strongly remind you of typical Domestic First products in the US – very plushy, wide seats with large armrests, but a limited recline. The in-flight entertainment monitor is in the seat in front of you, there are power plugs in the lower section of the armrest. My seat also featured a footrest. Pillows were provided as well as water at boarding. I like these seats, especially for daytime flights. You cannot put these seats to lie-flat obviously, which may impact your sleep. The Boeing 767 by Icelandair comes with a 2-1-2 configuration in Saga Premium, i.e. with a single Saga Premium seat in the middle – which is kind of weird.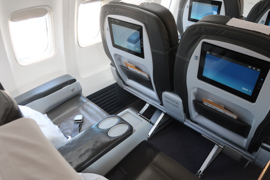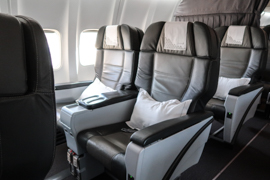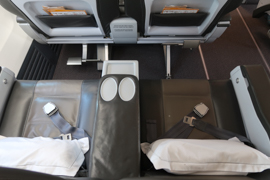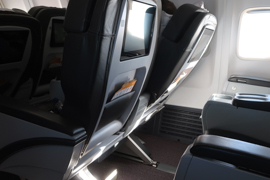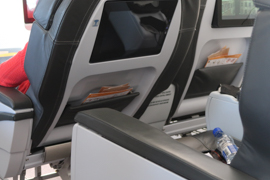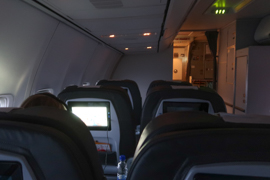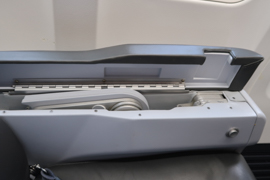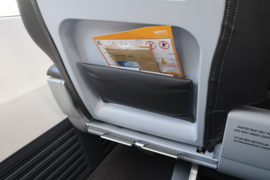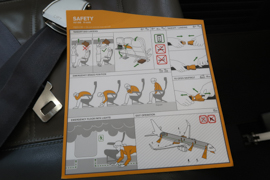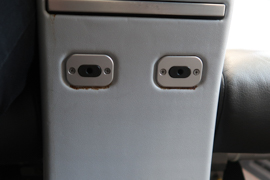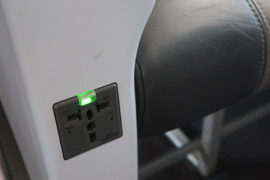 Economy Class
Here is just a brief look into the Economy Class, which comes with a 3-3 configuration. At least for the flight from Central Europe to Iceland, it is a quite reasonable choice.
Icelandair B757 Saga Premium – Service
Icelandair has WiFi on board. For Saga Premium guests, you have two devices free of charge for the entire flight. Actually, the WiFi worked really well. You log in with your booking code / ticket number and name. The in-flight entertainment selection is a bit of limited, but at least comes with a nice focus on Icelandic movies and music artists – which I felt to be quite interesting. Saga Premium guests receive noise cancelling headphones for the flight.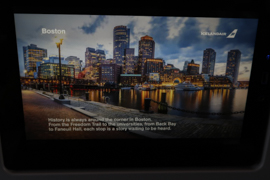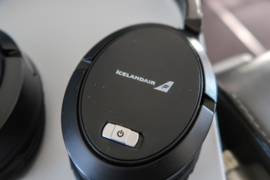 Even though Icelandair limited their service due to Covid-19, the culinary entertainment was not too bad. They have a nice selection of drinks, including all kinds of alcohol. There is a designated Gin & Tonic menu, which I definitely loved. The food was cold meat with vegetables and the "desert of the day", which was a chocolate tart during my flight. Even under these "limited" conditions, it is at least better than most European peers give you on a flight to Iceland. The service was very attentive and friendly.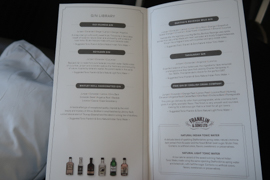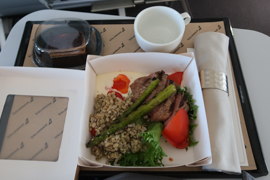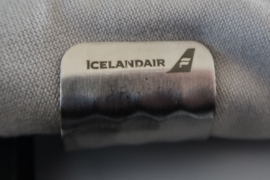 Icelandair B757 Saga Premium – The Flight
Here are some pictures of the flight from Keflavik (KEF) to Frankfurt (FRA). The highlight of the trip was definitely to pass the active volcano Fagradalsfjall right after the depature – you could see the rising clouds from the airport already. It became a vast tourist attraction during the recent weeks. Apart from that, it was of course cool to fly along the Icelandic coast before heading rather South towards Germany.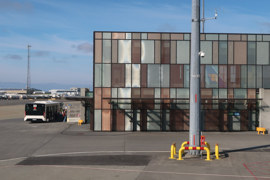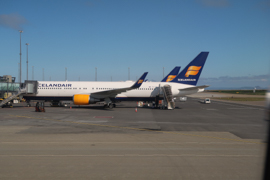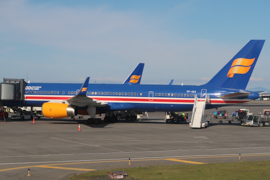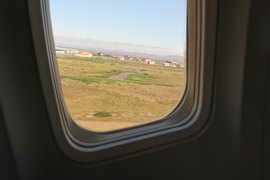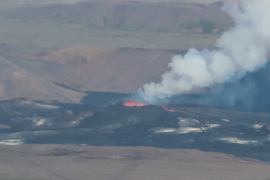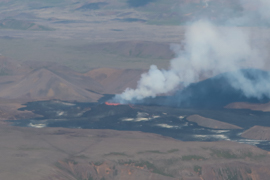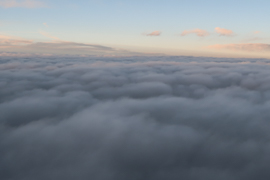 Icelandair Boeing 737 MAX Saga Premium Class
In July 2023, I published a review of the new fleet addition by Icelandair, the Boeing 737MAX. I also checked out the plane in Saga Premium Class and felt it is a really nice upgrade. Here is my review:
Icelandair B757 Saga Premium – My View
If you expect lie-flat, bottomless champagne and caviar, Icelandair is not your choice. I would compare it to typical Domestic First products in North America. They compare quite well to it – and sometimes, they really come with good deals. The seats are cozy and comfortable and give you a good time. If you fly from North America to Central Europe, the transfer in Keflavik and the limited recline may impact your sleep, though. On the negative side, the check-in in Keflavik was ridiculous and check-in did not work out well, too.
Aviation on Flyctory.com
Here are all postings about Airports & Airlines:
Car Rental Reviews
Here are all my car rental reviews so far: