Starting my trip to the United States on my Weird Al & Grass Court Tennis trip 2019 was the second time I had flight movements at Luxembourg Airport. For that trip, the pricing of tickets was very fortunate compared to flights from Dusseldorf, Cologne or Frankfurt. Here are my July 2019 impressions.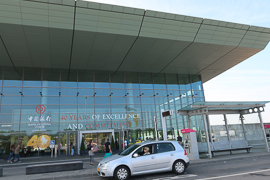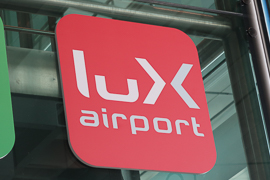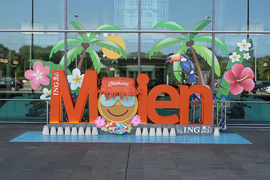 Luxembourg Airport – Location & Access
Luxembourg airport is located in Findel, East of the city center of the capital city. The motorway is very closeby, which makes LUX Airport also very attractive to travelers from Germany and France.
There are two local bus lines, which directly connect to the airport. There are also regional bus services to the neighboring countries, namely to Trier (Germany), Nancy and Metz (France) as well as Arlon and Marche-en-Famenne (Belgium). You cannot pre-book parking lots currently (the website states that it will be available "soon"). However, the website of the airport states that there is always some space available. I easily found a lot in the very nicely structured garage, which had a direct connection to the terminal and a weekly price of 85 EUR. Outdoor parking close to the terminal is 50 EUR for the 1st week. A remote economy parking facility charges you 35 EUR per week.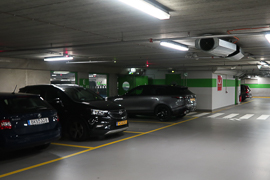 Luxembourg Airport – Destinations
The majority of flights handled from Luxembourg airport are driven by the local company, Luxair. However, Luxair only owns Q-400 Turboprop machines and Boeing 737 planes. Thus, apart from Mediterranean destinations, Luxembourg does not feature direct intercontinental destinations. The longest flights are thus to Hurghada and the Canary Islands. Other airlines like Lufthansa, KLM or British Airways majorly feature connections to their travel hubs. There are some Ryanair and Volotea destinations as well. Overall, currently 15 airlines serve 80 destinations.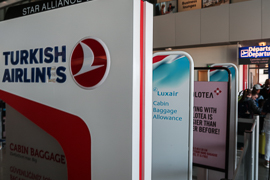 Luxembourg Airport features one of the shortest scheduled flights in Europe, the hopper to Saarbruecken Airport (SCN) in Germany. However, this Luxair flight is continuing to Hamburg.
Arriving at Luxembourg Airport
When I came back from London Heathrow / New York JFK, the arrival services were very efficient. Passport control for European Union citizens is done by automatic passport controls. The luggage arrived very quickly. The luggage area was functional, but welcoming. In addition, it is a nice idea to sponsor the luggage delivery.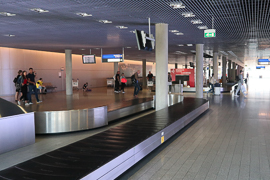 Departing from Luxembourg Airport
Of course, you cannot expect a vast variety of different shops, but the landside facilities are very light and nicely structured. The check-in at British Airways was very efficient. There were slightly longer queues at other airlines, namely Luxair and Ryanair. None of the check-in desks looked inefficient, though.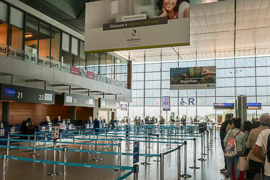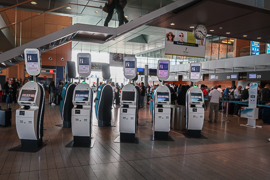 After security control, you take the escalators downstairs. The main shopping facility is the duty-free shop, which offers quite a variety of items. However, shopping in Luxembourg is not that attractive as it used to be some fifteen to twenty years ago. There are also some scattered bars and minor shops at the gate area. The airport is rather functional, but does not feel too densely packed.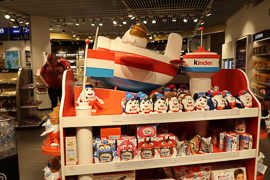 LUX – The Lounge
There is one business lounge, which is providing services to all major airlines. As it was driven by local Luxair, it used to be called The Lounge by Luxair, but nowadays, it is just LUX – The Lounge. The lounge is located right behind security, i.e. before you take the escalator down to the shopping facilities and boarding gates.
The lounge is quite nice. It offers nice views of the tarmac. There is quite a variety of seatings configurations, from work spaces to relaxing areas. In the early morning hours, there was a decent (cold) breakfast buffet. Of course, there are also drinks and magazines. The internet connection was very good as well.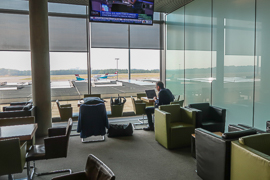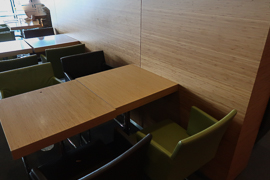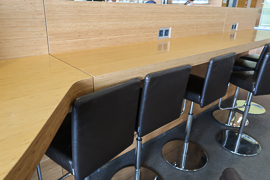 There is a free lounge area at the B gates, which I did not access.
Luxembourg Airport – My View
Luxembourg Airport might not have too many charming and characteristic elements, but it is very efficient and functional. The traffic connection is very efficient, including very reasonable pricing for parking. The lounge is quite nice, even though it may be a bit crowded in peak hours. Overall, Luxembourg airport is a very nice and efficient regional travel hub.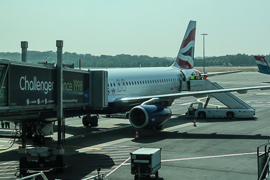 Airports on Flyctory.com
Here are all other airport-related postings:
Flyctory.com about Business Class & More
Here are all articles related to Business Class and First Class travel: