South Tyrol, the German speaking region in Northern Italy is quite popular among tourists. The Dolomite Mountains attract many people for hiking in summer and skiing in winter. However, the region has not been connected by any air travel so far – which also meant that visitors typically crowded the trains from Munich and Innsbruck or became part of the holiday congestion at the Brenner Pass Motorway. Introducing an airport at the major city of the area, Bolzano / Bozen, will not ease the situation significantly, but it is a minor step. Thus, the city transformed the general aviation airfield into a tiny airport with all necessary facilities. Here is my view of Bolzano Airport (BZO).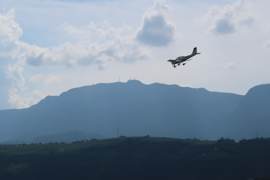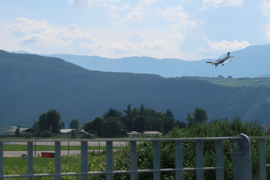 Bolzano Airport (BZO) – Location & Transport
Bolzano Airport is located South of the city. It is very well signposted. Locals typically go the airport by car (which includes being driven to the airport by their beloved ones and taxi connections). There is free parking in front and around the airport. The airport is not directly connected to local transport. However, there is a bus station at the entrance road to Bolzano Airport (BZO) with regular connections.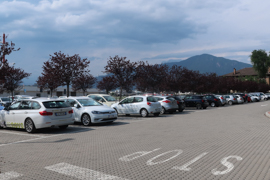 Bolzano Airport (BZO) – Connections
Bolzano Airport (BZO) comes with a very similar concept like Lübeck (LBC) – however the current situation is even more radical: whole the Northern German airport does have scattered holiday flights apart from their local airline Lübeck Air, the only carrier at South Tyrol is SkyAlps (here is my review of the flight with themt to Berlin (BER)). The list of destinations varied a bit the last weeks. They used to connect to Ibiza (IBZ), Rome (FCO) and even Parma (PMF) – but at the time of writing, SkyAlps is only servicing or planned to service Berlin-Brandenburg (BER), Dusseldorf (DUS) and Hamburg (HAM) in Germany, London-Gatwick (LGW), Rotterdam (RTM), Copenhagen (CPH) and Brussels (BRU).
Arriving at Bolzano Airport (BZO)
I did not arrive at Bolzano Airport during my trips so far. However, the arrivals area is in line with the remaining design of the airport.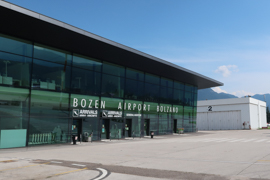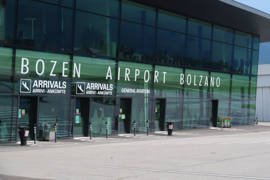 Departing at Bolzano Airport (BZO)
Bolzano Airport terminal building is just like a hall. You enter through the entrance door and more or less see everything (also because there are a lot of glass walls around). The check-in desks are at the rear right. In addition, there are a bunch of sitting opportunities on the landside part (i.e. before security) of the airport.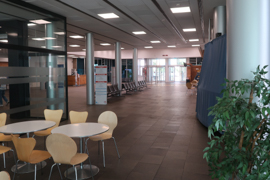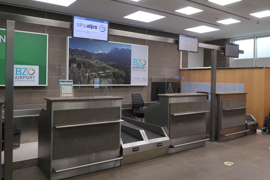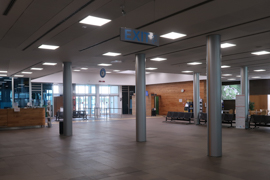 While the landside part of the terminal still feels quite cozy, waiting at the gate after security feels not too friendly any more. There are benches to sit – and even though my flight was not fully booked, they did not open the larger area which is behind "passport control" (you have to mention that there were no non-Schengen flights at all during my visit, London was installed later). The only thing which is really enjoyable is the amazing view through the large glass front. The boarding gate is a table and a rolling file cabinet-alike thing, there is a toilet… and that's it. There is not even a vending machine or something which could provide you with a drink – which I feel is really annoying.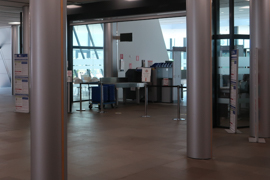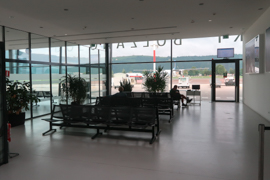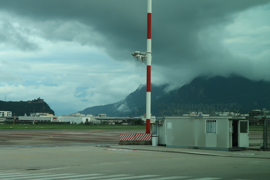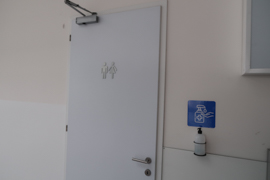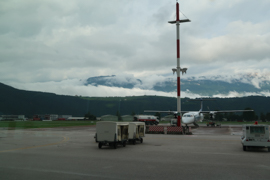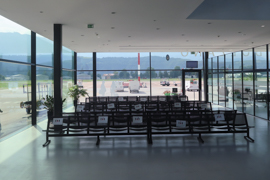 Not too surprising, this means that there are still queues at security when they started boarding already. Boarding is a walking boarding to the plane – which is at dry weather, just amazing due to all the mountains around and the lovely view.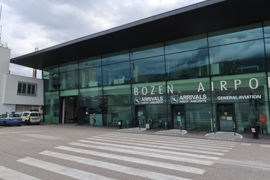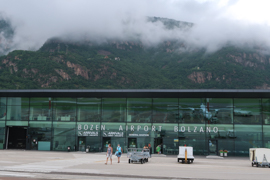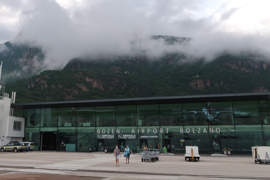 Bolzano Airport (BZO) – Services
Bolzano Airport (BZO) is likely the only international airport I ever visited which is not having serviced catering. You are hungry or thirsty= No problem – there is a paid coffee and a vending machine. The airport provides free WiFI. Multiple rental car companies have an office in the airport terminal building.
Bolzano Airport (BZO) – My View
Bolzano comes with the cozyness of a small regional airport, great views of the Alps and free parking. That's it. If you compare it to similar projects like Lübeck (LBC), you just see a big difference. SkyAlps is still looking for the right destinations to go for realiable and profitable destinations. This airport has potential, especially for business trips and mountain tourism – but so far, it is not using it and there are too many issues. On top of that, they need to operate in a way that deviations to Verona (VRN) due to weather become rare.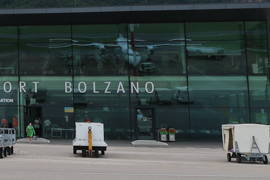 Traveling in Italy
Here are all travel-related postings about Italy:
Airports on Flyctory.com
Here are all other airport-related postings: