A short stay at Marrakech Airport (RAK) in January 2023 gave me a couple of debuts: first of all, it was the first-ever flight from this airport. Secondly, it was my first stay at a Royal Air Maroc lounge. As the Moroccan airline joined the oneworld alliance, they provided me with some exclusive waiting time before my British Airways flight to London-Heathrow Airport (LHR). Here are my thoughts.
Oasis Lounge Royal Air Maroc Marrakech (RAK) – Location & Access
The lounge is located right at the end of the very modern international terminal. The directions to the lounge are clearly given. From outside, the lounge looks like a frosted glass cube in the edge of the building.
Apart from Royal Air Maroc status (Safar Flyer Gold, Platinum, Ambassador). and business class flyers, the lounge is typically used by oneworld status and business class flyers. The lounge does not accept the Priority Pass. For paid access, you can opt for the Pearl Lounge at Marrakech Menara International Airport (RAK). Opening times of the lounge are unfortunately confusing. I found everything from all day open to completely closed (which would be rather surprising) and 9:00 to 17:00. I guess it is linked to the flights scheduled from the airport.
Oasis Lounge Royal Air Maroc Marrakech (RAK) – Atmosphere
Overall, I felt that the lounge has a nice style with different seating areas. However, the atmosphere was a bit of strange, as some parts of the lounge felt to be under construction. On the way to the toilets, there were also some kinds of working chairs, which are not used in the lounge. The lounge does provide computers to work at, but it is hard to find a good desk when you want to work on your own equipment.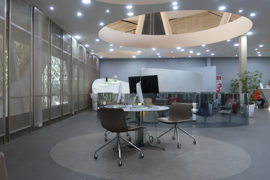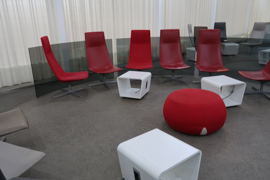 Oasis Lounge Royal Air Maroc Marrakech (RAK) – Food & Drink
The food was okay. The lounge served sandwiches, some sweet treats and some warm Moroccan style dishes. They were a bit on the dry side, but had reasonable taste. The buffet is made as if it was serviced. However, I had to pick all items on my own, including grabbing drinks from the rather hidden freezers. Later during my stay, there seemed to be a staff member who serviced the guests.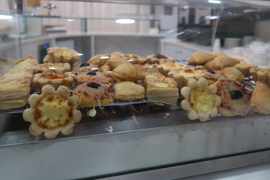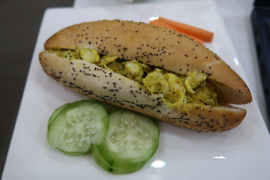 Oasis Lounge Royal Air Maroc Marrakech (RAK) – Services
The staff was very friendly. I used the free WiFi of the airport, which felt to be more reliable than the lounge WiFi. The lounge has own toilets, but quite a lot of stuff in there was not working. There are no showers or similar equipment.
Oasis Lounge Royal Air Maroc Marrakech (RAK) – My View
The Oasis Lounge is a rather average experience. The staff is nice, some of the processes are rather confusing. The airport offers some really great opportunities to have a Moroccan tea or coffee so that the value of the lounge is not too large.
Lounge Reviews on Flyctory.com
Here are all Lounge Reviews on Flyctory.com:
Music – Folk Music Postings 2022
Here are all my Music & Media postings related to folk music in 2022: