After I mentioned the Air Canada Lounge at Frankfurt Airport already in my love letter posting to LATAM flight 705, I took opportunity of a Lufthansa flight from the German's largest airport to London-Heathrow to gather some material for a detailed review. The LATAM posting already tells you that I am an absolute fan of that place – so here are even more reasons for that.
Air Canada Lounge Frankfurt – Location & Access
The Air Canada Maple Leaf Lounge is located in Frankfurt Terminal 1, B Gates. The B Gates split into a Schengen and a Non-Schengen part. As Air Canada is operating intercontinental flights from Frankfurt obviously, the lounge is located in Non-Schengen airside, i.e. behind security and passport control. If you want to transfer to B Schengen, you may have to do another security check. The lounge is not on gate level, you need to take an escalator upstairs close to the B41 to B48 concourse, which is on the left after passport control.
In general the lounge is open to all Air Canada Business Class clients (there is no Air Canada First Class). Other Star Alliance Business or First Class tickets are fine as well. Premium Economy clients may add the lounge access to their ticket at an additional charge. Aeroplan Altitude 35k customers access the lounge for free. These persons have to option to add guests for free. If you are Aeroplan Altitude 50K, 75K or 100K, you may take your family, i.e. your partner and up to five kids, for free. Star Alliance Gold members have access as well and one guest free of charge. Frankfurt is served by "ordinary" Air Canada services and not by Air Canada Rouge, which I reviewed in this posting.
In addition to Star Alliance companies, the Air Canada Lounge also operates as the default lounge for two oneworld airlines, Qatar Airways and LATAM. First and Business Class customers as well as Emerald and Sapphire tier members are allowed to access the lounge.
Air Canada Lounge Frankfurt – Seating
The Air Canada Lounge offers seats for all kinds of needs. If you just want to relax before the flights, there are lounger seats in small separated cabins for a nap or cozy seats with tables with a nice view of the traffic in Frankfurt Airport. The central area is very cozy and comparably intimate, as it is separated by a glass wall. Of course there are also restaurant-alike seats and tables if you prefer to eat. I like to sit and work on the bar stool-alike places around the drink buffet or go to the very nice and practical business center on the right side of the entrance.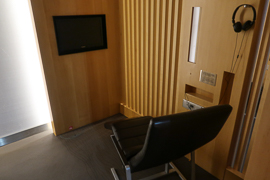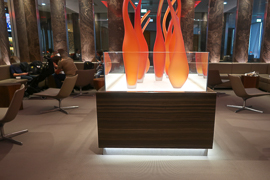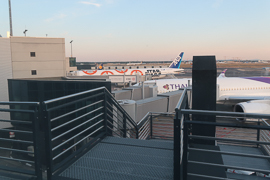 Air Canada Lounge Frankfurt – Food & Drinks
Regarding that it is just a business class lounge, the selection of food and drinks is great. On the drink side, there is a wide selection of soft drinks. A very nice feature is the selection of fruit juices. There is also beer and a coffee machine. On the spirits side, the lounge may feel comparably limited.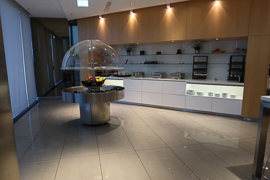 The warm food buffet is around an edge, so that you may not see it on too may pictures. There are typically two entrees with some sides and two kinds of soup. The selection of bread and deserts is very nice as well. I love that they have (comparably) good prezels in the lounge as well. On a central circular buffet, there is a wide selection of cold items, mainly salads. Please note that the pictures have been taken short before closing of the lounge, the daytime offer of food is more extensive.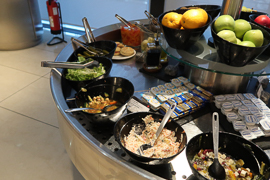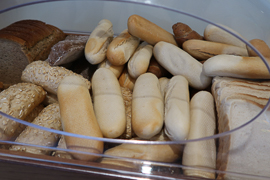 Air Canada Lounge Frankfurt – Services
Though the lounge does not serve as an arrivals facility, it does feature showers in its sanitary area. There are a lot of magazines, most of them in English and French. I love the inflight magazine En Route and the schedule and data magazine Navi, which I both tested in my first Inflight Magazine Comparison posting. The business center offers all necessary services. Like in the Lufthansa Lounges, the WiFi internet connection is driven by Deutsche Telekom and is very reliable and fast.
Air Canada Lounge Frankfurt – My View
Though there is now the Panorama Lounge at the A Gates, the Maple Leaf Lounge feels more special to me. I love the very efficient and friendly staff, good food and the relaxed atmosphere. I even had phone conferences from there already with neither disturbing someone nor being disturbed. Air Canada just did a great job in designing that place and doing maybe even better in driving it. Love it – which means it has to be a Top Pick! The only better Frankfurt Airport experience I had was the FIrst Class Terminal, of course – but this is just another class of traveling.
Flyctory.com about Business Class & More
Here are all articles related to Business Class and First Class travel:
Postings about Germany
Here are all Flyctory.com postings related to Germany: