During my Six-Intercontinental Weekend Flight trip between Europe and Africa, I also spent a day in Melilla and had sufficient time to explore the airport of the Spanish exclave in Northern Africa. What would the airport be like? A duty free paradise pearl? Or just feeling like an out-of-nowhere post? Here is my review.
Melilla Airport MLN – Location and Connections
Melilla Airport is located close to the Western border of the city to Morocco with the terminal facing Westbound. Thus, the driving distance to Plaza de Espana, which is some sort of the heart of the city, is some four kilometres. There is no bus service to the airport, but taxis will be at the terminal whenever a plane arrives. I paid some 8 Euros including numerous supplements for one trip.
In case you happen to have a (rental) car, you may also opt to put it into the (mostly covered) parking lot. Spanish parking fees are always a bit hard to understand – the first sixty minutes, for example, cost  0.009322 EUR each. There seems to a be a daily max of 7.50 EUR.I also saw a number of cars parked right outside the airport area, which might save parking fees.
Melilla currently connects to other Spanish airports only. Thereby, the key destination is Malaga (AGP) with  up to seven connections daily, operated by Swiftair / Air Europa and Air Nostrum / Iberia. In addition, there are three connections to Madrid (MAD) by Air Nostrum.
Melilla Airport MLN – Arrival Hall
Arriving in Mellila felt very convenient. I flew in with Air Europa from Malaga, the corresponding Air Nostrum flight just took off (and landed) right before us so that they really had to use both luggage belts in the arrival part of the terminal. The toilets were spotlessly clean, there was one rental car booth and landside a vending machine for drinks and snacks – that is the total sum-up of all amenities in the arrivals' area.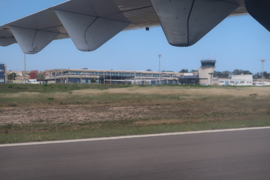 Melilla Airport MLN – Check-In and Departure Area
The check-in area in Melilla is exactly what you would expect from a minor airport: there are check-in desks for both operating carriers and a couple of benches. Boarding was very nice and I should have struggled more with the check-in agent stating me "You can go through securities at about 5 p.m." for a 5:50pm flight.
In fact, they (at least try to – not sure what they do in case of delays) do the security and boarding fully separate by flight – which means that you can go airside when the previous flight has been handled completely earliest. There was an Air Nostrum service to Madrid before and even when the security queue for that flight was done, the passport control refused people for the Malaga flight to proceed.
The security process was mixed in my point of view. While my German passport has been scanned and screened as well as my boarding pass, they neither reviewed the ID/passport or the boarding pass of the locals. At boarding, there was no passport check (which is normally mandatory in Spanish airports). No priority boarding as well – but I have been first in line anyway.
The reason for the strange processing of departures may be the tiny gate boarding area. If you divide the number of seats by the number of gates (three), no plane there should have more than maybe fifteen or twenty seats. The area only offers a small cafe (see below) and sanitary facilities.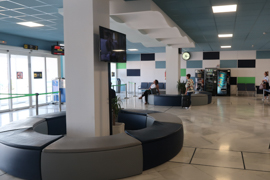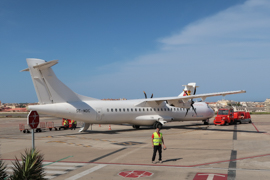 Melilla Airport MLN – Shopping?
The wording "Duty Free" just appears twice at Melilla Airport, namely as an advertisement for a store in the city, which is put on the exit of the arrivals area. Apart from that, there is only a small store which sells souvenirs, magazines and a limited selection of cigarettes. This store is next to the nice bar (and driven by the same people, as far as I could see), which sells quite reasonable food as well. This store and the bar is still landside (before security), so that there is no sense in selling alcohol or perfume there. The bar has a small outlet airside (after security), but very surprisingly there is no duty-free store, despite all Melilla is a duty-free area.
My overall View on MLN
Melilla's airport somehow feels very much like my overall view on Melilla: there is so much potential – but it feels unused. Being unable to buy perfume and alcohol in a duty-free zone which has ten flight connections daily, wondered me quite a bunch. The Tangier terminal (where all commercial stuff was also just driven by few people) was much better there. Furthermore, the strange security process due to the tiny departure hall was quite… Characteristic. On the other hand, the airport was somehow charming and spotlessly clean. Thus, it is not all bad, but a funny regional flying spot.
Airports on Flyctory.com
Here are all other airport-related postings:
Special Flights at Flyctory.com
Here are all reports about flights, which are special in whatever way: