Icelandair Domestic, Air Iceland Connect or Flygfelag Islands – the inter-Iceland aviation connections nowadays driven by Icelandair have different historic names. In summer 2021, I flew with them from Reykjavik Domestic Airport (RKV) to Egilstadir (EGS). It took quite a while for me to finally publish my review – here are my thoughts about the flight.
Icelandair Domestic – Network
In 2022, Icelandair is having three domestic destinations, all served with flights from Reykjavik Domestic / City Airport (RKV). Apart from Egilstadir (EGS), they also offer flights to Akureyri Airport (AEY) and to Isafjordur (ISJ). In 2021, they also had services to Vestmannaeyjar (VEY). This service is currently neither offered by Icelandair nor by any other airline by scheduled service, as far as I could reconcile. Additionally, the domestic Icelandair operations are offering services to Kulusuk Airport (KUS) in East Greenland.
In addition, Icelandair Domestic is also serving additional Greenland destinations like Nuuk Airport (GOH). Former operations to Vargar, Faroe Islands (FAE), are nowadays operated by Atlantic Airways. Both flights are operated from Keflavik International Airport (KEF), not from the Reykjavik City one. Norlandair, who is doing domestic operations from Akureyri Airport (AEY), is in fact part of the franchise. For 2023, there also seem to be domestic operations from Keflavik Airport (KEF) to Akureyri (AEY).
Icelandair Domestic – Fleet
According to my information, there are currently five planes labeled as Air Iceland Connect (in addition to Norlandair operations and similar franchises). Three of them are De Havilland DHC-8-200 with a seating capacity of 37 and two DHC-8-400, which roughly come with the double capacity. During my flights, I just had the smaller (and significantly more rare) version of the turboprop plane.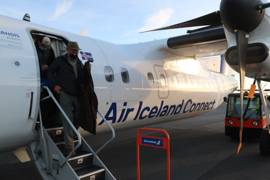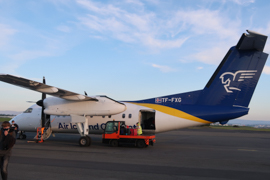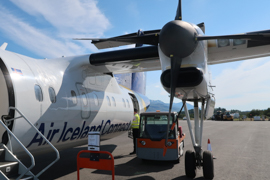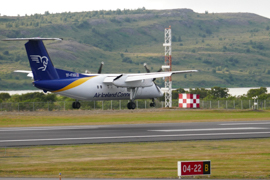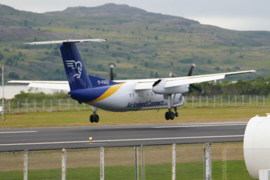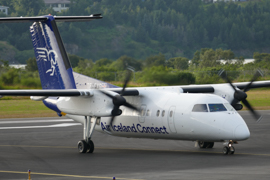 Here are some views from inside the DHC-8-200 cabin. As you see, the Nordics uses a typical 2-2 seating, i.e. two seats on each side of the aisle. This does not differ between the two DHC-8 variants, the DHC-8-400 simply comes with a larger number of rows. The seat width and pitch is within typical range – neither overwhelmingly bad nor comfortable. The Dash features a toilet. There is just economy seating, nor business class or similar services. Even if you are an Icelandair status customer, there is no priority boarding or similar perks. There are also no airport lounges.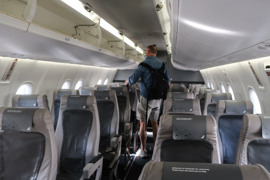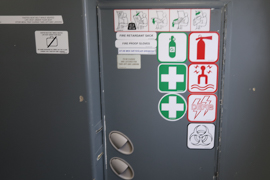 Icelandair Domestic – My Flights
My flights with Air Iceland Connect took place on 10th August 2022. In contrast to the original booking, which featured an DHC Dash 8-200 and a DHC Dash 8-400 plane, both flights were served by the smaller plane type.
Icelandair Domestic – Ground Services
Domestic Icelandair flights operate slightly different to what you might be used from international travel. There is no carry-on luggage check, apart from weighting, which especially means that you can bring drinks and other liquids on board. Check-in typically opens rather late, around 60 minutes before departure. This explicitly does not apply for their services to Greenland and from Keflavik International Airport (KEF). You may book domestic services on an (international) Icelandair ticket, in contrast to Norlandair flights. However, this will typically imply that you have to organize the transfer from Keflavik Airport to/from Reykjavik City (RKV) on your own.
Please note that Icelandair's domestic baggage allowances are lower than in their Boeing fleet. If your ticket includes checked luggage, weight limit is 20 kilograms. Carry-on must not exceed 6 kg.
Icelandair Domestic – Inflight Experience
The key reason why I looked forward to the coast-to-coast flight from Iceland's capital to the East coast was, of course, enjoying the views of the amazing island. The inflight service is limited – there is at least water, coffee and tea. The flight was really smooth and – as you see in the pictures below – I was even lucky with the weather and enjoyed the views of the volcanic area.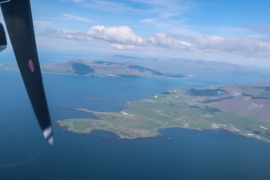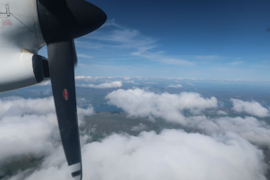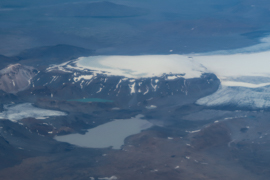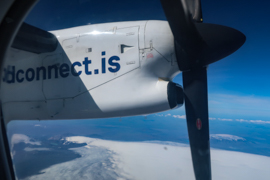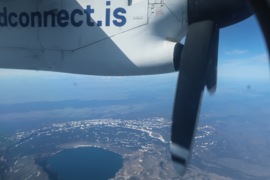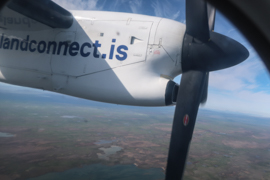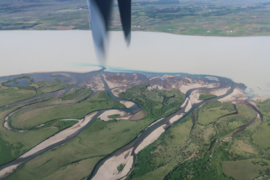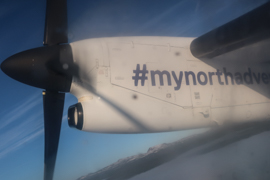 Icelandair Domestic – My View
The domestic Icelandair operations are very handy and allow to shortcut travel times in Iceland significantly. Not an overwhelmingly comfortable experience, but very efficient, well-organized and handy. I absolutely loved the flights, also as practically all domestic operations cross the Icelandic highlands and thus have the potential for amazing views of this lovely piece of nature.
Aviation in Iceland
Here are all my Airports & Airlines postings related to Iceland:
Media Review – Folk Music Top Pick!s
Here are all my Media Reviews of folk music leading to a Top Pick! rating: