There are a couple of LOT intercontinental flights from Warsaw Airport (WAW) in my flight log. Based on that, I already introduced you to the Premium Class and the Business Class of the Polish airline in their Boeing 787 long-haul fleet. However, I did not take you to the two lounges operated by LOT so far. This lounge review is about the Mazurek Lounge, which is LOT's lounge for non-Schengen flights.
LOT Mazurek Lounge – Location & Access
The Mazurek Lounge is located in the basement of the non-Schengen area, i.e. after passport control. There are two lounges next to each other. The other lounge is the Bolero Lounge, which is right next door.
The LOT Lounge is open to LOT and Star Alliance Business Class passengers. You may also be a Star Alliance Gold member of have a status (Frequent Traveller, Senator or HON Circle). There is no separate area for Star Alliance Gold and Senator customers, like there is in the Schengen Area.
LOT Mazurek Lounge – Atmosphere
The terminal basement level is the runway level of the airport. The lounge has a large window front, which gives a really nice view of the aviation operations. There are different areas including a small working booth. However, two things are really limited in the Mazurek Lounge: power sockets and space. Even while waiting for a flight to Toronto Pearson (YYZ) during Covid-19 times in November 2021, the lounge has been too full.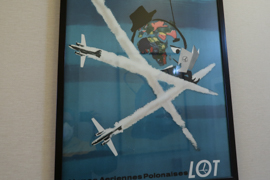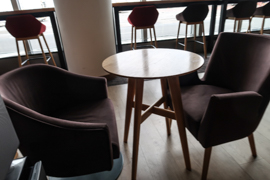 LOT Mazurek Lounge – Food
Pretty solid, down-to-earth food – even under Covid-19 limitations (at which I took the pictures of this review, LOT did a really nice performance on the nutrition side. There was fruit, different salads and sandwiches and snacks. LOT typically also serves hot food in their lounges, but this was obviously not possible when you have to serve sealed food. The selection of alcohol was sufficient, but not on an overwhelming level.
LOT Mazurek Lounge – Service
The staff in the lounge is really nice. Most of the time, they were sufficiently fast in cleaning the table. Mazurek Lounge also features a shower. The WiFi connection is absolutely fine for working.
LOT Mazurek Lounge – My View
If only this lounge wouldn't be that small… LOT is providing really nice service. I like their premium products and I enjoy their lounges. However, Mazurek would need at least double the size, better triple the size to be efficient. If you want to work and need a spot – be there early go grab a table with a power socket in proximity. Especially once the main wave of North America flights is departing, this place is simply too loaded and other options might be better. Without that, the lounge itself would really be a nice one, unfortunately.
Lounge Reviews on Flyctory.com
Here are all Lounge Reviews on Flyctory.com:
Luxury Hotels
Here are all my postings related to Luxury Hotels: