I felt it is a good time to publish my next episode of Food I Had Onboard in this week in mid-October. Regarding the number of flights covered, there is not too much variety – I just feature six services to you. However, two of them are First Class flights to Japan with Lufthansa – so there is quite a lot of calories waiting for you in this posting. Apart from the flights with the Germans, I just tell you about a trip I had with KLM – but even the Dutch relied on German services on one of their legs. Enjoy!
27th September 2023, Lufthansa LH 716, Frankfurt (FRA) – Tokyo-Haneda (HND), First
Even though I decided to reduce Lufthansa flights in my portfolio, flying their First Class is always a special experience. The flight to Tokyo was also special as it was my wife's first First Class flight at all – and our first time flying to Japan. After already been fed in the First Class Terminal, the culinary experience continued onboard. Even though the flight attendants forgot my macadamia nuts to the pre-flight champagne, I overall loved their service – it is also such an upgrade compared to Lufthansa's business class. Up in the sky, there was first a small greeting from the kitchen (rather average, in my point of view), followed by the more or less obligatory caviar.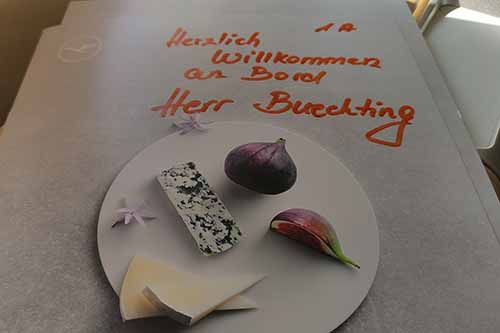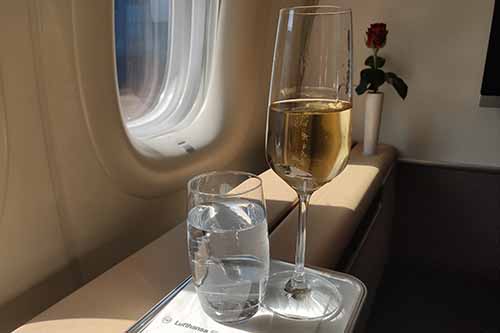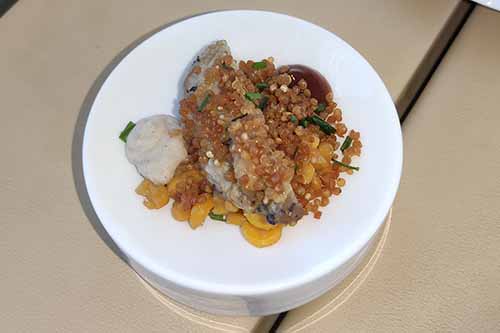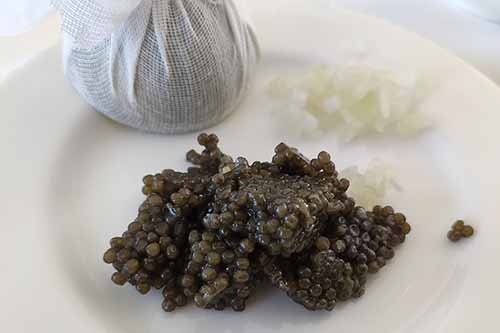 I did skip the salad and soup, so that I "just" had three dishes on the starter side. The corn-fed chicken on asparagus salad was really nice, but I definitely prefered the other two ones. Marinated carrot rolls with lemon gel, dried acai berries, thickened yoghurt and bread croutons does not sound that special in my point of view, but was really nice. My favorite, though, was the salmon trout tataki style with marinated kohlrabi, celery and cashew.
As the main dish, I went for a turbot filet with roasted cauliflower, mashed cauliflower and fish valute, which was really nice. I am typically a mango person, but this time I prefered the Tarte Tatin over a mango passion fruit mousse and loved it. Just a bit filled, not only from the dishes, but also from quite some champagne and a lovely port. First class dining is indeed a special experience.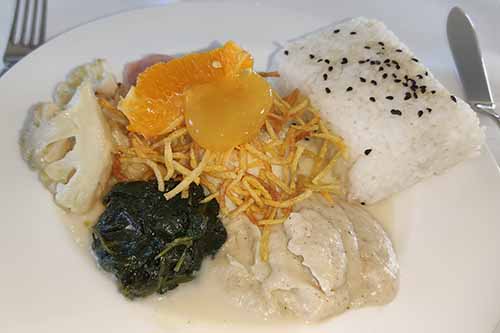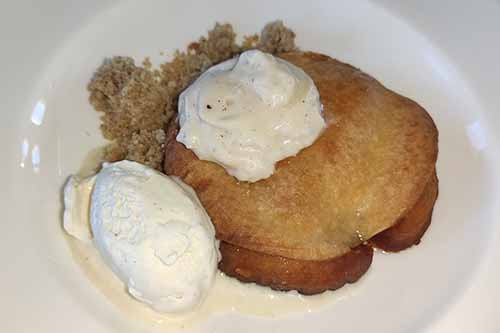 During the 12 hour flight, the "night snacks" were different tapas. I requested to be woken up for breakfast and sacrifice a longer sleep by that – I would have been awake anyway, though. While dinner is so rich, the meal you get before finally leave the plane after more than thirteen hours, boarding and taxiing included, is rather lean compared to that. Also, while the crew more or less asked you what you don't want for dinner, it is more like a "what you want" thing for breakfast. The quality was nice, scrambled eggs were okay, but breakfast was much weaker than dining. There were also tapas as in-flight snacks on the menu, but they just had chocolates, cookies and similar items on the buffet in the cabin. Haven't seen them in the galley as well – and I did not have the best sleep…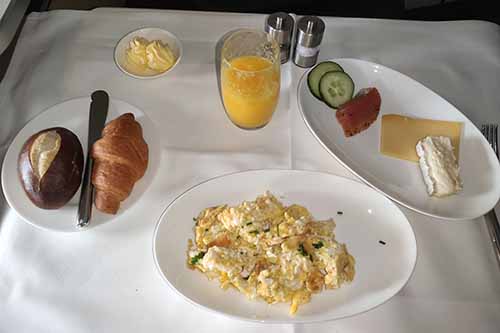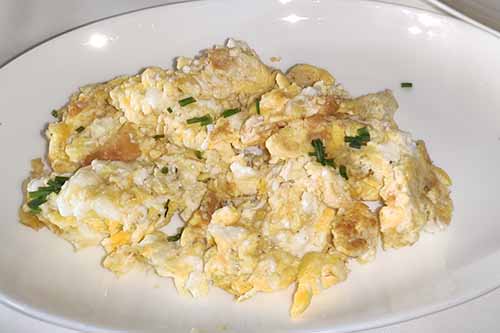 4th October 2023, Lufthansa LH 717, Tokyo-Haneda (HND) – Frankfurt (FRA), First
I was really curious about our return flight. One reason was – of course – visiting the Ana Suites Lounge in Haneda (HND) Terminal 3, but the key one was that this flight also offered a Japanese-style meal. Due to the flight detour crossing the North Pole (to avoid flying over Russian air space), the flight time ranges between 13 and 14:30 hrs on this route, so that the dining after departure felt rather relaxed. The caviar dish was the same for Western style and Japanese-style dining. However, I then had amazing three sets of starters with dishes like roasted beef with urchins, yam with burdock or rolled red snapper with lotus root. Amazing food.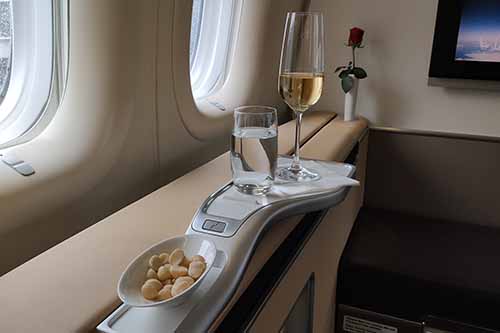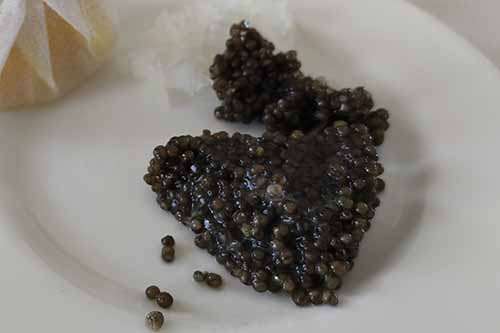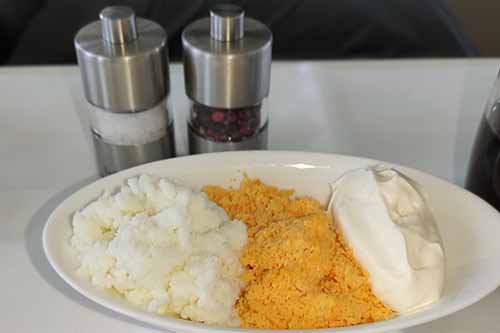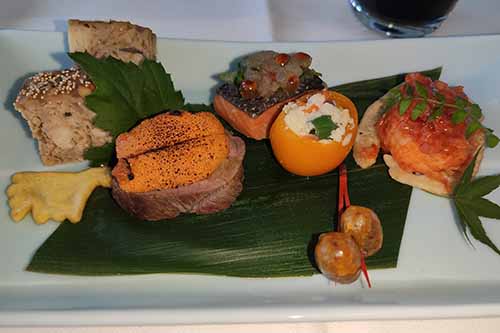 My main featured a filet of wagyu beef with red wine miso sauce, steamed rice, a miso soup and fine chopped vegetables with different pickles – amazing food. For desert, I could switch back to the Western Cuisine choice and had a lovely Caramel Chocolate Cake. I loved to close with some espresso and chocolates.
For the remaining flight, there was a light snack menu. As the two First Class flight attendants now had their crew rest time one after another, you unfortunately could feel a major difference. The second shift was much worse – this was also the shift where you started feeling hungry again after the feast at the beginning of the over 13 hour flight. However, the menu just showed a section Light Snacks (or Relax and Enjoy) and a Japanese Dinner, so that we guessed that everyone is served the Japanese Dinner. Just when the second crew member came back from resting, it became obvious that this is the menu for having a snack during the flight and before landing. Japanese Dinner was already out of stock and I went for a goulash soup.
Soups are generally difficult to handle in the galley, furthermore the Lufthansa tableware is absolutely not ideal, parts of the soup just did not make it to our tables. I additionally had a chocolate tart with banana dip, but overall, I did not feel too saturated at landing. Luckily, I had a burger during the flight, which was actually really nice (I just don't know why they serve ketchup to it – it came with chips, no fries. By the way, my wife had the Western style lunch – I post some pictures below here as well.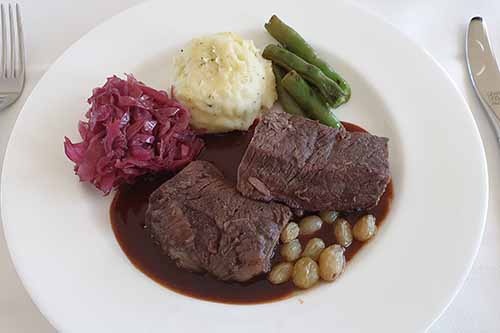 9th October 2023, KLM KL 1862, Dusseldorf (DUS) – Amsterdam (AMS), Economy
Right after the Japan trip, I had a business flight to our Dublin office. Flying for business means flying economy – and I was looking forward to have another step in my Air France /KLM try-outs (and seal my FlyingBlue Silver status). The flight was nice – was amazed to get the small snack and the bottle of water on the 35 minute hop. I also liked the comfort seats they have in the KLM configuration. Very relaxed flight.
9th October 2023, KLM KL 939, Amsterdam (AMS) – Dublin (DUB), Economy
After the first flight has already been delayed, this one also had some 45 minutes plus at departure. I hated the terrible communication by KLM on the screens and by their gate staff in Amsterdam Airport (AMS). The flight was nice, I again paid for a comfort seat, which was a really nice option. The cream cheese-something sandwich was absolutely nice as well, there was also another option available (something like crisps or nuts). The inflight experience was very nice.
12th October 2023, KLM KL 938, operated by KLM Cityhopper, Dublin (DUB) – Amsterdam (AMS), Economy
Getting back home some three days later was practically the same experience. KLM again served a sandwich on the comparably short flight from Ireland to their main hub. This time, it came with "proper" slices of cheese, which I preferred slightly more. The crew was very kind and overall lead to a good cabin experience. An absolute fine performance regarding this was a flight in the rear of the cabin.
12th October 2023, KLM KL 1863, operated by German Airways, Amsterdam (AMS) – Dusseldorf (DUS), Economy
Last, but not least, there were the Germans. German Airlines, the former WDL, is doing quite some German services for KLM nowadays. Catering was absolutely in line with the first leg of that trip, i.e. cheese crackers and a small bottle of water, which I feel is an absolutely fine choice regarding the duration of the flight. However, the crew was awful. How shall passengers take the security measures seriously if they make jokes about it (not in an entertaining way, but obviously just to distract the other crew member). Compared to the KLM Cityhopper service in the reverse direction, this was truly a poor experience.
Food I Had Onboard
My bites and drinks on flights and trains are shown in Food I Had Onboard:
Lufthansa Group
Here are all my postings related to the Lufthansa Group: