Icelandair gave me a very short-term cancellation for my flight to Vestmannaeyear, when I visited the island. However, I definitely wanted to check out their domestic services and also have a look at Reykjavik "Domestic" Airport, RKV. I finally ended up taking a flight to Egilsstadir in the very East of the island. My flight even gave me some four hours in the city – just enough to have a walk around Egilsstadir, grab a nice bite – and, of course, explore Egilsstadir Airport (EGS) in detail. In addition to Akureyri Airport (AEY), this is another replacement international airport in case there is any issue with Keflavik (KEF). Here are my thoughts.
Egilsstadir Airport (EGS) – Location & Transport
Egilsstadir Airport (EGS) is located North of the East Icelandic city. There is no local public transport, but the airport is connected to the regional bus services. Individual transport service is majorly provided by taxi companies and rental car providers. If you don't have too heavy luggage, the easiest way to get to city center is having a walk, which takes at most 20 minutes. Egilsstadir provides stores, hotels and restaurants. For whatever reason the paved pedestrian walk unfortunately terminates more or less at the city limits.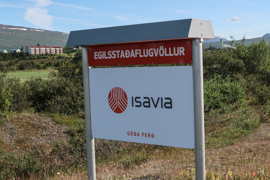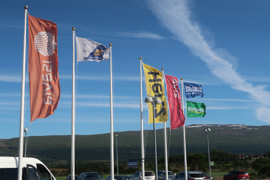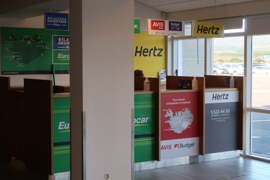 Egilsstadir Airport (EGS) – Connections
Egilsstadir is equipped for international connections. Very rarely, there are international charter flights. The only in-fact regular and scheduled connection of Egilsstadir are flights to Rejkavik Domestic (RKV), which may even happen a couple of times daily. Another key reason to maintain the airport is of course to have supply flights, including medical transport flights to the main hospital in Reykjavik.
Arriving at Egilsstadir Airport (EGS)
You, of course, walk from the plane to the terminal. The baggage collection area is surprisingly large and spacious. The tourist information area was not serviced during my flight experience. Like at all Icelandic Airports, you can walk through the whole domestic part of the airport, there is no onboard luggage control. The international section, which is typically not in use, is separate.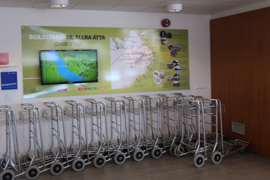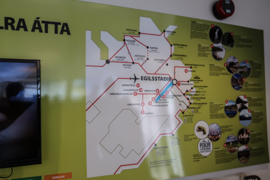 Departing from Egilsstadir Airport (EGS)
There are three check-in counters. Typically, just one is in service. The waiting area is really large. It is also rather cozy and even comes with some different areas. Boarding is done through one gate on the domestic side.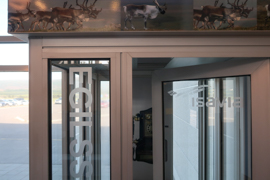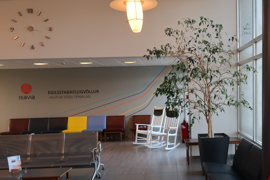 Egilsstadir Airport (EGS) – Services
On the upper level of the airport, there is a lovely cafe. I took the first pictures before the place actually opened – but they typically start operating some one hour before each flight. The cafe area also features the opportunity to go out to the balcony and watch the apron and the runway.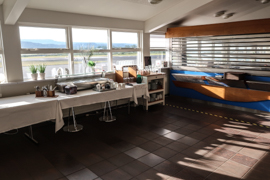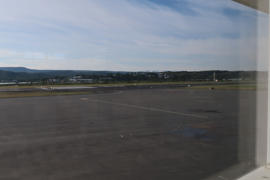 Egilsstadir Airport (EGS) – My View
Egilsstadir Airport (EGS) is a really nice regional airport in a breathtaking setting. The services are very friendly, I really enjoyed my flights to and from that place. It is a bit bothering that you likely take a walk from the airport to the city if you are on a day trip, but the demand for better transport options is just too low. Last, but not least, the cafe is really amazing.
Airports on Flyctory.com
Here are all other airport-related postings:
Spas & Health
Swimming pools, thermal pools and places to relax can be found under Spas & Health: