After I got some quite nice feedback about my first Food I Had Onboard posting, I felt to continue this series. Due to several factors, my coverage took me significantly longer this time – I just did not fly as much as I did in October and November 2021. Hope you enjoy this second Food I Had Onboard posting as well.
Food I Had Onboard II – November 2021 until mid-March 2022
Here is the bites which made me more or less happy – this time also with some bites on rail.
25th Nov 2021, Eurowings EW 826 Cologne/Bonn (CGN) – Milan (MXP), BizClass
On the food side, I typically really enjoy flying with Eurowings' business class product, BizClass. The reason: apart from a few limitations (one hot meal, no spirits), you can simply choose whatever you like from the onboard menu. They change their onboard menu about every three months. On my flight to Milan, I had my first flight with their November 2021 to January 2022 menu, for example. Quite some vegetarian and vegan products added – so I just gave it a try. This duo of sliders up there is vegan one with a salami-alike product and one with cheese (the right bread roll is in fact slightly greenish. I was surprised about the really good taste – and the really filling product. Added to that I had a nice assortment of slightly salted nuts.
A really nice snack, which is to me even really competitive to major airlines short-haul flight business products. I by the way also had a bottle of water, not pictured. Great crew, by the way.
26th Nov 2021, Eurowings EW 827 Milan (MXP) – Cologne/Bonn (CGN), BizClass
The last flight of the day after a long rotation – I rather expected that the Eurowings catering on this TUIfly-operated flight is a bit of limited. Finally, they had quite a lot of my options. The doughnut is a bit of sticky, but a really nice product with a slightly puff pastry-alike dough. The nut bar is one of my Eurowings favorites. The Lemonaid lemonade is another new product onboard and a nice addition to their portfolio. Another really enjoyable flight, not only due to the really nice food, but also a really funny crew.
28th January 2022, Deutsche Bahn / German Rail ICE 519 Cologne – Munich, First Class
As you see, quite a long time has passed between the Eurowings experiences and this entry. Covid-19 indeed forced me to cancel a bunch of trips. This is actually the first non-plane food I include in this posting. Deutsche Bahn / German Rail is not able to properly cook in their ICE high speed trains, but the heated up dishes are actually not that bad. This creamy veal goulash with Southwest German traditional style pasta was actually quite nice after I added some salt. The price was 13.90 EUR – in First Class, you are served at your seat, which is a nice treat.
30th January 2022, Deutsche Bahn / German Rail ICE 620, Munich – Cologne, First Class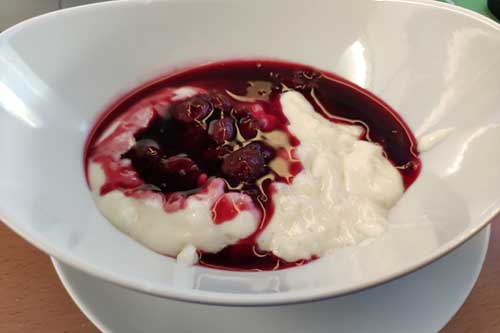 I already had some food before I headed back two days later from Munich back to Cologne. Thus, I just went for a Milchreis, rice pudding, with cherries. The dish, wish is served hot, was 6 Euro. It is a very traditional German desert, but is sometimes also served as a main course. Here I felt that the value for money was just average. Would have loved more rice definitely, especially as the meal has really been a nice one. You may also have the same dish with chocolate sauce (same price) or with sugar and cinnamon only (4.50 Euro).
23rd February 2022, Lufthansa LH 2037, Dusseldorf – Munich, Business Class
0620 departure time and a 50 minute flight to Munich – not the best circumstances to make me happy. However, the breakfast on this brief experience was really nice. Tasting Heimat went Frankfurt this time, with some nice cold cuts, an apple pie and a very friendly crew.
23rd February 2022, Lufthansa LH 2490, Munich – Stockholm (Arlanda), Business Class
Second flight of the day, second breakfast: the 0855 early morning flight featured another Lufthansa Business Class breakfast, this time featuring Dusseldorf. The dessert felt very familiar to me. The main dish was nice, but I really like the Frankfurt breakfast style more. Some sort of salad with a cream, I could not identify, but which felt familiar to me. The longer flight by the way also included a croissant, which is not pictured.
23rd February 2022, Finnair AY816 Stockholm (Arlanda) – Helsinki, Business Class
It's quite a while ago, since I flew Finnair Business class in their narrow-body service. Thus, I have also been curious about their food selection. The forty minute hopper did not come with the potential for a huge meal – but at least they served the Finnish rye bread I love, filled with smoked salmon. Unfortunately, the sandwich was quite frozen still. Nice service. Overall, just still a good way to be back with Finnair.
23rd February 2022, Finnair AY1963, Helsinki – Dubai (Intl.), Business Class
Now they had more time – the service to Dubai, which has been the only Finnair intercontinental at that late time, gave me a first time visit to the Helsinki Business Lounge (the usual Platinum Wing is currently closed). I do have a certain idea why you serve a hot dinner right after midnight in economy – but why do you do so in Business? I just had their nice lounge food. No menu card, no selection of items ("If you have special requirements, you can book before") – even though the staff feels friendly, the flight meal organisation was not. The selection of drinks was limited as well compared to other business services (e.g. no ginger ale). The smoked salmon was very nice, the main dish reasonable.
The key issue about it: the pre-landing food was just a chicken sandwich. I would have loved a sandwich after departure and go for a proper breakfast first.
28th February 2022, Finnair AY1964 Dubai (Intl.) – Helsinki, Business Class
A daytime flight (departing at 0950 from Dubai) to Helsinki is a good opportunity to work, relax – and enjoy food. Again, I was surprised about the dishes they served: the first one was a proper warm lunch with an average chicken breast, but nice sides. The starter, a pickled herring, was really good. The cookie was already a well-known friend from the outbound flight. Again, no menu, no selection – and the chicken sandwich as a farewell snack.
28th February 2022, Finnair AY815, Helsinki – Stockholm (Arlanda), Business Class
Finnair stayed reliable: not too many words about the meal, it is the rye bread salmon thing again. This time, the temperature was much better and the service was good, so that the 28th February crew definitely won against their colleagues a few days earlier.
1st March 2022, Lufthansa LH 2491, Stockholm (Arlanda) – Munich, Business Class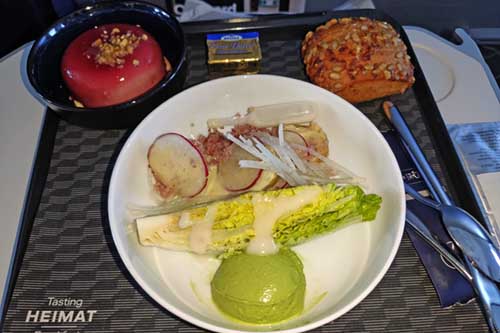 Tasting Heimat again – this time Frankfurt style. I cann relate too much to that quarter of salad which has been served with a vinaigrette. The potato and bacon salad was actually really nice, as well as the dessert. However, I am not sure what the "green sauce dip" was really meant for. Lovely to finish the trip with an apple – food which makes you smile can be so simple sometimes.
1st March 2022, Lufthansa LH2000, Munich – Dusseldorf, Business Class
The short hop back to Dusseldorf, afternoon style: I am not sure what is very Dusseldorf-alike about the hazelnut cake, but I really liked it. The cream thing which has been served alongside was a bit of sour to me. After the crew was really strange before take-off and felt to concentrate giving their non-active colleagues the best seats available, the flight itself turned out to be better. And, finally (not pictured), there was another Lufthansa apple 🙂
Airline Postings
Here are all postings related to specific airlines and their flights:
Flyctory.com on Eating & Drinking
Flyctory.com is not a culinary blog. Nevertheless, here are all posts dealing with Eating and Drinking: