If you are not a general aviation pilot and "just" an aviation nerd or traveler, flying Helgoland Airport (HGL) is a rather exclusive experience. Landing and departing from Germany's most remote island airport on scheduled flight can only be done with one airline, OFD (Ostfriesischer Flug-Dienst), which is connecting Helgoland to two mainland airfields, Heide / Büsum (HEI) and Nordholz-Spieka (EDXN). I had a flight from Helgoland (HGL) and share my experience with you.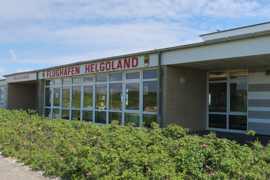 Helgoland Airport (HGL) – Location & Transport
The airport of Helgoland is in fact not located on the main island, but on the Düne ("Dune"), which you can reach from mainland by a dedicated ferry only. Thus, the full German name is Flugplatz Helgoland-Düne, "Helgoland Dune Airfield".  If you are an OFD traveler, you might use the taxi shuttle from the ferry to the airport (and thus drive in one of the very few combustion engine cars there) – or simply have a walk through the beautiful area. The dune island is majorly popular for seal spotting and bird watching.
Apart from the services inside the airport building (see below), the key touristic facility around is a camping ground. There are some maintenance / hangar buildings. HGL airport has three runways, all concrete, with the largest one being the 480 m x 30 m 15/33 one. There is a close proximity of the airport to some of the beaches.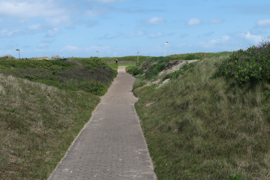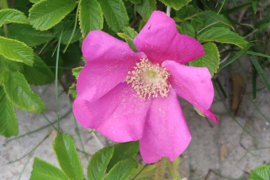 Helgoland Airport (HGL) – Connections
As said above, there is only one airline, OFD (which used to be named OLT) is doing daily scheduled flights to and from the island. The flights are important to service the island. You cannot connect to major airports from the island, so that there is no limitation on liquids etc.. I will add a review of my OFD flight experience in a later posting. I cannot verify the figure, unfortunately, but I found that annually 10,000 to 15,000 passengers use the airport.
Flying Helgoland Airport (HGL)
Actually, the airport's terminal is quite of nice. One section of the building is a combined check-in, luggage pickup and waiting area. It also has some displays with memorabilia.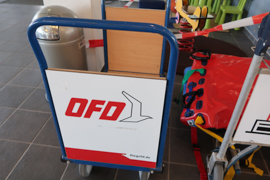 Helgoland Airport (HGL) – Services
I would guess that the majority of the Helgoland Airport (HGL) terminal building consists of touristic services. They have a large, very popular, restaurant, which is also offering a lovely view of the airfield. In addition, there is a small supermarket, which is – of course – majorly popular among camping ground visitors.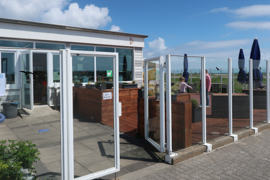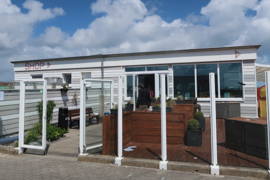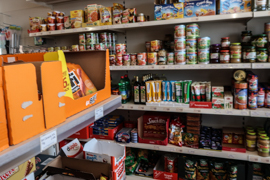 Helgoland Airport (HGL) – My View
No doubt, Helgoland (HGL) is one of Germany's most special airports / airfields. I was amazed how many services are provided in this places, compared to other airports like US Essential Air Service locations. Of course, there is no lounge or other fancy stuff. Therefor, you can sit outside on the beach and watch birds and seals, waiting for your flight. Sometimes, you just don't need high-speed WiFi and free drinks to be happy. Getting to the airport is a beauty at good weather, but it might be ugly at rainy conditions.
Airports in Germany
Here are all postings related to airports in Germany:
Small Islands on Flyctory.com
I gather small and remote places under the Small Islands tag on Flyctory.com. Here are the corresponding postings: