My trip to Singapore and Malaysia was my debut First Class experience (apart from Domestic First in the USA). I flew from Frankfurt to Hong Kong on Monday, 29th April 2019, on LH 796 in an Airbus A340-600, while I returned from Singapore to Frankfurt on 5th May 2019 on LH 940 in the Airbus A380-800. I connected from / to Manchester Airport due to a sale from British destinations. The flight from Hong Kong to Singapore was serviced by Singapore Airlines and is described in a separate posting. Here is my report of having amazing experience with Lufthansa.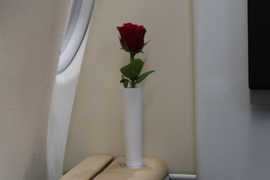 Lufthansa First Class – At the Airport Experience
The airport experience of this trip started with arriving from Manchester. While the other passengers were brought from a Schengen position to the terminal by bus, a driver with a Porsche limousine was already waiting for me. She suggested to bring me to First Class Lounge, Terminal B – but as I wanted to go to the First Class Terminal, I was driven to the A Non-Schengen gates and had a short walk from there to the Lufthansa luxury wonderland. I had a very enjoyable time at the "FCT" and was driven to my plane together with another passenger.
In Hong Kong, a personal assistant welcomed me and guided me through the transfer process. Unfortunately, the Singapore First Class lounge was closed due to renovation, so that I stayed at Plaza Premium Lounge. At the return flight, my well-being was managed by Singapore Airlines. Lufthansa First Class guests may not access the Singapore Airlines Private Rooms, but the First Class Lounge in Terminal 2 is lovely as well. Nice food, TWG tea and a lot of time to work on Flyctory.com and relax. A very early possible check-in for the flight and a separate First Class Passenger seating at the gate added comfort to my trip.
Though my return from Singapore was quite delayed, there was no transfer assistance in Frankfurt. As an unexperienced First Class passenger, I took the "normal" route to the Non-Schengen B-Gates in Frankfurt, where my flight to Manchester was boarded. Of course I should have taken the next First Class Lounge and use their services to board the plane, which was on an apron position anyway. Will do better next time.
Lufthansa First Class – Cabins
In general, the Lufthansa First Class cabins are equivalent. Nevertheless, there are slight differences between the A340 and the A380.
Lufthansa Airbus A340-600 First Class Cabin
Not too surprisingly, the First Cabin in the A340-600 is located at the very front of the aircraft. There are eight First Class Open Suite seats, 1-2-1 (means: one at each window and two in the middle). The middle seats are nice when you travel together – but as there are separators in between, it does not bother you too much when you travel alone as well. The bed is 81 inches (2,05m) long and 31 inches wide. You may move the ottoman, which also works as a storage, electrically. Of course, there are multiple ways to recline and move your seat. There are some additional storages at the side, which I really liked. The inflight entertainment monitor is nice as well, the remote control is in your armrest. In First Class, you are two universal power sockets and USB plugs. Each seat features a red rose.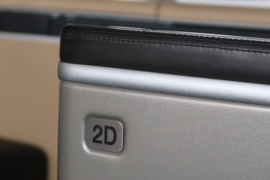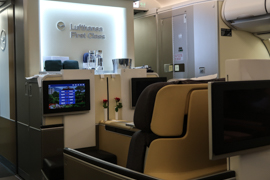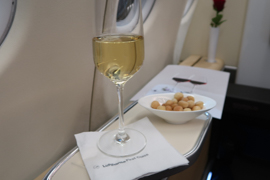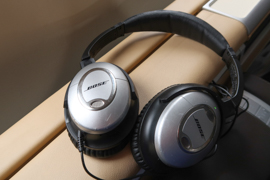 The table is huge and nicely moveable, so that it works lovely for lunch as well as for work. As we were just two passengers in First Class cabin on the flight to Hong Kong, each one was assigned two seats: one seat to eat and work and relax, while another one was provided for sleeping. Mattresses are surely provided. I had a lovely sleep on the way to Hong Kong.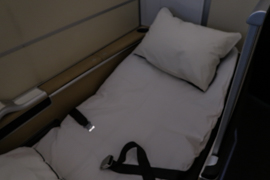 There are also two bathrooms for First Class. They are definitely nicer than the ones you know from Economy and Business Class. Lufthansa also provides some additional amenities in the bathroom.
Lufthansa Airbus A380-800 First Class Cabin
Even in Lufthansa's largest plane, the A380-800, there are only eight seats (1-2-1 again) for First Class passengers. The seat itself is very similar to the A340-600, there are only some marginal differences. The key one is likely storage. As the First Class cabin is located on the front of the upper deck, there are no overhead bins in this area. Instead, you are given a locker, which you could even protect by a combination lock. The entertainment system is more modern. The A380 also features the possibility to watch outside through one of three cams. I also felt that the storage on the side is slightly bigger.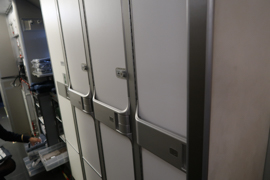 A massive difference to the A340-600, though, are the bathrooms. They are just massive. There is so much space to change clothing or refresh yourself – I could hardly believe that this is possible on an airplane. There are no showers onboard (Emirates are the only ones who do that). Amenities are in the drawers.
Lufthansa First Class – Inflight Service
Inflight Dining
On both flights, the flight started with a dinner service and concluded with breakfast a reasonable time before landing. There were likely snacks available in between, but I did not care too much on both legs. The three-course meals started with an amuse bouche. Due to the low number of guests on the Hong Kong leg in the A340-600, we could have more or less anything we wanted. Thus, I had the full set of starters starting with caviar, a small veal roulade, scallops with chili oil and mixed vegetables. The main course was called "Escalope of Veal" and was nothing like a brilliant Viennese Schnitzel. As the flight attendant said that the single portion is rather small, I received a double one, which was quite challenging. For desert, I skipped the cheese selection, but went for a warm chocolate souffle with macadamia ice cream.
On the way back from Singapore, I started with Boston Lobster, tenderloin of veal and caviar. The main course was an arctic char with saffron sauce. The sweet finale was a mango dome mousse with candied pineapple and berries.  Two factors, a full cabin and a couple in the first row, which took 80 per cent of the crew time with ridiculous requests, lead to a more imprecise service than on the Hong Kong leg. For example, the flight attendant removed my bread plate before the main dish, which I felt to be rather annoying.
The breakfast service on both flights was quite equivalent, as you could choose items as you like from breakfast menu. The scrambled eggs are prepared in the plane. While the outbound eggs which I had close to Hong Kong were quite fine, the ones on LH 940 were rather terrible and the only really bad dining item.
Cabin Crew
Being with two people only in the First Class cabin, the outbound flight to Hong Kong felt like a business jet. The crew was just awesome and I could relax and enjoy every second of the flight. It was definitely my best airborne experience I had so far in my life. I can really hardly imagine anything which could have been better.
On the return flight from Singapore, though, the captain came from the flight deck before departure and welcomed every passenger. The crew was very nice as well, but you could feel a difference to my first flight. One reason was the sold out First Class cabin, another reason was that a couple was requesting very over-average care and had a lot of additional wishes. This just had an impact on the service quality to the other passengers. The crew was quite nervous here and there. I guess this also was a main factor for some service problems.
Internet & Other Services
Both aircraft featured inflight internet. I would say that the connection prices are quite moderate. The Full Flight internet connection ticket is 17 Euro.
For First Class passengers, it is even better as you are provided with free WiFi vouchers. Of course, there are lags and slowdowns, but overall, the connection is really good. There is also GSM, but calling is not allowed for obvious reasons.
Of course, First Class passegers are given an amenity kit. It features some nice toiletries as well as the typical stuff like earplugs and sleep masks. In addition, Lufthansa provides you with comfy clothing in their premium cabin. You are given a nice pair of plushy slippers as well as a nice pyjama set.
Lufthansa First Class – My View
Flying Lufthansa First Class was just overwhelming. The service is great. The amazing First Class Terminal is a brilliant experience. The seats are perfect for a great sleep. Not just due to the amazing bathrooms, flying the A380 First Class cabin was maybe slightly more amazing than the outbound flight to Hong Kong. On the other hand, being just two passengers in that First Class cabin had a touch of business aviation – you also had much more interaction with the crew. Ordinary prices for this service are quite high, though. Business Class nowadays offers a much better service than it used to be some ten, twenty years ago. Flying First Class is posh, but some Business Class products are closing the gap more and more.
As I saw on the inbound flight from Singapore, there are even some passengers who push the First Class experience too much. That is no fault of Lufthansa, they did their best. I would have loved to receive any kind of transfer assistance in Frankfurt heading on to Manchester, though. Nevertheless, two great flights – even though they were even topped by the short Singapore Airlines hopper from Hong Kong to Singapore.
Aviation on Flyctory.com
Here are all postings about Airports & Airlines:
Postings about Germany
Here are all Flyctory.com postings related to Germany: