Belgrade is Serbia's largest airport. The capital's connection to the world named after Nikola Tesla is also the homebase of local carrier, Air Serbia. As part of my trip to the Serbia – India Davis Cup tie in Kraljevo, I used the hub to connect on by rental car.
Belgrade Airport – Location and Transport
Nikola Tesla Airport is located on the Western tip of Serbia's capital. It is well connected by motorway. Public transport is available by bus – two bus lines, 72 and 607, operate to the city. If you purchase bus tickets in advance, they cost 89 RSD, which is less than 0.80 EUR. The trip takes about 30 minutes. Taxi prices are fixed and are less than 20 EUR for most central areas.
If you have time for a visit, the well-rated Museum of Aviation is nextby the airport. I missed it on my September 2018 visit, but it is definitely on my bucket list.
Belgrade Airport – Destinations
As there is a decent mixture of traditional carriers like Air Serbia and low-cost ones like Wizzair, Belgrade airport is quite well connected over Europe. The only intercontinental connections, though, are leaving to the Middle East: Etihad and Air Serbia feature flights to Abu Dhabi, while Emirates / FlyDubai departs for Dubai. For other destinations, you connect via one of the alliances' hubs – all major ones are serviced from Nikola Tesla. Air Serbia collaborates with KLM, Air France and Aeroflot and connects to Paris CDG, Amsterdam and Moscow SVO, but there are also oneworld and Star Alliance services.
Arriving at Belgrade Airport
Arriving in Belgrade from Warsaw has been very convenient: the passport control has been comparably effective. Very interesting that you are still in Europe, but get a stamp in your passport. I loved the luggage belts, where the suitcases ran through the trunk of a Fiat 500 – nice marketing! The luggage area is not that overwhelming, but at least there is a tourist information and a shop where you can hire 4G hotspot devices. As Serbia is not part of the EU, this is a very helpful service.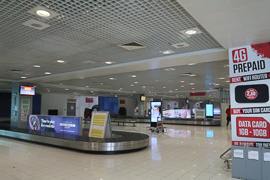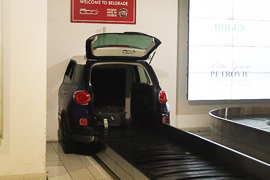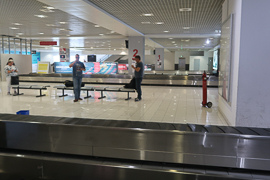 Outside the security area, you easily get around and also find the rental car offices. The cars are parked on departure level, which may be a bit tricky at return in case you have suitcases with you.
Belgrade Airport – Check-In Area
Belgrade Airport has two terminals, which are connected to each other. Terminal 1 looks a bit more old-fashioned. Air Serbia operates from Terminal 2. The terminal is amazingly clean – also the facilities were very fine and enjoyable. I checked in at LOT to Warsaw – the counter opened exactly two hours before departure of the flight, which is absolutely fine. All signs are also in English – Serbian language is sometimes in Latin, sometimes in Cyrillic letters.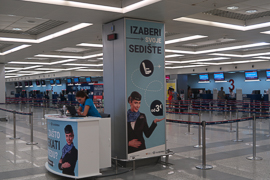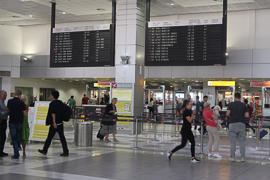 Belgrade Airport – Airside
Once you have passed the security, there are a couple of shops and nice restaurants. The duty-free store is offering the typical goods. Especially cigarettes are very cheap compared to other regions in Europe. Alcohol, hower, is not too much of a bargain.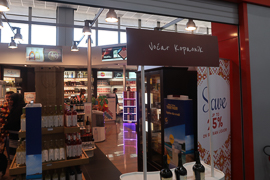 What I liked about shopping at Belgrade Airport are the specialty stores like a small bookstore. Of course, there are also major brands like Victoria's Secret.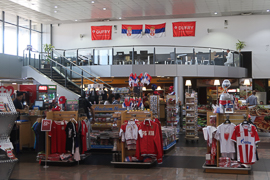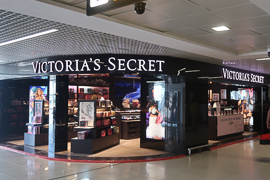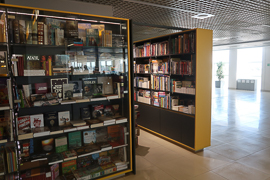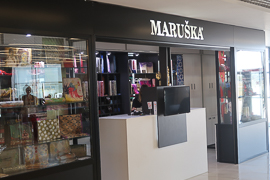 The gate area is a bit old fashioned. While passport control is right at the boarding pass check, hand luggage security is done at the gate.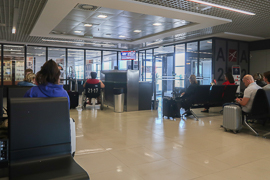 Belgrade Airport – Business Club
If you are not happening to fly Air Serbia, you will quite likely end up in the Business Club Lounge as a frequent traveller or business class passenger. I liked the lounge quite much (regarding it is a regional airport). On the food side, there are sandwiches, salad, some deserts, soup and two hot dishes. In addition, there is a wide selection of drinks. The quality is at least average.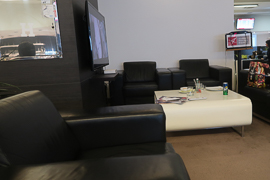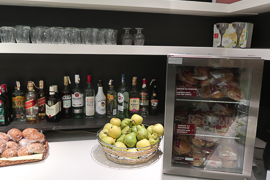 The room is spacious and cozy, internet quality is very fine as well. However, the coverage of power plugs is limited. The staff was very nice and helpful during my visit.
Belgrade Airport – My View
I did not expect too much of Belgrade airport, but overall, I felt it is a really nice and convenient travel hub. The services are efficient, people are friendly and the airport is amazingly clear. I also liked the business lounge stay. Especially for smokers, shopping at Belgrade Airport is a nice way to distract yourself. Overall, flying to / from Belgrade was an absolutely enjoyable experience.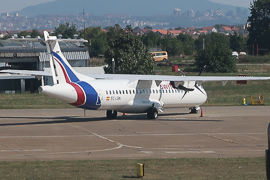 Airports on Flyctory.com
Here are all other airport-related postings:
Flyctory.com on Serbia
Here are all Flyctory.com postings about Serbia: