A major part of optimizing your travel portfolio is to determine the loyalty program which suits best to you. Thereby, I do not only look into the benefits (like quick status increase or good awards), but also into a mid-term and long-term perspective. For 2023 and future years I decided to do some changes and different weights on my portfolio. Even though the posting majorly reflects rather personal thoughts, I felt it could be interesting to you, which impacts and future expectations I have towards the different schemes. Even if you don't agree, the arguments could be interesting for you as well. Of course, I would love to discuss my thoughts with you.
Airline Programs
The key portfolio of frequent traveler / loyalty programs are still based on aviation. I am planning some significant shifts in here.
Lufthansa (Star Alliance) Miles & More
Current Status: Senator / Star Alliance Gold
Trend: Reduce
Target Status: Frequent Traveler / Star Alliance Silver
Miles & More used to be my key loyalty program. However, the new bonus scheme (with slight adoptions to what I presented you here) and especially the change in the lifetime status rules gave me a first hit. My travel profile is not really in line what Lufthansa's updated strategy is aiming for. More than that, I am absolutely disgusted by Lufthansa's customer service, which has given me multiple terrible experiences over the last months (see also this posting). Why not kicking them out of my portfolio completely? Because there is Austrian (who are great) and especially Eurowings, who are not too rarely the only alternative I have from my area to certain destinations.
The new Allegris cabin layout has a potential to change my mind again. So far, I rather fear that they more and more devalue award miles – thus, I reduced my over half a million award miles account close to zero recently and will have some nice farewell experiences with the Germans in 2023.
British Airways (OneWorld) Executive Club
Current Status: BA Gold / OneWorld Emerald
Trend: Stable, slight increase
Target Status: Lifetime Gold (target date: 2033 to 2035)
There are some experiences which really bothered me at British Airways and there is the too limited capacity at Heathrow (especially during bad weather and similar situations). But overall, I am very pleased with the service British Airways is providing. The First Class Lounge in Heathrow is often too crowded, but a nice spot to hang out. The tier point scheme  of British Airways turns them and their affiliated companies (especially Finnair and American Airlines) into my favorite provider of intercontinental travel. I already have flights leading to 70% for my Gold re-qualification 2023/24 in hand (my qualifying period is May 2023 to April 2024) – this illustrates
KLM / Air France (SkyTeam) Flying Blue
Current Status: None
Trend: Growing Importance
Target Status: Silver in 2023, Gold in 2024
I haven't been a huge fan of Air France and SkyTeam so far. However, the disappointments I suffered from with Lufthansa simply request another strong European connection provider. Unfortunately, OneWorld is too weak in Central Europe. This year, I will have my first try-outs exploring the comfort options with KLM, Air France and their SkyTeam partners – I look forward to some very interesting new experiences, airports and lounge with them.
Icelandair Saga Club
Current Status: Blue / None
Trend: Positive Outlook
Target Status: Blue to Silver
I still manage to have a few Icelandair flights here and there. It is a bit of a traditional service in their Saga Class (Business Class) as well as in their Economy, but I really like them. For 2023, I have a few bookings so far. In general, it would be fun if one day I have a proper status there.
Hotels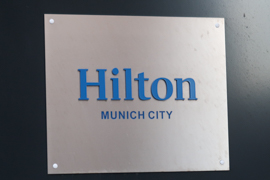 Hilton Honors
Current Status: Hilton Honors Diamond
Trend: Constant, slightly decreasing
Target Status: Lifetime Diamond
Hilton is my key accommodation provider. I appreciate the service and the loyalty program nicely fit to my travel profile. I will easily maintain my Diamond member status this year, as I started 2023 with quite a bunch of rollover nights. Due to the more and more increasing hotel prices in the US (and the fact that they don't give you free breakfast there anyway) might lead to a slight decrease of Hilton nights in the future, but that should not take away their leading role.
Accor ALL
Current Status: Accor ALL Gold
Trend: decreasing
Target Status: Accor ALL Silver
If I wrote this posting a few weeks earlier, Accor would have likely been on a positive or at least stable outlook. However, they have the only status I actively bought so far, by having the ibis Business Card. My card is expiring mid of 2023 and Accor changed the conditions drastically. I will definitely not make 30 nights a year to keep the status, even though I expect to have a slight increase of Accor nights per year. A gold status would be nice, but could only happen in case of some really nice promotions.
IHG
Current Status: Silver Elite
Trend: constant
Target Status: No target / Silver Elite
I had a couple of IHG nights at the beginning of the year, for example at the Holiday Inn Express Glasgow Airport. Overall, I like the brand, especially in the lower budget hotel sector. I will always have a couple of IHG nights per year, but there are no ambitions from my side to push a bit more- Finally, the lower level status perks don't really catch me. Sorry, no increased variety of brands here.
Deutsche Hospitality H-Rewards
Current Status: Silver
Trend: trending
Target Status: Prestige to Gold
Deutsche Hospitality, who majorly drive IntercityHotels and Steigenberger ones in Germany and abroad, are a driven their neat little program. The perks for status customers are not overwhelming, but not too bad – and you climb up the ladder rather quick. I like some of their services, like the free public transport ticket. Thus, I am sure there will be some more of their hotels on Flyctory.com very soon… and a slightly more increased frequency of stays from my side.
Choice Hotels
Current Status: None
Trend: Constant
Target Status: None
I tried out a few Choice Hotels stays during my recent trips to Pittsburgh and Blackpool. Especially during the US stays, I was very pleased with their value for money. Also due to the increasing hotel prices in the hotel, their budget brands feel to be interesting options. Unfortunately, there are not too many Choice Hotels in Germany. Additionally, the Nordic Choice sub-brand with an own frequent sleeper membership (see my Clarion Collection Hammer Lillehammer hotel review) significantly decreases the attractivity of this program, unfortunately.
Rail
Even though many people feel that I am "just" an aviation nerd – I love public transport geek and love traveling by rail as well. Thus, my German rail status is one of the key assets in my portfolio.
Deutsche Bahn BahnBonus
Current Status: Gold
Trend: steady, challenging
Target Status: Gold
Even though I nowadays have more high speed train legs than flight legs, getting the 2500 status points (=2,500 EUR revenue) is a bit of a challenge for me. It will likely work out for the re-qualification in September 2023, though. In general, I really like the perks you receive as a Gold member. The Platinum status would be great, but the BahnCard 100 network ticket is just out of my financial comfort zone.
Car Rentals
In general, I feel to reduce my loyalty with certain car rental companies in the future. At some places, the speedier rental processing and car upgrades are nice profits. Overall, this does not really justify being loyal and paying more money in my point of view.
Hertz
Current Status: Five Star
Trend: slightly decreasing
Target Status: Gold / Five Star
Even though there was some bad experience as well in recent times (majorly Hertz at Malita Airport), I am overall very happy with my Hertz rentals. Thus, the yellow and black brand will be my first point of contact for this kind of travel solutions. Especially in the US, the market is very challenging though.
Sixt
Current Status: Platinum (due to Lufthansa Senator status)
Trend: decreasing in 2025
Target Status: unknown
I really enjoy renting with Sixt. The service I got in recent rentals, like Sixt Goslar, was very good. Unfortunately, my very high status there is linked to my Lufthansa status. Overall, I don't have that many rentals that I am even close to defend my Platinum status once I changed my flight strategies.
Europcar
Current Status: Club / none
Trend: uncertain, but with a positive oulook
Target Status: none
I used to have a comparably high Europcar status, majorly caused by several rentals in Great Britain. However, nowadays, rentals with them became rare. Other offers just felt to be better and rentals in Dubai, where the company is quite attractive, somehow rarely counts for status accounts. Overall, I like the company, so there is always a chance for a comeback.
Postings about Flyctory.com
I sometimes write about the development of this blog, upgrades and other internal topics:
Miles and Status
My topic Miles and Status deals with earning miles and loyalty programs: