As Munich Airport (MUC) is one of my most traveled ones, I know the business lounge situation there quite well. Of course some of my transfers took me to the Lufthansa Senator Lounge near gate G28. Please note that there is another Senator Lounge just a few meters away, close to gate G24, which is in general very similar in its service portfolio, but not part of this report. G24 offers some nicer services like a bar service.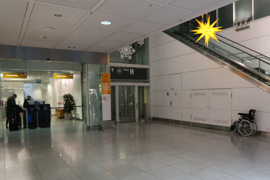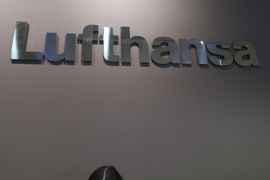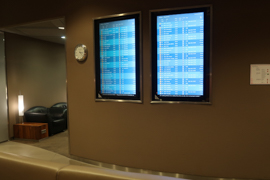 The pictures of this review reflect several visits, some are pre-Covid with smaller seat spacing / no seat blocking.
Munich LH Senator Lounge G28 – Location & Access
The entrance to the lounge is located across the terminal from gate G28 – which also means that the lounge is in the Schengen flight zone. You can spot it quite well as the way up to the H Gates (Non-Schengen) is right next to it. There are two lounges at G28 driven by Lufthansa, a Business Lounge and the Senator Lounge described in here. They share the same reception area, where the routes split, Senator Lounge to the left.
The Lufthansa Lounge Finder gives opening times from 5:00 to 20:45 – at my recent visit, they were open until 22:00 hrs, though. Access is for First Class passengers (including people with Lufthansa First Class connections on their ticket) and Lufthansa HON Circle Members (who both could, however, also use the First Class Lounge) as well as any kind of Star Alliance Gold status (of course, including the branding Lufthansa Senator status).
Munich LH Senator Lounge G28 – Atmosphere
Even though the lounge is not extremely large, it comes with some nice variety of seating areas. First of all, there is a restaurant/bistro style area close to the buffet. You may also relax in comfortable sofa-style seats or more in lounge-alike area. The rear of the lounge also featured work spaces, which are really comfortable and also offer privacy due to the dividers. It is a very straight and classic Lufthansa design and style as you find it in other locations as well.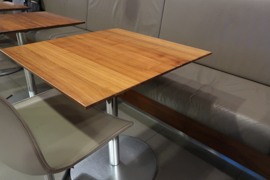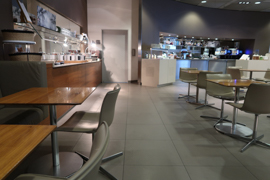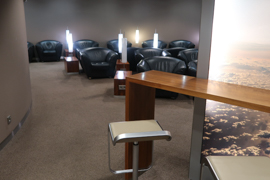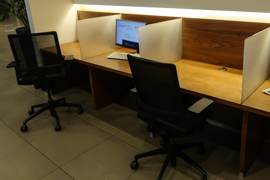 Munich LH Senator Lounge G28 – Eat & Drink
As said, the G28 Senator Lounge in Munich does not feature a bar area, but therefor the buffet is a bit nicer in its design. The selection of food, though is typically similar. The Munich lounges very often feature local specialties like pretzels, Kaiserschmarrn (special kind of fluffy pancake) or Leberkäse (Bavarian meat loaf). There is an average selection of spirits if you need a drink after work / before your flight. Of course, there is beer (also from the tap) and wine.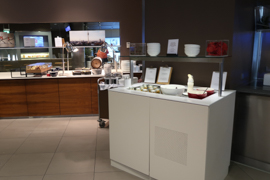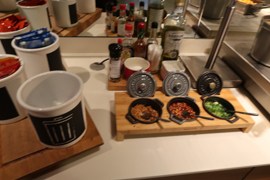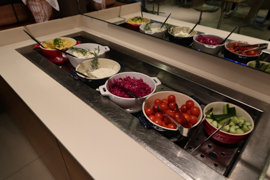 Munich LH Senator Lounge G28 – Services
Even though more and more lounge staff is outsourced, the service is typically very friendly in the G28 Senator Lounge. There are sufficient sanitary facilities, including showers. The WiFi is excellent, as typical in Lufthansa Lounges.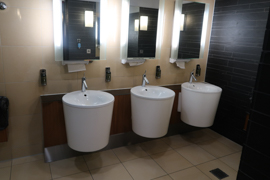 Munich LH Senator Lounge G28 – My View
The Munich Lufthansa Senator Lounge is like the airline: good service, sometimes you miss a little extra. It may be really crowded in here in peak times, the lounge is solid by design, good in food and finally gives you a nice relax before your flight.
Lounge Reviews on Flyctory.com
Here are all Lounge Reviews on Flyctory.com:
Munich Travel Postings
Here are all Flyctory.com Travel postings related to Munich: