In late July 2023, I have been checking out some of the services of KLM and Air France, testing if they could replace Lufthansa as a potential key carrier besides British Airways in my flight portfolio. One of the most interesting criteria to me is the service at the airport – and among that, namely the lounges. At Paris Charles de Gaulle Airport (CDG), I checked out two of the Air France service. This review is about their lounge at Terminal 2G, which I used right before I headed back home to Dusseldorf (DUS). Here is my review.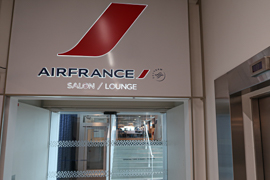 Air France CDG Lounge 2G – Location & Access
If you would be very, very strict, you might even argue that the Air France CDG Lounge 2G is not located in the terminal building. You access it from the very end of the waiting area of the terminal building, where you cross some sort of enclosed pathway. The lounge itself is at a neighboring building.
Apart from very few exceptions (like the Luxair service to Luxembourg Airport (LUX)), Terminal 2G is only handling Air France / KLM group flights. Lounge access requires a Business Class or La Premiere First Class ticket or a Flying Blue Gold status or higher (or its equivalent from another SkyTeam member).
Air France CDG Lounge 2G – Atmosphere
The lounge is not overwhelmingly large. On earlier flights I saw that the lounge has been relatively packed as there are quite a bunch of (European) flights operating from 2G. However, this is a review, a review is a snapshot of my experience – and in this case, I traveled in the summer vacation time, so that the lounge was surprisingly empty. They have a welcoming reception desk area with some literature. Thereafter, there are different areas from bistro style seating to more relaxed options. There is quite some daylight due to windows on one side of the lounge. In the absence of a proper La Premiere lounge at this terminal (and any first class service), there is a small La Premiere corner only for passengers who are eligible, e.g. due to connecting flights). The lounge offers a good range of power outlets (USB and French-style ones).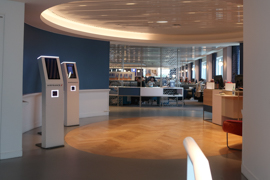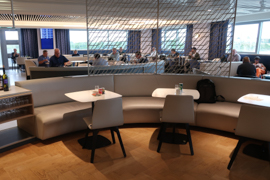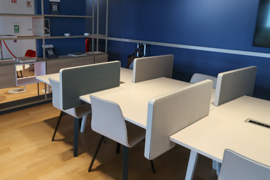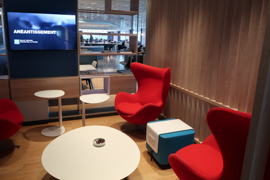 Air France CDG Lounge 2G – Food & Drink
The lounge compares to a basic business lounge – and based on that, I was really pleased with the food offered. There were some warm sandwiches and pies, salad, a nice selection of bread and some sweet delights. I am not too much into wine, but the alcoholic beverage selection looked fine, just as the non-alcoholic one did. Overall, I had a nice chance to stock up some calories before the flight.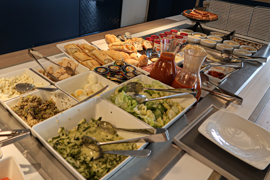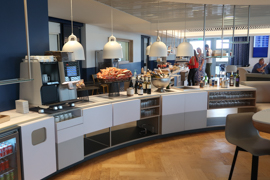 Air France CDG Lounge 2G – Services
The lounge features rather nice toilets and even showers. The internet connection via WiFi worked very fine as well. One thing I was a bit nervous about was the language barrier I did experience at CDG Airport many years ago. You have to say that on many services, Air France and the airport improved significantly in that regard. The lounge staff was very good in English as well.
Air France CDG Lounge 2G – My View
The Air France Lounge at Charles de Gaulle (CDG) Terminal 2G is not an overwhelming experience which is blowing your mind. Based on the fact that the terminal majorly serves European connections, many driven by Hop!, this would also not be within expectation. Air France provides a nice, well-designed and well-stocked lounge before your short journey onward to another place in France or surrounding countries. Based on that, the lounge does  very nice job.
Air France & KLM on Flyctory.com
Here are postings related to the AIr France & KLM Group on Flyctory.com:
Flyctory.com – List of all Media Reviews
Here is the list of all my Media Reviews (majorly music), sorted by artist name: