While my previous experience flying to Dubai was the great Air Belgium service on behalf of British Airways, my wife and I chose the Swiss Business Class to get to the U.A.E. megacity. A companion sale gave us the opportunity to have some really cheap tickets from Copenhagen. This review is focusing on the legs between Zurich Airport and Dubai, Terminal 1.
Swiss – About the Airline
Swiss, part of the Lufthansa Group is not just the major airline of Switzerland, but has been regarded to be the premium airline within the German franchise for a long time. The key hub is Zurich Airport, but there is also a decent list of flights operated from Geneva. Despite they can codeshare with other Lufthansa companies (majorly Lufthansa itself, of course), Swiss has a worldwide network, partially serviced by their holiday airline, Edelweiss. The longhaul fleet of the company majorly contains A330-300 and A340-300. They also operate the Boeing B777-300ER.
Swiss Business – Airport Experience
Our Swiss Business Class flight to Dubai started in Copenhagen, where the check-in is done in Terminal 2. The airport services are majorly done by SAS, which also provides the lounge service for most Star Alliance flights. Due to a quite short connection, we did not have the opportunity to enjoy the lovely Non-Schengen Lounges at the E Gates. After arriving back in Zurich, heading back to Denmark, we went for the Senator Lounge at the A Gates, which I already reviewed previously. Before the flight from Dubai to Zurich, we made use of the Dubai Lufthansa Senator Lounge.
Swiss Business – Airbus A330-300 Cabin
Swiss configures the A330-300 with eight First Class seats (1-2-1) followed by 45 Business Class and 183 Economy Class Seats. There is typically a row of five Business Class seats (2-2-1), followed by a four seat one (1-2-1). The seats are staggered. As a single traveller, the single window seats on the left side are amazing. We were sitting in the first two rows of the Business Class cabin, which is separate between the First Class and the main (second) entrance door of the aircraft. This area is called "Stübli" (small room), as it is regarded to be more quiet and thus comfortable. Pre-reserving seats in this area is limited to Senators and HON Circle members.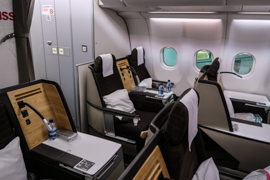 The seats are quite comfortable. Seatguru.com gives a seat width of 20.5 inches and a pitch of 60 inches. There are blankets and pillows around. There was one power plug by seat. In row 4, where we had both flights, outbound and inbound, there is quite a lot of storage in front of you in the bulkhead as well.
Swiss provides WiFI on demand on these planes. The pricing is quite ridiculous, though. A 20 MB package fees 9 CHF, roughly 8 EUR. A 220MB package is 59 CHF. Vouchers are only provided to First Class passengers.
Swiss Business – Food & Service
In April 2019, the Business Class emnu was inspired by Stefan Heilemann, who runs a highly awarded restaurant in Zurich, the Ecco. One starter, two main courses and the desert was inspired by the chef. Before the meal we got slightly warmed nuts and an aperitif. The first dish was Hiramasa kingfish for both, my wife and myself. After that, we chose the saddle of veal and the Luma Beef patties. After a selection of cheese, the menu concluded with Felchlin chocolate mousse with passion fruit and tonka bean.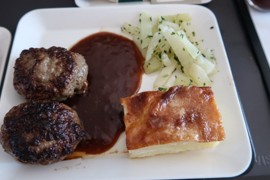 The quality of the food was good to very good overall. The service was terrible and very slow, though. There is no common language in Switzerland, so we felt it confusing to speak different languages, English or German, with different flight attendants. More than that, it just took too much time to have lunch. From take off to the serving of the desert, there were some three hours. Even in a daytime flight, you want to work or sleep maybe. I felt very offended by that slow service, though. A nice "Movie Snack" provided was a small box of Mövenpick ice cream slightly later.
The return flight from Dubai is quite short for an overnight, so that we decided to have dinner in the lounge and thus skip the service onboard, which has been done by all Stübli passengers. The "Midnight snack" would have consisted of a mezze plate, cheese and some desert. For breakfast, you could choose from a breakfast menu containing a quite nice list of items. The Belgian Waffle sweet option was tasty, but maybe a bit too much to start the day. The breakfast service was definitely nicer than the service on the outbound flight.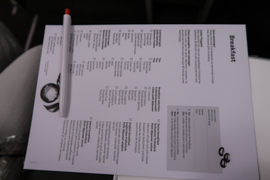 Swiss provided amenity kits on both flights. The picture below is taken from the outbound flight, the inbound one had equivalent contents, but was presented in a tin box. Some additional amenities were provided in the bathroom.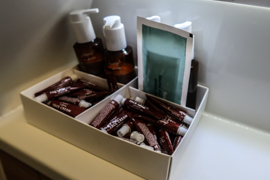 Swiss – My View
I had excellent Business Class services by Swiss Airlines in the past. However, for the Zurich-Dubai service, I have to agree to several frequent forum postings stating that the service feels to be getting worse. I was especially annoyed by the too slow meal service on the outbound flight. However, I did not feel as welcome as in other companies like Lufthansa or even my recent Malindo Air experience in Asia. Finally, it was an average Swiss Airlines flight – but I feel that average is just not enough for that carrier.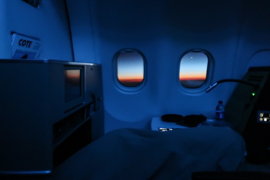 More about Switzerland
Here are all other postings related to Switzerland:
Aviation on Flyctory.com
Here are all postings about Airports & Airlines: