As I needed an overnight after Eric Paslay's show in Aschaffenburg, I was looking for a stay in rail station proximity. In October 2018, I already checked out the local branch of the B&B Hotel Group. As there were no other suitable branch hotels available, I opted for the Zum Goldenen Ochsen (Golden Ox) hotel, based on the reviews, location and price. Here is my review.
Zum Goldenen Ochsen Aschaffenburg – Location
The hotel is located South of the railway station. From the station exit to the hotel, it is a some five minute walk. The central bus station is next to the rail station and thus offers a lot of additional connections. From the hotel to the Coloss-Saal, where the concert took place, it was less than ten minutes as well.
Around the hotel, there is a lot of infrastructure, including shopping opportunities, bars/restaurants and most other travel needs, not only in the station building. The location itself is comparably quiet, though.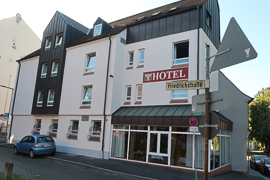 Zum Goldenen Ochsen Aschaffenburg – Rooms
The room I booked was a single room, which was 72 Euro including breakfast. The room was sufficiently spacious for a daytrip and even with a bit more luggage. The workdesk was quite nice, the TV set comparably small, but sufficient. The room also featured a minibar.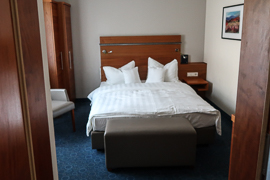 The bathroom with shower was quite spacious, though. The hotel provides the necessary amenities. The bathroom as well as the whole room was very clean and quiet.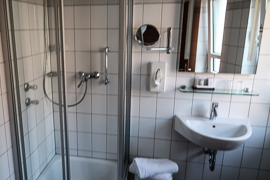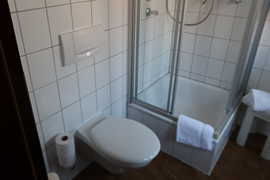 Zum Goldenen Ochsen Aschaffenburg – Breakfast / Food
Food is definitely one of the strong disciplines of the Zum Goldenen Ochsen hotel. The hotel features an awarded restaurant. Due to the concert, I could not test it out. Breakfast is served in a traditional, but very cozy room opposite the restaurant.. Warm dishes were boiled and scrambled eggs as well as crispy bacon. The selection of items was very nice, I especially liked the variety of breads.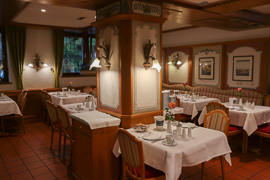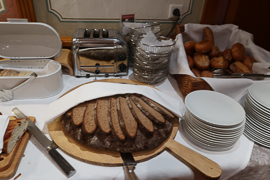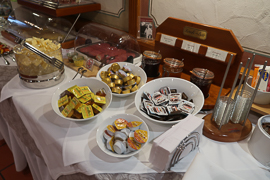 Zum Goldenen Ochsen Aschaffenburg – Services
The hotel staff was very nice and welcoming from the very beginning. They were also very helpful for a few questions. The WiFi in the room was absolutely fine as well. The hotel does not feature a gym or similar facilities.
Zum Goldenen Ochsen Aschaffenburg – My View
I really had a good time in Aschaffenburg this time. The hotel staff was very nice, location and breakfast were definitely on the postive side. The place had all I was expecting for a reasonable price. Good stay!
Flyctory.com about Germany
Here are all Flyctory.com postings related to Germany:
All Hotel Reviews
Here are all postings about hotels and other accomondation: