For a trip to Pinneberg just outside Hamburg, I needed a stay close to one of Hamburg's regional train stations. I finally opted for the Fürst Bismarck, which is right across the street from Hamburg Main Station. Here is my review, based on a stay in early November 2022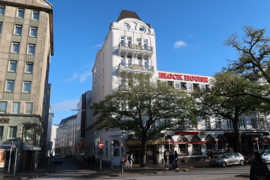 Hotel Fürst Bismarck – Location
The hotel is located right across Kirchenallee on the East side of Hamburg main station. If you exit the station on the opposite site, you are right at the main shopping area of Hamburg and thus right in the city. Other key touristic areas like the Speicherstadt (with the Miniatur Wunderland and the Elbe Philharmonic Hall) or the Reeperbahn are just a few public transport stops away.
Due to the great proximity to Hamburg Main Station, there is always a supply of touristic needs. The train station also includes a supermarket, which is opening on Sundays. The area also features other hotels and a nice range of restaurants. and other services.
Hotel Fürst Bismarck – Room
I booked a standard room, which had a flex rate and could be cancelled up to three days in advance. The Saturday to Sunday rate was 110.77 EUR, including breakfast. The room was a bit of narrow and small, but absolutely suited the manager needs. The small good night sweets on the pillow and a free bottle of water made me smile. The work desk was a nice feature as well. Despite the limited space, you also had services like a room safe.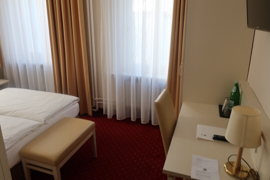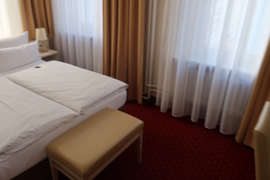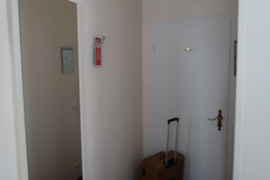 The bathroom even featured a proper bathtub, which is also used to have a shower. The hotel provided the necessary ameninties and toiletries like soap are provided by a dispenser. The room and the bathroom was in a clean and very good condition. Despite the proximity to the train station, my room at the Hotel Fürst Bismarck was really quiet.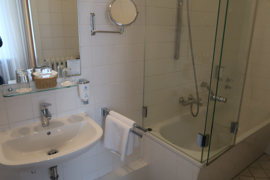 Hotel Fürst Bismarck- Breakfast
Breakfast at the Hotel Fürst Bismarck is provided on the first floor. The breakfast room looks a bit of small on first sight, but is actually not bad at all. The selection of breakfast items was really nice as well – and despite the breakfast room does definitely not have the most convenient layout for the working staff, the refilling and servicing of the buffet worked great. I really enjoyed starting my day at the Bismarck.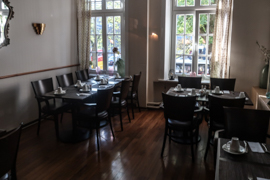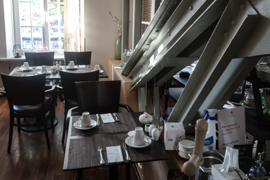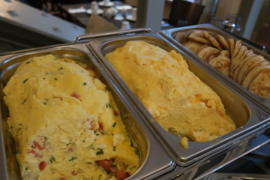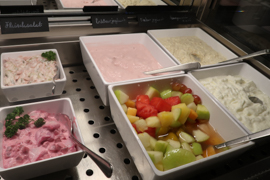 Hotel Fürst Bismarck – Service
The staff of the hotel was excellent and very helpful. I also liked the very reliable WiFi connectiona and the idea of having a maintenance waiver for your room, which you can hang on your door, similar to a room service / breakfast service one. The hotel offers a second class three day ticket (day of arrival plus two days) for the whole Hamburg fare zone if you stay with them. I am not sure if they prolong it for longer stays, though.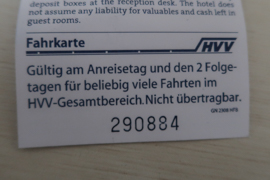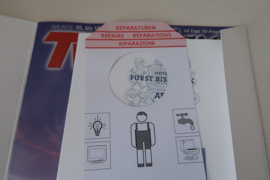 Hotel Fürst Bismarck – My View
The Fürst Bismarck is definitely a good choice, when you are in need for a night close to Hamburg train station. The staff is great and the public transport ticket (which also includes the public ferry) is a great add-on. Needless to mention that I loved the location. Overall, a definite Top Pick! stay.
Hamburg Hotels
Here are all my Hotels & Accomodation reviews related to Hamburg:
Flyctory.com Country Music Concert Coverage
Here is a list of all concerts I covered, limited to Country Music: