I like Hamburg – and especially in recent times, I have been very frequently around the Reeperbahn region. There are several factors for that. For my stay in September 2022, I opted for the ibis Hamburg St. Pauli Messe, as I covered the Carly Pearce and Sarah Darling show at the Gruenspan and wanted to have an as limited walking distance with my camera equipment as possible. Here is my review.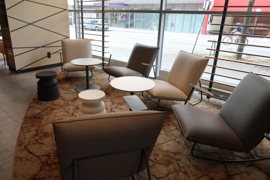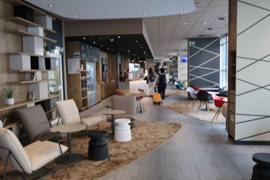 ibis Hamburg St. Pauli Messe – Location
The ibis Hamburg St. Pauli Messe is close to the East end of the Reeperbahn, Hamburg's famous party and red light disctrict. The ibis is more or less across the street from two Premier Inn hotels, the Premier Inn Hamburg City Millerntor and the Premier Inn St. Pauli. There is also an ibis budget, which is right next to the hotel (and driven by the same management). Both hotels (which are belonging to Accor Hotels) share a parking garage as well.
The hotel is located just a very short walk away from St. Pauli underground station. It is serviced by the U2 line. You could also take the S-Bahn commuter train to Reeperbahn, but this would require a rather longer walk through a (typically) quite populated area.
ibis Hamburg St. Pauli Messe – Room
I booked a standard room in the hotel from Monday to Tuesday. The price, including my ibis Business Card discount and breakfast, was 73.71 EUR. On top of that, I paid 20 Euro each for guaranteed early check-in on Monday and late check-out on Tuesday so that I could fully work on both days of my stay. The room comes with a typical ibis design. The only really weird thing is that the chair does not suit the table – there was absolutely no change to get my legs underneath the table when I sat on it. However, you could move the table around and working from the edge of the bed was actually not too bad.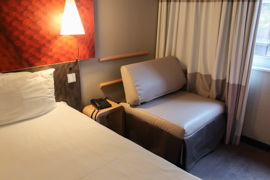 The bathroom had typical new ibis styling as well. In general, I feel that this is quite fine, I just would love to have a larger desk or similar for my bathroom items. The bathroom as well as the room were both really clean and in a very nice state at check-in.
ibis Hamburg St. Pauli Messe – Breakfast
Finally, it is an ibis – and ibis hotels serve ibis style breakfast: limited luxury, bit absolutely reliable. Apart from that the hotel is rather large and thus just has some peak times, which lead to some chaos around the buffet. The quality of bread items was really nice – the warm dishes, however, were a bit of limited on the other side. Still a good one.
ibis Hamburg St. Pauli Messe – Service
The staff was overall very nice. The early check-in and late check-out I booked worked out well, too. The internet connection worked great as well. Unfortunately, all elevators in the adjacent ibis budget hotel felt to have broken down during my stay. Thus, people could use the ibis hotel one and then pass on to the other part of the building through connection doors. However, as their key cards were not accepted by the ibis elevators, the hotel staff put free ride keycards in the elevators. This of of course lead to a significant decrease in access security. Later one elevator could no longer be called, which then lead to increased waiting times.
ibis Hamburg St. Pauli Messe – My View
Accor does a really reliable job here. ibis Hamburg St. Pauli Messe is not overwhelmingly posh – but that's also not the aim of a ibis Hotel. These places want to be simple, clean, reliable. Not suitable for a honeymoon, but a nice base for a city trip. That's exactly what they do in Hamburg. Good one!
Accor Hotels Reviews
Here are all postings related to Accor Hotels:
Hamburg Postings in 2022
Here are all my postings related to Hamburg published in 2022: