For my one-week stay on Curacao I chose the Blue Bay Lodges. The serviced apartments had excellent reviews on different travel sites and are closeby to the airport, so that I was looking forward to stay just outside of Willemstad.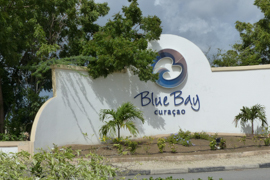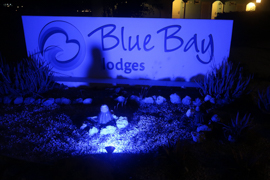 Blue Bay Lodges – Location
I have to admit that I was not fully aware of what I exactly booked when my wife and I decided for the Blue Bay Lodges. The Blue Bay Resort, in which the studious are located, is in fact a huge residential and touristic area. There is security at the entrance gate and all the huge area is serviced. As a lodge guest, you can use all free environment as well, which includes quite some facilities (see below). The studios are cleaned twice a week and towels are changed three times a week.
Blue Bay used to be a military basis for the US army, as I learned in the Curacao Martime Museum. However, nowadays, it is fully a recreational area. It is very closeby to the airport, some ten minutes drive, and to Willemstad city centre, some 15 to 20 minutes drive. A rental car is absolutely necessary to access the resort. However, under certain circumstances like arrival time, the lodge staff is offering an airport transfer and you may even book one of their rental cars.
Blue Bay Lodges – Apartments
There are two types of appartments, which majorly differ by size. We went for the slightly larger Superior Studio Lodge. The price for a one-week stay in July (which is rather off-season in Curacao) was roughly 1,000 USD, which is quite a nice deal on the island. The lodges are fully equipped, with a four-flame cooking plate, a huge fridge with freezer, a dishwasher, tablewear and a microwave with baking oven combo. In the superior lodge, there is also a sofa which may be used as additional sleeping facility. The TV set may be turned to either side, bed or workspace / sofa. Unfortunately, two problems occured with the TV during our stay: first of all, the reception and picture quality is really poor. We have been told it is due to the weather conditions, but I felt that in addition the cablework is unfortunate. Secondly, being able to turn around the set means that the sound is typically going to the direction you are currently sitting on – which means you really have to turn the TV set significantly louder before it gets louder on your side.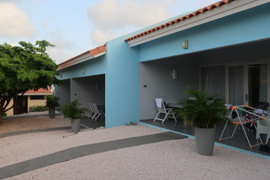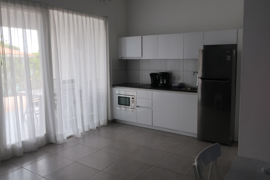 You typically take your meals outside the lodge on the covered terrace. The lodge size is given at booking.com with 55 sqm, which feels to include the outside area, though. The price of the lodge includes all expenses – there may only be a surcharge if you have a too intensive use of electricity (which may be majorly caused by the air conditioning). Having breakfast at the terrace area watching the different birds flying around was definitely lovely.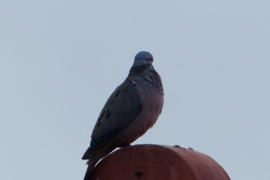 Overall, the Blue Bay Lodges felt very comfortable to us. A nice feature is that there are both, 110v US (which is the Antilles standard) and 220v European power plugs. The workdesk area and the outdoor power plugs even come with USB ports. There are three ceiling fans, two inside the lodge and one above the terrace, which give a very convenient stay.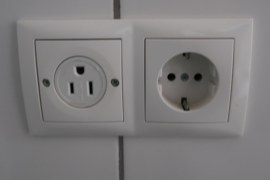 Blue Bay Lodges – Beach and Services
The Blue Bay area is amazing. It is hard to say whether the residential area are built inside a 18 hole golf course or vise versa – but no matter how you see it, it is a beautiful landscape within numerous houses in a wide area. However, golf seems to be a huge priority. There are numerous paths which you could also use to get quicker to the beach, but all of them are marked as being for golf players only. We felt this to be very disappointing and ridiculous, as there was frequent golf play only on a few days. Other nice amenities are a swimming pool in walking distance to the lodge and a tennis court close-by, all included.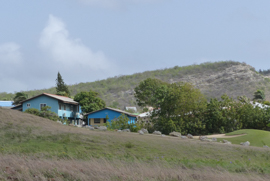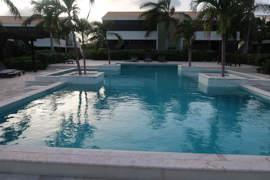 Without these shortcuts, walking to the beach, crossing a hill and going along the paved roads is very bothering, so that you in fact will take the car down to the large parking lot. The beach is free for hotel guests and residents, but it is open to public for a small fee. Blue Bay Beach is named in many travel guides as one of Curacao's best ones – but we have to say, we only loved it at first sight. The key critics is: it is too dirty! For a higher class resort like the Blue Bay, there are just too many crown caps and cigrarette buts as well as other unnecessary things in the sand. This is very unfortunate, as the scenery is nice with a few shops, a bar and a restaurant right at the beach (and another restaurant nextby). We tested the beach restaurant one day and the food was a nice value for money. Blue Bay will grow massively the next years, so they need to somehow cover these issues. Some internet reviews state that the beach is also used for day trips when cruise ships arrive – I can neither confirm or decline it.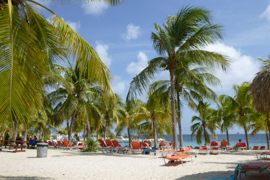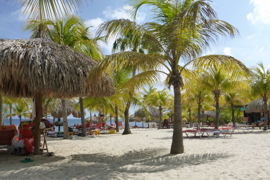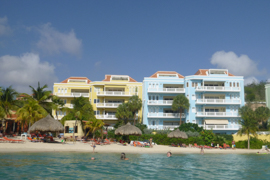 House cleaning was very good and worked fine. The other services were not that exact: one time, small towels were missing and another time, we did not get new tabs for the dishwasher. Overall, the lodge team did a great job definitely and the Wifi was stable and at good speed as well. Unfortunately, the check-out was a complete mess. The corridor given at booking.com is very short anyway (10:00 to 11:00 hrs). At 9:30am, the manager has been knocking on our door just asking if everything is okay and reminding that check-out time is 11am. We have been ready at about 10:30am, but the reception was closed and nobody around. This felt very confusing to us, so that we could only leave by dropping the keys in the letterbox.
Blue Bay Lodges – My View
Judging on the Blue Bay Lodges feels very tough to me: despite some technical difficulties, we loved the lodge and it was a nice stay for one week. The team around the lodge is working fine – the service times could be a bit longer – the reception times, for example, did not match the Booking.com information. On the other hand, we expected the beach to be much closer. The booking.com description states an eight minute walk to the beach – without crossing the golf courses, I would expect at least 20 to 25 minutes. The short walk was a very key decision factor for the Blue Bay Lodges, especially as I did a Daytrip to Bonaire, which was planned to be a beach day for my wife. If there is a "legal" shortcut, this was not obvious to us (and to other reviewers as well). Depending on your holiday expectation (especially if you want to play golf, of course), it may be an excellent location for you with very convenient connections to the island – to us, it has been a good stay with an good team servicing the lodges. The check-out, however, was a significant disappointment.
Other Curacao Trip Postings
As part of my July travel to Curacao, I so far have additionally posted the following reviews:
In addition, as part of this travel I have done a daytrip:
I flew Air Canada Rouge on this trip:
The following galleries have been published on this trip: