After the Divij Sharan as the last Indian player had bowed out of the tournament the day before, I could alter my reporting schedule to matches which I felt could be interesting matchups (and also reduce my coverage to focus back on my professional demands). I was really looking forward on the all-German men's doubles quarterfinal between Kevin Krawietz and Cologne's local Andreas Mies on the one side and the Zverev brothers on the others. Would Alexander Zverevs individual skill or Mischa's serve and volley skills be a challenge for doubles specialists and twice-in-a-row French Open winners? Despite quite a lot of press and lounge customers felt to be interested in this battle, the match was put on minor Court 1.
This posting comes with 236 major size pictures in the sports gallery.
This coverage is done in collaboration with 

Krawietz / Mies – A. Zverev / M. Zverev – Match Report
The first games of the first set were easy tasks for the team at serve, so that the SCOR after four games was 2-2 tied. Alexander Zverev was the first one to struggle at own serve then, but he could manage to survive the fuzz at 15-30 and especially at the decider at deuce. Krawietz and Mies did better two games later, when Mischa Zverev was at mount (to use baseball language) and could be broken. There were some nice rallies thereafter in the first set, but no chance for the Hamburg brothers to get back that break. The set score was 6-4 with the Zverev brothers complaining about something at the tournament lead during the intermission.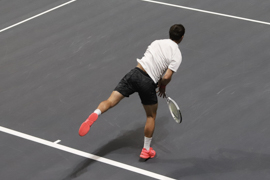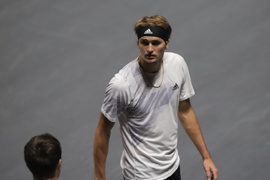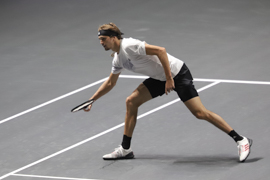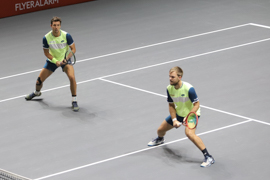 Second set started with an interesting complaint as Alexander Zverev somehow felt to find out that the balls used are not equivalent. He even faced major struggle as he faced a 15-40, but the brothers  scored three points in a row. However, the being at serve for both teams lead to significantly more vulnerable situatons in second set. Mischa Zverev was the first one to run into trouble being broken in the third game. Mies had to defend his serve at deuce, but survived. After Alexander Zverev did an easy job with a quick series of serves, a too easy-taken volley by Mies gave the Zverev brother the re-brake at 30-40 against Krawietz's serve. Confidence towards a potential match tie-break? Not at all – at Mischa Zverev's serve, the team did not even score a single point, but Mies did not do it do substantially better and lost the deciding point. After another easy serve by Alexander Zverev, there were even three set points for him and his brother (incl. the deciding point), but they had no chance to convert one of them. It already felt that the siblings had almost booked their ticket for the tie-break at 6-5 and 40:30, but a net chord turned luck and they had to face a break. Krawietz did a convincing job thereafter, so that the French Open winners won deservedly 6-4 7-5.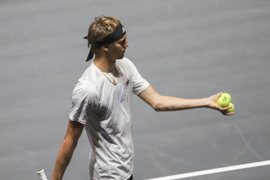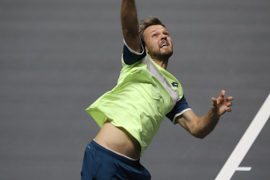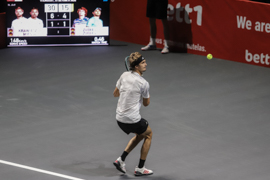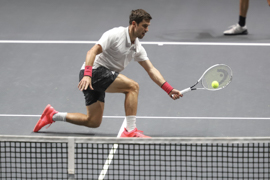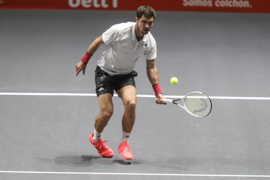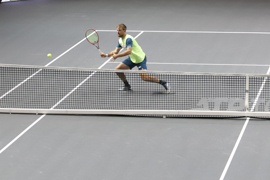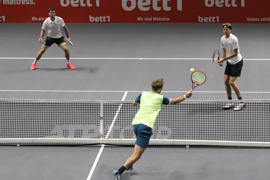 Krawietz / Mies – A. Zverev / M. Zverev – My View
Kevin Krawietz and Andreas Mies had a good match plan against the Zverev siblings – and it simply succeeded. I was rather surprised that there were quite some shots on Alexander Zverev also in rallies, but they played it in a way that the singles world-class player did never really play in comfort zone apart from swinging the racket at own serve. On the other hand, the Zverevs did not manage to keep the favorite these three, four important steps away from the net – when the local hero or his partner was close at a net, Krawietz and Mies played like in beast mode, doing lovely angeled cross-court volleys multiple time and showing a great sense of doubles tennis. Overall, different strengths and players lead to a very interesting match-up – Mies also stated in the press conference how much he enjoyed to have played in LANXESSarena, where he viewed so many Kölner Haie (ice hockey) matches and concerts before. These guys have a good chance to play some more matches in Cologne this week – and maybe coming back next year (if there is an ATP in Cologne then).
Krawietz / Mies – A. Zverev / M. Zverev – Gallery
Here is the match gallery with 236 major pictures in the sports gallery section:
See the bett1HULK Tournaments 2020 Gallery group for more pictures.
bett1HULKS on Flyctory.com
Everything about the bett1HULKS ATP tournaments in Cologne:
Spotlight – Flyctory.com Interviews
Here are all postings of my interview section Spotlight: