I have been very impressed of the country when I visited Albania for the very first time in December 2022. My two night stay at its capital Tirana was at the local Hilton Garden Inn, a rather new and modern stay in the city. A key reason to opt for the hotel were the Hilton Double Points and Double Nights promotions, which happened to run in parallel. Here is my review of the Hilton Garden Inn Tirana.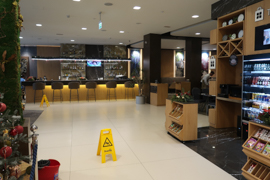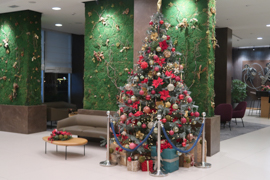 Hilton Garden Inn Tirana – Location
The hotel is located rather on West edge of Tirana city center. The walking distance to the heart of the city center is some 2.5 km or 25 minutes. I took a taxi, which was about 700 Leke (roughly 6 Euro). Be aware of taxi scammers and either insist on a reasonable fixed price or that the taxi is running with taximeter. I did not get into the public bus system, which likely provides cheaper transfers. The transfer to Tirana Airport (TIA) is some 25 minutes and was about 20 EUR in both directions during my trip (taxi).
Apart from the distance from city center, the location of the hotel is really nice. It is located right at the Lana creek/river, there are a couple of other stores around. Majorly, however, there is a gas station next door, a supermarket behind the hotel and also some restaurants. I typically don't do recommendations in here – but I absolutely loved Pizzeria Favolosa, am amazing Italian-style pizza place. The hotel offers parking in its own garage for an additional charge.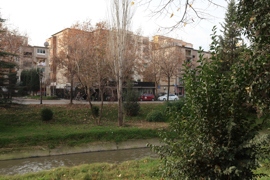 Hilton Garden Inn Tirana – Room
My stay was a two night one, Thursday to Saturday in December 2022. I booked a King Room at a semi-flex fare for 134.50 EUR in total. My Hilton Honors Diamond status granted me access to the breakfast buffet. I got a really nice and large room on the upper floor. It was really spacious and clean. You saw that the hotel has just been recently built. The layout was very functional – I just had to re-located the tea and coffee maker to another spot. The fridge was working, but there was no mini bar. Free water has been provided to me and also refilled after the first night.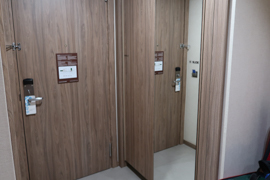 The shower bathroom was very spacious and clean, featuring a nice shower. Amenities were provided in dispensers. Apart from the really nice bathroom, the room even featured a balcony. The view was average, as you more or less looked straight into a residential building, but it was just nice to go out and spot the hills of Tirana from the edge of the balcony as well.
Hilton Garden Inn Tirana – Breakfast
Hilton Garden Inn Tirana offers a nice buffet breakfast with a wide range of options to chose from. Friday morning breakfast was very relaxed, while Saturday featured a meeting of regional journalists, so that the restaurant and breakfast area felt more packed. The assignment of staff at that day was very weird as well – as two of the waiters served the bar / coffee bar, which is located just right outside the restaurant area in the lobby area. Sometimes, the breakfast felt a bit of chaotic then.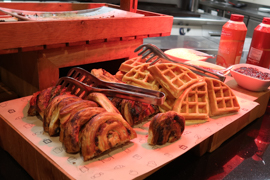 Hilton Garden Inn Tirana – Service
The staff was really nice. There was no issue about communicating in English. In general, it was much easier to get around in Albania than I expected. The hotel also featured a nice gym, which was located in the same floor as my room. WiFi has been very good.
Hilton Garden Inn Tirana – My View
I had a really good time at the Hilton Garden Inn Tirana. The location is a bit of remote – but therefor has some advantages, if you travel back to Tirana Airport (TIA). Bad luck that they were not able to manage the second morning at breakfast – they would have deserves one or two notches better without that. Nonetheless, this one is indeed a Top Pick! stay.
Hilton Top Pick! Hotels
Here are all my hotel reviews of Hilton Hotels, which I assigned a Top Pick! rating:
2022 Lounge Reviews
Here are all my lounge reviews I posted in 2022: