Have you ever heard of Surströmming, Hakarl or Spam? Do you mind eating eyes or drinking cow blood? All these local delicacies got now their own Hall of Fame in Berlin (in fact, there is also an outlet in Malmö, Sweden). The Disgusting Food Museum in Germany's capital received quite a lot of nationwide media attention – and so I just had to visit the place, which was anyway not too far from my July 2021 overnight in Berlin. Here are my thoughts.
Disgusting Food Museum – Location & Admission
The Disgusting Food Museum is located at the Schützenstraße, a street crossing the famous Friedrichstraße in the heart of Berlin. It is a bit of tricky to find (also as Google is not absolutely precise), the yellow banners should help you, though. I would not absolutely recommend to drive there, if not absolutely necessary. The Hilton Berlin, for example, is driving a garage in close proximity.
I would rather suggest a bike or taking the U2 or U6 underground train to Stadtmitte and walk from there. Other attractions like Checkpoint Charlie and the Berlin Wall Panorama or the Gendarmenmarkt as well as all Unter den Linden attractions are just a short walk away.
At the time of visit, the museum was opening Friday to Tuesday, 11:00 to 19:00 hrs. You could buy time slot tickets, but this is rather a Covid-19 measure. Adult admission was 12 Euro.
Disgusting Food Museum – The Visit
The style of the museum is very neutral and unfussy. Most of the exhibits are put on metal tables and thus feel a bit like in fact being prepared in a professional kitchen. Few dishes are original, most are in display in very good plastic-alike illustrations – you would likely not stand the smell if all were real. There is a lot of information to each individual dish, which is really interesting to read. All signs are in German and English, so that you can definitely visit the museum even if you don't speak German. A fun fact: your admission is not a ticket, but a barf bag – one day, when they can offer more tastings (see below), definitely not a bad thing.
The order in which I present the pictures in here is roughly the order I used during my visit (doing the tables in anti-clockwise order from the entrance). One of the first exhibits is about drinking cow blood, then you learn that parts of Germany put beaver liquids into a liqueur or cultures put very young mouse babies into alcohol. Eating reptiles or bats feels kind of "normal" compared to that. I really hate when animals are tortured for food production. The snake, for example, is sedated by cold, gutted but then brought back to life for a short moment before she ends up in the liquid.
Have a Nose or two at the "Altar Of Stinky Cheese"
Cheese is of course a classic food which may turn you into disgust if you are not used to it. In the first row, you see a cheese from Saxony, which is in fact fermented with mites – you finally eat both, the cheese and the mites, in case you dare. On the right, there is a Sardinian special dish, Casu Marzu, where sheep milk cheese is covered with a special fly, whose maggots give the cheese the final touch (this treatment can be seen in the museum). If that's not enough for you, you might try out a couple of smells on the Altar of Stinky Cheese. I love cheese, but I am not too much into these ones.
I also liked to see what people seem to find disgusting: Flönz / Blutwurst (bloody sausage) is a Cologne speciality and very popular. However, I neither like real oysters (not part of the museum) nor Rocky Mountain Oysters (or Prairie Oysters, if you want to have the Canadian wording), which are in fact bull testicles. The intimacy of these animals seem to be very attractive for some people – the second row of pictures below shows the pecker of a bull. Delicious! One part of the museum I loved are all the canned dishes they majorly present on the rear wall of the museum.
Turtle Soup and Friends – Some Classics
The next section of the museum features a couple of "How can you eat that" classics. Turtle soup, frogs, dogs and guinea pigs just have to be part of this place. I would agree with US-American spam, but beef tatar is actually not that bad. I was a bit surprised that they do not show German mett, raw minced pork, which is a quite popular one here.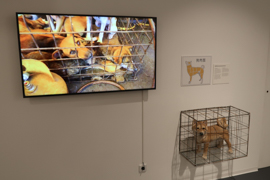 You finally run into a couple of dishes people think about very often when they think of disgusting food. Hakarl is an Icelandic shark dish which is typically served with a lot of alcohol to be able to stand it. Insects are more and more discussed as a source of protein. I already mentioned  Surströmming, the Scandinavian fermented herring dish, which is famous for its terrible smell. The museum states that a court decided it is legal if the landlord is is immediately terminating the contract with the tenant for opening a can of that one indoors. In Sweden, you are not allowed to have that in your luggage on an airplane. Similar applies to the Durian in Singapore. Funny to see that you in fact have tried some of these dishes in the past.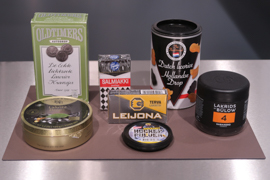 Disgusting Day To Day Food
What I absolutely liked is that the museum is also pointing on food, which is disgusting for the conditions under which it is typically produced. The US American cake thing in the first picture is known for being that loaded with preservatives and food additives that it is very unlikely it will ever go to waste. Pork is criticized for the amount of antibiotics and beef for the massive ecologic impact. There are also some dishes which changed their role over time. Did you know that lobster used to be a dish for the poor? Finally, there is foie gras. I would recommend to visit the museum for the sake of seeing how that stuff is produced in France (which is illegal in all other parts of Europe, by the way).
Disgusting Food Museum – Tasting & Services
The staff in the museum was amazing. The young lady at the reception did great at the Altar of Stinky Cheese presentation, but also knew a lot about the food they displayed in the Berlin place. It was really great to chat and discuss with her – I learned a lot from both, the museum and the discussion. The museum also wants to increase offering tastings in the future – but at least you got a box with four little tastings at the end of your visit. The dishes of the day were Hakarl, Salt Licorice, the Saxony cheese with mites and crickets.  You had  to eat them outside due to hygienic limitations.I tried them all, but some of the dishes were just too disgusting for me.
Will be fun to visit the place again when there are wider tastings available. Some dishes like Surströmming will never be available, though – simply as you can neither serve them indoors nor on the street – there are a couple of restaurants around, who might not like people vomiting from the smell. There is some food and some more souvenir items you can buy on the small souvenir desk already.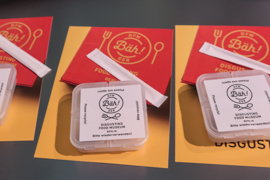 Disgusting Food Museum – My View
I am sure that there are reviews saying something like "You just see a bunch of plastic models and smell a few terrible stinking pieces of cheese". Yes, that's right. But I had everything I expect from a museum visit: first of all, I was fascinated, I learned a lot and had a lot of fun. The presentation of the disgusting food is really very good. On top of that, the staff does an amazing job. The some 45 minutes I spent at the museum were a lot of fun.
Last, but not least, the tasting may rather give you negative moments – but that's why you visit that place, don't you? Especially if you are tired after a lot of cultural and historic museums, I feel this is a great place at the end of a day in the German capital.
Flyctory.com on Eating & Drinking
Flyctory.com is not a culinary blog. Nevertheless, here are all posts dealing with Eating and Drinking:
Amusement Parks – More Postings
Here are all postings about Amusement Parks: