A business trip to the Northwestern tip of Paris' central area lead me to the 17th Arrondissement. I had never been in the area before, so I could not choose any of the well-known options I had in the French capital before. Also because there was no Hilton Group hotel available, I went for the Novotel Paris 17, which proofed to be a pretty good option.
Novotel Paris 17 – Location & Traffic
The hotel is located right at the Porte d'Asnieres. There is a small park across the road. If you cross the Boulevard Peripherique over the bridge, you are in the suburb of Levallois-Perret, which features the nice So Ouest shopping centre, which also includes a supermarket and some really nice restaurants around. The Arc d'Triomphe is about a 25 minute walk Southbound.
I connected to the hotel from Gare d'Est by Uber. In low traffic periods, it is a some 20 minute ride. Paris afternoon traffic may easily turn it into a one hour distance. Local transport is a bit limited. There are numerous buses leaving right in front of the hotel and the Porte d'Asnieres – Marguerite Long stop, which features the T3b tram, is just a short walk away. There are a couple of Metro stations in an about 15 minute walking distance. Thereof, Gare de Pereire Levalloiis also features RER access.
Novotel Paris 17 – Rooms
The booking was two nights in February, Queen Superior Room, for 361 Euro, flexible fare. Like the whole hotel, the room was very clean and felt modern. I have been upgraded to Executive floor, but not to an Executive Room (which would have given me a daily filled free mini bar), but there was some free water in the mini bar for me. The design was really nice and also had features like a connecting panel for the TV and entertainment. Compared to other Paris hotels, especially very central ones, the room size was also a real treat.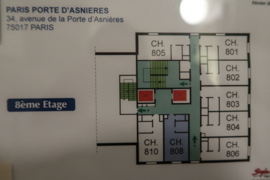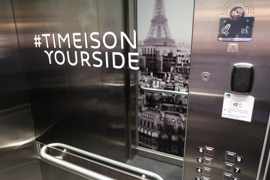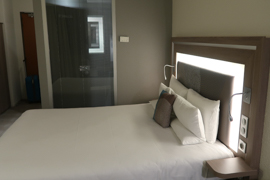 The sanitary facilities were very nice. I am always a bit bothered by having a separate toilet without a sink in the same room to wash my hands, but the bathroom with shower and bathtub was really clean and provided the typical Novotel amenities.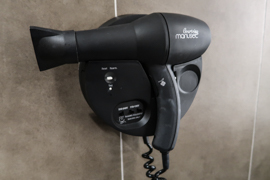 Novotel Paris 17 – Breakfast / Food
French hotels are not always the best spot for a hotel breakfast – but Novotel Paris 17 did a really nice job in this category of the review as well. A nice feature was that you could fry your own eggs. The selection of items was very nice, incuding – of course – brioche and lovely criossants. I also loved to start the day with Kusmi tea.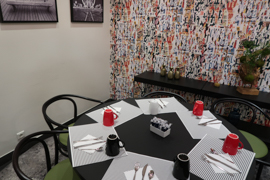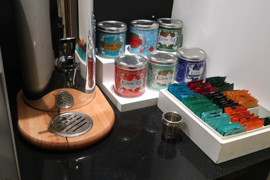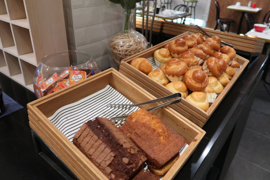 Novotel Paris 17 – Services
The lobby area of the hotel was welcoming and friendly – and overall very cozy. There was even a video game for kids or for adult distraction. The informal "boss" of this area was a huge plush teddy, who was generally occupying one of the seats in the lobby. You felt welcome from the very beginning, also because the staff was very kind as well. Very noticeably (and not always: characteristic for Paris), any reception staff I met spoke very good English. The in-room WiFI was also very solid.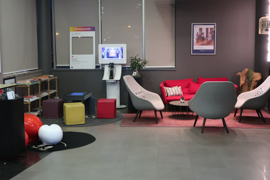 The hotel also features a gym, which was quite small (also due to the layout of the architecture), but quite nice.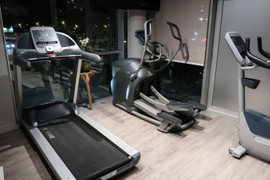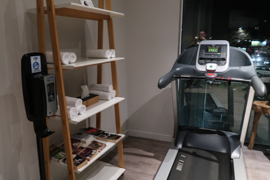 Novotel Paris 17 – My View
Novotel Paris 17 is definitely a very nice option for this part of Paris. Even though the traffic situation is not absolutely ideal, it can also be a good option for a city trip – finally, the prices in this Northwestern area of central Paris tend too be realistic and not that much of a rip off. I would definitely recommend to give this place a try if you want to stay in Paris, but are not absolutely bound to a central location.
Accor Hotels Reviews
Here are all postings related to Accor Hotels:
Flyctory.com Floorball Postings
Here are all Floorball-related postings on Flyctory.com: