For a trip to Lower Saxony in early June 2021, I needed a stay in Hanover / Hannover close to the train station and not too far away from the local Sixt car rental outlet. As my wife studied in Hanover in parallel to her job, I opted for one of her most favorite choices, the Novotel Suites. After quite a while (the last one has been the Chocolate Hotel in Westerstede in Northwest Germany in October 2020), this has been my first night in a German hotel. Pandemics kill traveling.
Novotel Suites Hannover City – Location
The Novotel Suites is exactly what I tag as a Rail Station Hotel here on Flyctory.com: if you leave Hanover Main Station on the Northern exit, you just turn left and already spot the building across the road. Right behind the hotel, there is also an ibis budget for travelers on a lower budget (during my stay, the difference in room price was rather marginal). Due to the important travel hub (some North-South and West-East train lines meet at Hanover), there are sufficient parking facilities around. Of course, due to its location, the hotel is perfectly connected with regional and local public transport.
Apart from restaurants and other touristic services served by Hanover Main Station, there is also a major supermarket right around the corner of the hotel. If you want to gamble, you may also visit the casino, which is just across the road. There is an ibis budget right next to the hotel.
Novotel Suites Hannover City – The Room
I booked the standard suite in the suite / apartotel for a flexible rate of 65.55 Euro. Breakfast was not included in the rate, simply due to the fact that the hotel did not offer breakfast at all due to pandemic regulations. The room was simple awesome. I found a room size of 30 sqm on a hotel website – it could have even been slightly more. The room features a fridge as well as a microwave oven. This is significantly less common in Germany, e.g. compared to the US. I also like the really spacious table / desk and a great number of power plugs in the room, which also featured a nice bench at one wall. The TV set looked a bit small-ish compared to the size of the room.
As an Accor Gold member, the hotel greeted me with a snack package, a coke, a beer and some snacks. I absolutely appreciated it. I could also convert my free drink voucher at the shop near the reception.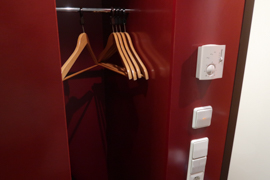 Bathroom and toilet were separate. Both rooms had a sink (I hate if that is not the case). The bathroom even came with a separate bathtub and shower, which I felt is really cool. Overall, the sanitary facilities have a touch of ibis hotel style, but they place was really comfy.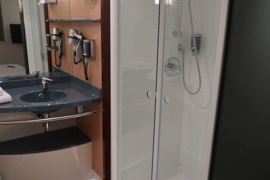 Novotel Suites Hannover City – Breakfast
As said, the hotel did not offer breakfast during my stay – I stayed in a Mercure Hotel in Hanover two days later and they did offer that kind of start into the day.  According to my wife's experience, the breakfast performance at "normal" times is good. The price for breakfast should typically be around 15 Euro.
Novotel Suites Hannover City – Services
Check-in was a bit of slow, due to several guests demands in parallel. The staff was really kind, though. They typicall offer a gym and an ironing room – both were closed during my stay to prevent further infections. The reception area features a nice shop. I was wondering that there were not that many microwavable dishes, though. As said, there is a cheap supermarket just around the corner. WiFi connection was really good.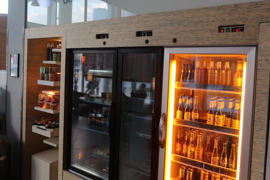 Novotel Suites Hannover City – My View
I really loved the stay at the Novotel Suites. The location is great, also due to the supermarket nearby. The rooms have a really nice size and even though they are not too posh, they give a lot of comfort. Bad luck that they decided that they cannot do breakfast. If you have the chance of a good rate, Novotel Suites Hannover City is definitely a very good choice.
Accor Hotels Reviews
Here are all postings related to Accor Hotels:
Postings about Hanover, Germany
Here are all postings related to Hanover / Hannover :