For years, if I would have wanted to deeply bash the Deutsche Bahn (German Rails), there would have been a simple way to do it: doing a lounge review of their train station lounge at Frankfurt airport. You just cannot argue this has been a nice place – with a special level of disgust at the sanitary facilities. As they were partially in public space, they were quite frequently used by less valued or not-at-all customers, before they had to protect the places with a number code. Asking for the way to the loo? Not necessary – you smelled the route.
When I came back from a trip to Graz in Austria in July 2021, I was that surprised – the company really made use of the Covid-19 lockdown and completely refurbished the previously haunted place. It just felt so good that I knew I had to share it in a review if the place which is officially just called DB Lounge.
DB Lounge Frankfurt Airport – Location & Access
The lounge is located on the intermediate level between The Squaire (the shopping and service levels at Frankfurt Airport Train Station) and the platforms for the long-distance trains, platforms 4-7. Please note that the regional train platforms, 1-3, are at a completely different location – even if you know the shortcuts, you at least need ten minutes for the walk. If you take the escalators on the West side (towards the Rewe supermarket) down, the entrance is between the access to platforms 4/5 and 6/7.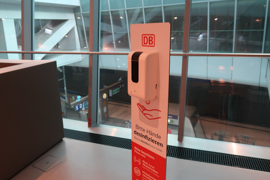 The lounge is opening daily from 6:00 to 22:00 hrs. Deutsche Bahn recently signficantly reduced the access to their lounges. Only if you have a fully flexible First Class ticket, this grants you access to the DB Lounge. If you travel with bahn.comfort status, the frequent traveler status of the system, you are also allowed to enter, including one guest. This also applies if you have a BahnCard 100, the network ticket of the German rail system (however, this automatically grants you bahn.comfort status). For the rail lounges along the Lufthansa Express Rail routes (i.e. flights in fact serviced by the German ICE high speed train), a Lufthansa First or Business Class ticket or a Lufthansa HON Circle or Senator status grants you access as well. This rule only applies to selected lounges, incl. Frankfurt Airport. There is no Premium-Bereich (Premium Area) at Frankfurt Airport.
DB Lounge Frankfurt Airport – Atmosphere
The upgrade has really lifted all area to another level. The design is much warmer, but also very functional. There are more information screens, which even have updated display technologies, so that you see more trains to be departing. One major area is coming with very cozy seats, which allow you to relax before the flight. If you are a group of people, you might fancy to sit on one of the sofa-alike areas. There are power plugs (German style and USB charging) at several places. You see that they used some color accents in the interior design of the lounge, which gives a nice style without being strident.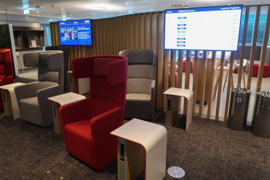 Close to the coffee machines, there is bistro-style seating , so that you can also have a chat with colleagues or clients and have a drink together. There are two kinds of work spaces: one design are "boxes" at the wall, which are likely very good if you want to do a phone call. In addition, there are long tables with barstool seating. Both options come with sufficient electric power. It may be a bit of critical that the sofa-style seating is next to the workdesk. Intense discussions of several people may be a bit of bothering, likely, for people working.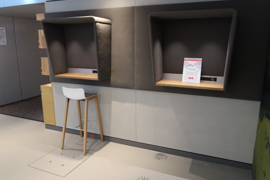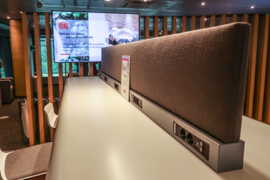 Last, but not least – A Key Upgrade…
The old sanitary services have been taken out of service – I guess there was no chance to safe that place and location. Instead, the toilets are now opposite of the reception desk. A very warm and clean interior. No smell, of course. The design is in line with other DB Lounge refurbishments, e.g. at Cologne Main Station.
DB Lounge Frankfurt Airport – Eat & Drink
There is typically a tea and coffee machine as well as soft drinks at German rail lounges. Due to Covid-19, this was not the case during my visit, due to regional / federal state regulations. There is no food in in these places, apart from the Premium-Bereiche I mentioned earlier.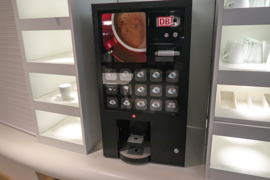 DB Lounge Frankfurt Airport – Services
The lounge offers free WiFI. As it is served by Deutsche Telekom, it is typically very fast and very reliable, even in busier times. The staff is super-friendly and helpful. In contrast to the very beginning of the rail lounges, you nowadays cannot buy tickets or have similar services in the lounges any more.
DB Lounge Frankfurt Airport – My View
Deutsche Bahn did an fantastic upgrade to this previously quite ugly place. The new DB Lounge design is much more friendly, much warmer. I love the new seating options from cozy lounging to bistro-style seats. Yeah, there is not food at the moment – and there will only be very limited one in the future – but it is definitely a very good place to wait for a train now.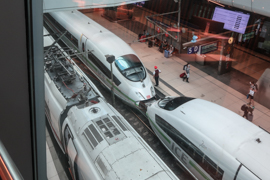 Lounge Reviews on Flyctory.com
Here are all Lounge Reviews on Flyctory.com:
"Rides on Rail" Postings
Here is everything about trains, trams and other rail vehicles: