ECE 451 - Frankfurt - Milan
99 EUR (Italian ticket, First Class, non-refundable, minumum fare)
Flyctory.com Pros
Lovely ride, ecologically preferable
Two different routes North-/Southbound
Non-stop between Frankfurt and Milan in the comfortable ETR 610 train
Very kind staff
Flyctory.com Cons
No WiFi in one out of two trains
Massive reservation / handling issues for Deutsche Bahn bookings
Still a bit too long to compare to air travel between Frankfurt and Milan
Also due to the current situation in aviation, I could follow my idea to invest more time in rail travel to Flyctory.com in summer 2020. My Four Trains, Four Countries trip was originally planned for May 2020 featuring a leg from Milan to Munich – but finally I ended up during this interesting itinerary in August 2020. The eight hour daytime ride between Frankfurt and Milan thereby was the first leg of my travel. In early September, I could even do the same connection, ECE 451, heading on to Venice. Here is my experience with a very special rail connection through Germany, Switzerland and Italy.
ECE 451 / 452 – The Route
The route of ECE 451 and the corresponding return train, ECE 452 (or EC 52 in Switzerland and Italy) is really interesting as the outbound and inbound travel take different routes between Milan and Olten in Switzerland: while on the Southbound route to Italy, the trip is doing the "traditional" route and passing the Gotthard tunnel via Bellinzona and Lugano, on the Northbound route, the ECE passes the Lago Maggiore and then taking the Lötschberg tunnel via Brig and Visp – which makes both routes quite an interesting experience for train lovers. The Northbound schedule is slightly more effective with a total ride time of 7:24 in contrast to 7:49 hours. The route is in operation since 2017.
According to the 2020 summer schedule, the Northbound train leaves significantly later than the Southbound one:
| | | |
| --- | --- | --- |
| ECE 451 | | ECE 452 |
| 08:01 | Frankfurt Main Station | 18:44 |
| 08:46 | Mannheim Main Station | 18:01 |
| 09:18 | Karlsruhe Main Station | 17:28 |
| 10:15 | Freiburg Main Station | 16:22 |
| 10:47 | Basel Bad / German Station | 15:52 |
| 11:03 | Basel SBB / Swiss Station | 15:38 |
| 11:30 | Olten | 15:05 |
| 12:18 | Lucerne | |
| 13:05 | Arth-Goldau | |
| 13:59 | Bellinzona | |
| 14:30 | Lugano | |
| | Bern | 14:36 |
| | Thun | 14:04 |
| | Spiez | 13:54 |
| | Visp | 13:28 |
| | Brig | 13:19 |
| | Domodossola | 12:48 |
| | Stresa | 12:20 |
| 15:02 | Chiasso | |
| 15:10 | Como S. Giovanni | |
| 15:38 | Monza | |
| 15:50 | Milan Centrale | 11:20 |
In Germany, where you have different tariffs for different train service levels, the ticket price for the ECE is in line with the fare structures for the German high speed train ICE. There are discounted tickets (which are limited to a particular train) for national and international travels, both classes. Italy, however, uses standard EC pricing and does not integrate the EC(E) into the Frecciarossa fares. There is no fare differentiation by train class in Switzerland and Italy.
ECE 451 – The Rolling Stock
The route between Milan and Frankfurt is driven by Alstrom ETR 610 trains provided by the Swiss National Rail Service SBB. The total length of one train is 187.4 metres. There are 431 seats. The first two wagons are First Class only, followed by a combined First Class and restaurant area. A couple of trains, which have been added to the Swiss rail service stock slightly later, have small capacity deviations. During Covid-19, multiple seats have been blocked to ensure social distancing.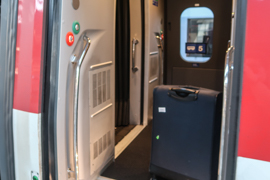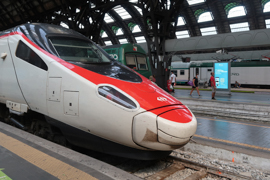 There is also a special livery for the ECE 451 / 452. One of the ETR 610 trains named after Johann Wolfgang von Goethe is marked with the flags of the three countries which are crossed, including the logos of the three participating rail companies. I was very lucky to have that configuration on my second trip in September 2020. The trains were fully equivalent in their interior – apart from that the lids on the first class seats were funnily turquoise instead of red.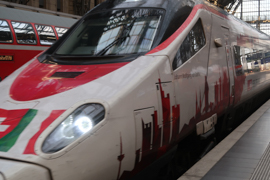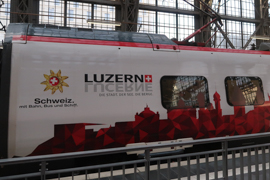 In the Rail Cars
Second Class area offers four seats per row (2-2). Partially, two rows face each other. In case you do not have a physical table, there is one to fold down at the seat in front of you. Both classes feature power outlets. In second class there are two power plugs, a Swiss and a German style one each, between each two seats.
I had a First Class ticket. The German ticket is cheaper than the Italian – but as said, German Rail Sevice had severe problems to incorporate the Italian seat blocking rules and personal registration to their systems, I finally ended up buying an Italian ticket. First Class offers 2-1 seating. Again, there is a mixture of face-to-face seats with a table (which is larger in First Class) and seats in "classic" row-by-row configuration. I did not like the seats too much. Even in the very upright position,  I felt like I laid down, so that the backrest did not give me too much support. There was a power outlet (again, two plugs) at each single seat and between the two adjacent ones.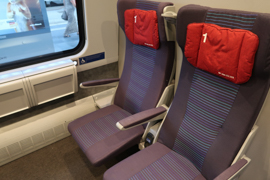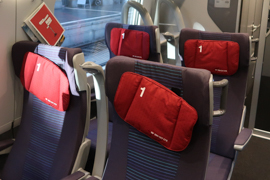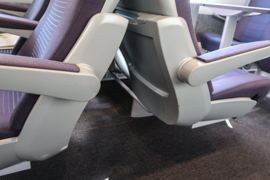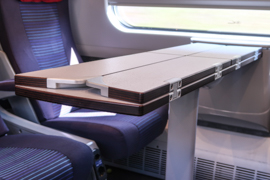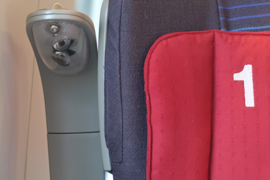 Food Sanitary and Other Services
Between first and second class, the train features a train restaurant, which is driven by Swiss rail as well – which also means that it has SBB-style offers and prices.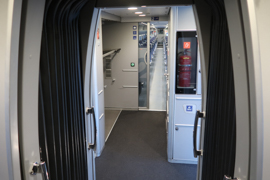 The ordinary toilet on board is quite narrow. Some pictures below are taken from the (of course: much more spacious) bathroom for physically limited people. As the train is a Swiss one, it features facilities to fasten cycles and winter sports equipment. There are also some luggage racks, but even quite major suitcases suit over the First Class seats. Medium sized ones also fit between two seats sometimes.
ECE 451 – The (Southbound) Ride
My August trip from Frankfurt to Milan seemed to have been a bit odd on the technical side. Apart from not having internet connection (see below), the seat layout of the cars did not comply to the seat map of the train (at least on the Italian website). Several people had similar issues like me, expecting to sit at a table, but having single seats. Fortunately, the train was quite empty, so that re-seating was no issue. The Swiss train staff could also change the mandatory personally registered seat reservation for Italy. The German train staff did not have access to the Italian system. I cannot judge on that issue on my second trip, as I traveled without seat reservation (none of the ways to organize one in Germany worked out).
I am very familiar to the route between Frankfurt and Olten, but it was still a very enjoyable ride on a Sunny day. Especially between Olten and Lugano, the rail trip is an absolute beauty and the lovely windows of the train (which – surprisingly – had qutie a low level of reflection as well) gave a lot of nice distraction from work.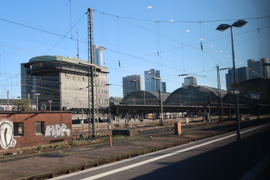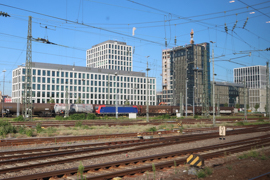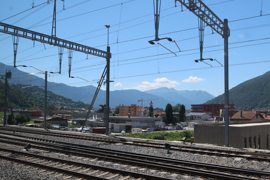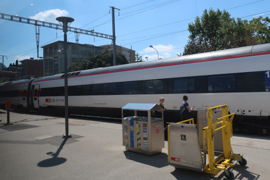 The Italian side is slightly less attractive, but it was still enjoyable. Apart from that, there was of course some sort of "mental countdown" to Milan after sitting eight hours in a row in the same daytime train.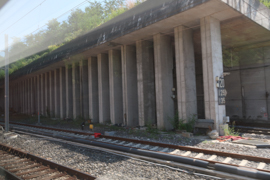 ECE 451 – Service
On my first trip, there was no WiFi during the entire ride. This was definitely very unfortunate and did definitely not comply to the ICE standard, under which the trip is sold in Germany. In contrast to the information given by the German train staff on the first ride (who stated that the train never features WiFi in Germany), the connection on my second trip was very pleasing and I could work very well in the train.
The staff on the train was very helpful and friendly. Especially the reservation issues in Italy could be handled well by the Swiss SBB staff – bad luck that the German Rail Service staff (in the station and in the train) struggle with it that much. While crossing Switzerland, the train's contact areas like doors, handles and tables were desinfected. The Italian staff was a bit more distanced, but still very friendly and helpful.
ECE 451 – My View
The Alstrom ETR 610 are quite comfortable and make an eight hour ride very enjoyable. I cannot judge on how often there are WiFi failures on Swiss trains (or technical defects with the infrastrucutre) – but this is definitely a must-not-happen issue on a ride like that that. Especially if there were some track improvements on the German side, the connection time could be additionally lowered – the ECE 451 / 452 is still a bit too slow to be competitive with air travel (at least between Frankfurt and Milan, where it practically takes the whole business day) – but it is a fun and scenery ride.
Finally, of course it is an absolute mess that Deutsche Bahn / German Rail is unable to properly handle this connection in their reservation systems.
Flyctory.com about Italy
Here are all postings related to Italy:
"Rides on Rail" Postings
Here is everything about trains, trams and other rail vehicles: