Husavik – as you recently have learned, the small town in North Iceland is one of my most favorite spots in the world. During our Ring Road trip in April and May 2023, my wife and I had one night there. We went for a rather basic, but typical Icelandic accommodation – a guesthouse. An own room, shared facilities like a kitchen and typically a very competitive price lead to a rather good experience, especially if you are on a budget. Here is my review of the place we stayed in at the end of the fourth day, the Post-Plaza Guesthouse.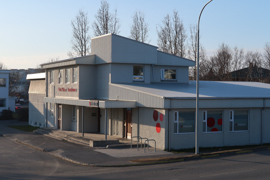 Post-Plaza Guesthouse Husavik – Location
Even though the guesthouse is not at the main road, it felt really central. For example, North Sailing, with whom we had a whale watching trip, is just 300 meters away and thus an easy walk. Other key sights like the Husavik Whale Museum are in similar distance. There is also a pizzeria and an excellent fish restaurant in close distance. However, Husavik features all kinds of facilities you need as a traveller, including gas stations, supermarkets etc.
The best way to reach Husavik is indeed by car. Due to the Vinbudin (liqueur store) next door, there is free public parking lot right in front of the guesthouse (which used to be a post office, as far as I understood). However, there are also a few bus connections per day to Akureyri (bus 79), from where you can also connect to Egilstadir and Reykjavik. In case you have seen the The Story of Fire Saga movie, the bus stop built for the movie still exists, but has never been used for public transport. Furthermore, there are no direct buses to the capital. Husavik Airport (HZK) is not connected by public transport.
Post-Plaza Guesthouse Husavik – Room
We originally booked a deluxe double room with breakfast. However, the guest house did not offer breakfast any more in May 2023 and thus reduced the rate thereafter to 102 EUR. We were absolutely amazed when we arrived at the room – it might have been about the nicest one we had during the whole trip. It was absolutely large, came with a nice and large wardrobe section for luggage and a lot of space in addition. Of course, I enjoyed the comfortable work desk.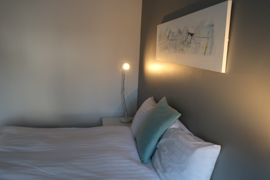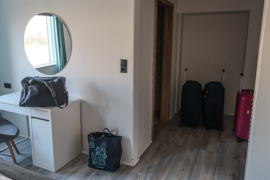 The bathroom was really nice as well. Again, it felt really spacious. Like the whole room, the cleaning and maintenance was perfect. The guesthouse does provide towels, linen and basic amenities as well.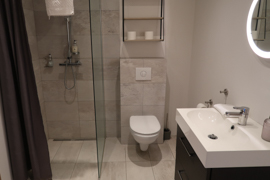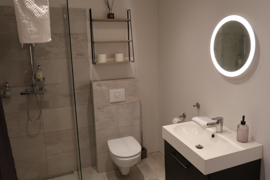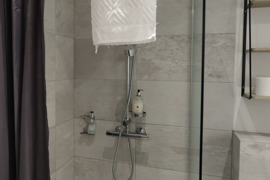 Post-Plaza Guesthouse Husavik – Common Area
Post-Plaza Guesthouse features two common / community area. There is a large room with TV on ground floor level. Some rooms are right next to it – but it was still a good place to hang out. The kitchen on the upper floor was really nice. The guest house provides free tea and coffee and there were some basic items like spices. This space was really large and likely could easily fit all visitors in parallel. The kitchen was very well equipped, starting from tableware to cooking equipment. Like the whole guesthouse, the common areas were absolutely clean.
Post-Plaza Guesthouse Husavik – Service
The whole processing of the booking was contactless. We did have a phone number (which was also given outside and inside the guesthouse. However, you had to pay the stay a few days before arrival and then received the code to a key safe right at the main door on the day of arrival. We received main information (like WiFi access) by e-mail. However, the guesthouse also featured information brochures and some of the typical advertising leaflets, so that you definitely had no chance to get lost in Husavik (which is quite a challenge anyway…).
Post-Plaza Guesthouse Husavik – My View
Honestly, I struggled a bit whether the guesthouse concept would suit our needs when I booked the trip. Finally, I have to say that the Post-Plaza Guesthouse Husavik has been one of the three best stays of the trip. Hafdals Hotel in Akureyri and the unique Hrafnavellir Guesthouse were likely my favorites on the trip, but this place is definitely a great value for money. Very nice option if you are looking for a stay in Husavik – and as there are sufficient facilities around, preparing your own breakfast was easy as well.
Postings about Husavik
Here are all my postings related to Husavik in Northern Iceland:
Icelandic Hotels
Here are all my Hotels & Accommodation reviews related to Iceland: